From the Open-Publishing Calendar
From the Open-Publishing Newswire
Indybay Feature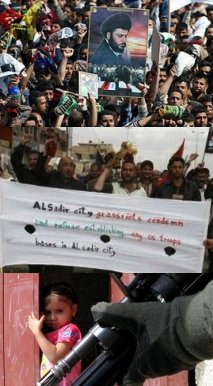 Thu Mar 22 2007
(Updated 03/23/07)
Violence Continues In Iraq
Iraqis 'pessimistic' about future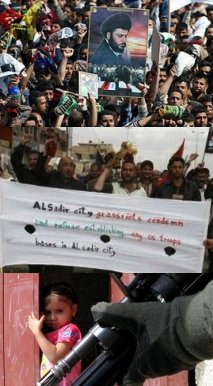 Two-fifths of the US "surge" in troop strength
has already taken place
, but the effects are unclear. Some Sunni officials claim the Iraqi government "dissolved Al-Mahdi Army before the implementation of the plan and asked the Al-Mahdi Army not to take up arms against US forces." According to one official, the government has absorbed them into the National Guard, the Interior Ministry storm troopers, or law enforcement personnel. The US on the other hand claims to be cracking down on Shia militias in Sadr city. Many Shias see themselves as the victims of the US military push. On March 16th,
thousands protested
following evening prayers in the first public expression of hostility toward the US military operations in Sadr City. Demonstrators chanted "No occupation" and "No America" as they marched in opposition to the announcement by American commanders that they were establishing their first permanent base inside Sadr City's limits, at an Iraqi police station.
With real reporting close to impossible in the country and morgue statistics unreliable, it is unclear if violence has increased or decreased in recent weeks. As US and Iraq officials praise the surge and claim a decrease in violence in Baghdad, frequent car bombs and mortar attacks make it hard for them to deny that the situation is still very bad. The UK Independent reports that "while US and Iraqi troops have flooded the Baghdad streets and a heavily armored American column was sent north to adjacent Diyala province, attacks on American and Iraqi forces have been surprisingly robust." On March 22nd, a press conference given by the UN secretary general and the Iraqi prime minister was interrupted when a rocket landed yards from the site inside Baghdad's Green Zone. On March 17th, three trucks carrying chlorine gas exploded in western Iraq, killing at least two police officers and leaving 350 civilians needing treatment. On March 15th, gunmen seriously wounded the mayor of the Sadr City just hours after a US military press conference praising the mayor for cooperating with US raids.
While Kurdish regions of Iraq have faced less violence than the rest of the country, a conflict over the status of Kirkuk has resulted in many deaths. In December, there will be a referendum when the 1.8 million people of Kirkuk province will vote on joinning the autonomous Kurdish region. Kirkuk was a mainly non-Kurdish city at the time of the US invasion but has faced attempts at ethnic cleansing by Kurdish militias who hope for the city to be the future capital of a Kurdish state. On March 19th, seven bombs detonating in the space of 35 minutes
hit Arab and Turkoman districts of the city
, killing 12 people and injuring 39.
Millions of Iraqis have fled abroad
to avoid the violence in Iraq. Syria says it is home to 1.2m Iraqi refugees, with up to 800,000 in Jordan.
Many of Iraq's medical staff have fled the country
just in the last few months due to the violence and drugs and equipment are almost non-existent. The UN refugee agency (UNHCR) says "there has been an abject denial of the impact, the humanitarian impact, of the war, the huge displacement within Iraq of up to 1.9 million people who are homeless because of the war, and those people who are homeless and never got back to the homes after Saddam Hussein was overthrown." A poll of Iraqis commission by USA Today and several other news organizations has revealed that: "In all, 83% of Shiites and 97% of Sunni Arabs oppose the presence of coalition forces in Iraq; 75% of Kurds support them. By more than 3 to 1, Iraqis say the presence of U.S. forces is making the security situation worse." A
Iraqi psychiatrist interviewed by Islam Online
asserts that "Iraqis are being traumatized every day ... No one knows what will result from living through this continuous trauma on a daily basis." He warned that the psychological trauma of the war may echo through Iraqi society for years to come.
The regrets of the man who brought down Saddam | Iraqis 'pessimistic' about future | Shiites protest Baghdad crackdown | Iraq: A country drenched in blood | Iraq Friday Sermons on 'Surge' | Security struggle in Iraq's south | 16,000 Detainees in Coalition Hands; Iraqi Shiites attempt to Regroup | The US invasion has caused nearly three-quarter million Iraqi deaths | Multiple blasts strike Kirkuk | Gates: Surge is to Buy Time for Reconciliation; Al-Maliki Cabinet Shuffle Postponed | Iraq war escalation to last into next year
Related Categories:
Iraq
We are 100% volunteer and depend on your participation to sustain our efforts!
Get Involved
If you'd like to help with maintaining or developing the website, contact us.