From the Open-Publishing Calendar
From the Open-Publishing Newswire
Indybay Feature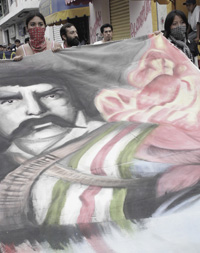 Wed May 10 2006
The Struggle in San Salvador Atenco, Mexico
Zapatistas Declare Red Alert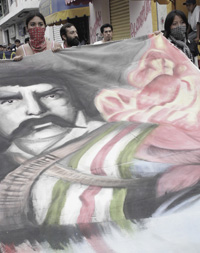 The Zapatistas declared a red alert on May 3rd in regard to the calamitous situation in Texcoco and San Salvador Atenco, towns just outside of the Mexican capital. Just before, police had attempted to drive flower vendors in Texcoco from their market to make way for a Wal-Mart. The community resisted, over a hundred were arrested, and police used tear gas and live ammunition, killing a 14 year-old boy, Javier Cortés Santiago. The police continued with a campaign of terror, attacking and dragging from their homes hundreds of people suspected of activism. According to the Daily
El Universal
nearly two hundred were then charged with "organized delinquency," a charge that does not allow for bail and can lead to sentences from two to ten years in prison.
The Mexican media glossed over police violence and focused instead on theories about acts of violence by townspeople. In a flyer distributed May 9, activists wrote: "Don't let the 'news' cloud your vision when it says that behind Atenco there are 'dark interests.' Nothing could be further from the truth. Behind our resistance there are no dark interests, but instead the crystal clear conviction to defend our rights, our land, our labor, for Atenco and for all of Mexico. Dark interests are the party mafias, the government of Vicente Fox [and] the municipal administrations of Atenco and Texcoco, who provoked this conflict and do not have the slightest intention of resolving it."
Controversy is not new to Atenco; in 2002 it was the proposed site of a new airport before the people there refused and stopped the project. A peaceful march of thousands led by Subcomandante Marcos streamed into Atenco on May 5.

Video from Atenco |

Audio of EZLN Call for Red Alert | Atenco Prisoners Launch Hunger Strike | Communique from Atenco Prisoners May 10 | Indybay Coverage of Bay Area Solidarity with Atenco | Link to English Coverage on IMC Mexico | ZNet Coverage | See Narco News for "The Other Journalism"
We are 100% volunteer and depend on your participation to sustain our efforts!
Get Involved
If you'd like to help with maintaining or developing the website, contact us.