From the Open-Publishing Calendar
From the Open-Publishing Newswire
Indybay Feature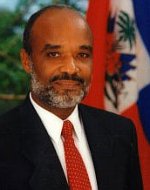 Tue Feb 7 2006
Haiti: Election Day and Beyond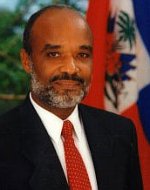 2/8/2006
:
Counting of ballots has started
in Haiti after elections marked by stampedes that left four dead ended.
Voters were frustrated
by voting stations opening late and other major problems, leading to crowds storming polling stations and voting continuing late into the night.
Mr Préval is the absolute favourite
to win the battle for the presidency. He's already served in that office and was once the protégé of another - now exiled - former president, Jean-Bertrand Aristide. Although he's since distanced himself from Aristide, Mr Préval enjoys great popularity among exactly the same poor sections of Haiti's population. Election results are not expected to be announced for at least several days.
CARICOM leaders are slated to
discuss the Haitian return to their bloc
, which has refused to recognize the interim government of Gerard Latortue following the ouster of former President Jean Bertrand Aristide in 2004.
Freed Haitian Priest Gerard Jean Juste on His Imprisonment and the Haitian Elections | Haitians Await Results of Election After Chaotic Voting Conditions | Haiti's elections - the poor want Préval | Poll delays leave Haitians sweating in landmark vote | Keeping Preval-supporters away from the polls | Voting under the gun | HIP predicts Preval winner in Haiti with 63% of the vote | Human Rights Report On Haitian Elections
2/7/2006
: Elections are taking place in Haiti. Polls opened at 0600 (1100 GMT) and are scheduled to close at 1600 (2100 GMT). Official results are expected on Friday.
Since a CID-Gallup poll taken in Haiti last December showed Rene Preval leading in the upcoming elections with 37%, the political forces that banded together to oust Aristide in Feb. 2004 have been organizing to contest the expected results. Preval's closest rival, Charles Henry Baker, is a wealthy sweatshop owner and a co-founder of the Group 184, a so-called civil society organization that helped to overthrow Aristide and was heavily funded by the United States, France and Canada through an intriguing web of foreign non-governmental organizations (NGO's).
More
Brian Concannon writes:
February 7 will close the book on other questions that will never be answered. We will never know how much a third consecutive peaceful and punctual transfer of power from an elected President to an elected successor would have consolidated Haiti's fragile democracy. President Jean-Bertrand Aristide made the first such transfer in Haiti's history in 1996, President Rene Preval the second one in 2001. The Constitution sets the third transfer for this February 7, but on that day the current elected President, President Aristide, will be in exile in South Africa, thousands of miles away, and his successor will not have been picked. We will never know how all the prominent politicians confined unjustly to jail, like former Senate President and Prime Minister Yvon Neptune- one of the top vote getters in the May 2000 legislative elections- would have done had they run in the elections. We will never know how many votes the Lavalas party- which has won every election since the end of the Duvalier regime in 1986, by a landslide- would have won this time. Lavalas announced eighteen months ago that it would participate in elections when the repression against it stopped, but the interim government has not been willing to make that concession.
But the biggest question of all will not be answered on February 7 or in Haiti at all: whether the international community will accept the Haitian voters' choice this time. Haiti's last elections, in November 2000, were held in relative security, with broad public participation and a clear popular choice. But the U.S., France, Canada and other countries disagreed with that choice, so they undermined the elected government with three years of political and economic coercion, and eventually bundled the President onto a U.S. plane headed for the Central African Republic.
More
Haiti: Dark storm brewing over elections | Violent start to Haiti elections | Haitians begin voting in key poll | Haiti Support Group press release | Petition Filed Against US as Haiti Approaches Elections | Haiti poll may pave way for Aristide's return
Related Categories:
Haiti
We are 100% volunteer and depend on your participation to sustain our efforts!
Get Involved
If you'd like to help with maintaining or developing the website, contact us.