From the Open-Publishing Calendar
From the Open-Publishing Newswire
Indybay Feature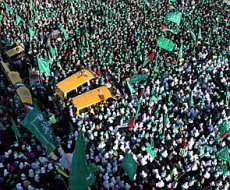 Thu Jan 26 2006
Hamas Wins Palestinian Parliamentary Elections
Hamas Takes Over In Palestine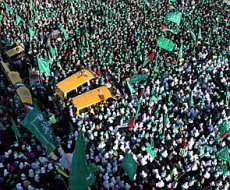 In the Occupied Territories, unofficial results indicate Hamas has won a sweeping victory in the first Palestinian parliamentary elections in a decade. Israel and the United States have said they would not deal with a Palestinian Authority that includes Hamas.
According to Ali Abunimah, from
writing on Electronic Intifada
:
The election result is not entirely surprising, however, and has been foreshadowed by recent events. Take for example the city of Qalqilya in the north of the West Bank. Hemmed in by Israeli settlements and now completely surrounded by a concrete wall, the city's fifty thousand residents are prisoners in a Israeli-controlled giant ghetto. For years Qalqilya's city council was controlled by Fatah but after the completion of the wall, voters in last years' municipal elections awarded every single city council seat to Hamas. The Qalqilya effect has now spread across the occcupied territories, with Hamas reportedly winning virtually all of the seats elected on a geographic basis. Thus Hamas' success is as much an expression of the determination of Palestinians to resist Israel's efforts to force their surrender as it is a rejection of Fatah. It reduces the conflict to its most fundamental elements: there is occupation, and there is resistance.

For Palestinians under occupation, it is not yet clear what Hamas' win will mean. It is now common to speak of a Palestinian "government" being formed out of the election results, as though Palestine were already a sovereign and independent state. But if the first duty of a government is to protect its people's lives, liberty and property, then the Palestinian Authority has never deserved to be called a government. Since its inception, it has not been able to protect Palestinians from lethal daily attacks by the Israeli army in the heart of their towns and refugee camps, or to prevent a single dunum of land being seized for settlements, nor to save a single sapling of the more than one million trees uprooted by Israel in the past ten years. Rather, in Israel's conception the Palestinian Authority was supposed to crush Palestinian resistance to make the occupied territories safe for continued Israeli colonization.
Democracy Now Coverage | Hamas to Form Cabinet, Loser Fatah Not Joining | Hamas victory redraws political map of Middle East | Who's who in Hamas | Hamas claims victory | How Israel and the United States Helped to Bolster Hamas | Abbas Urges Respect of Result, West Alarmed | Palestinian PM and cabinet resign | Israeli Arab MKs: Hamas win will help peace process | Palestinian Elections: Forcing the West to awake to the voices of the people | Hamas Election Victory: A Vote for Clarity | Listening to the Voices of Palestine | Bush Calls Hamas Kettle Black
Related Categories:
Palestine
We are 100% volunteer and depend on your participation to sustain our efforts!
Get Involved
If you'd like to help with maintaining or developing the website, contact us.