From the Open-Publishing Calendar
From the Open-Publishing Newswire
Indybay Feature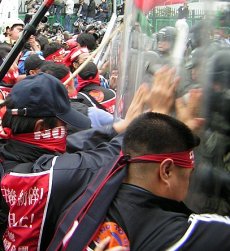 Sun Dec 18 2005
Over 900 Protesters Arrested As WTO Talks End With Partial Agreement
WTO Talks and Protests End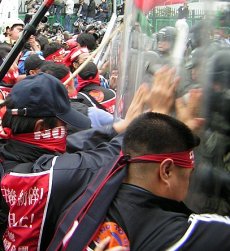 The World Trade Organization
wrapped up its six-day ministerial meeting
on Sunday
December 18th
with a partial trade agreement. The 149 member nations have until April 30 to agree to the framework for the completion of the Doha round by the end of 2006. In other words, they must carry out in just four months what they have failed to do in the four years since the round began. Throughout the six days of negotiations the main sticking point was agriculture and the commitment by the European Union to end export subsidies.
Bay Area Delegation | Democracy Now Report | Deciphering the Language of Globalization | WTO Reaches Compromise Trade Accord | WTO talks keep trade round on life support
On Saturday the 17th, police arrested 900 protesters during widespread protests on the streets of Hong Kong led by farmers, peasants and union members. At the end of the confrontation, around 1000-1500 other activists, from Korean groups and Via Campesina, as well as individuals from Hong Kong, other parts of Asia the US, and Europe were involved in an all night standoff with police who had surrounded them. They sang, danced, and chanted, while police fired more tear gas and threatened them with rubber bullets.
Bay Area organizers Puck Lo and Handle have been posting regular dispatches from Hong Kong:
Dispatch 9:
Lapsing Into CrimethInc Jargon on the Day After the Big One
Dispatch 8:
EMERGENCY: Arrests Have Begun at the WTO Protests in Hong Kong
Dispatch 7:
WTO MC6, Hong Kong, Day 4: "We're Hungry. We're Angry."
Dispatch 6:
Humility, Strategy, and Boldness: Emo Reflections on the Third Day of the WTO Protests in Hong Kong
Dispatch 5 part 2:
Farmers Procession Sways Hearts and Minds at WTO Protests in Hong Kong
Dispatch 5 part 1:
Low Wage Workers and Migrants Lead Opposition to GATS and Imperialism
Dispatch 4:
WTO MC6, Day 2: Face-Off at the Barricades, Stand-Off at the Summit
Dispatch 3:
WTO 6, Day 1: Just The Beginning
Dispatch 2:
Raids Target Migrant Workers as WTO Summit Nears
Dispatch 1:
As The Tide Rushes In: Four Days Before the WTO in Hong Kong
Photos: - First Day:

1 | 2 | 3 | 4 | 5 | 6 | Second Day:

1 | 2 | 3 | Third Day:

1 | 2 | 3 | 4 | 5 | 6 | Fourth Day:

1 | 2 | 3 | 4 | 5 | Fifth Day:

1 | 2 | 3

Asian Americans in Hong Kong
We are 100% volunteer and depend on your participation to sustain our efforts!
Get Involved
If you'd like to help with maintaining or developing the website, contact us.