From the Open-Publishing Calendar
From the Open-Publishing Newswire
Indybay Feature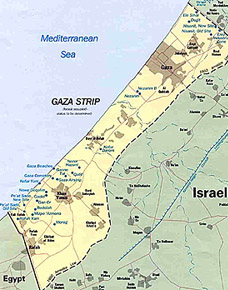 Mon Aug 1 2005
Settlers Removed From Gaza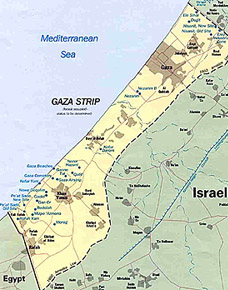 8/24/2005:
Israel and Egypt have finalised a deal under which
Egyptian border guards will patrol the southern Gaza border
. Palestinian President Mahmoud Abbas says
the Israeli army is expected to leave the Gaza Strip by 4 October
at the latest, with Egypt and Israel agreeing to have Egyptian soldiers control an Egypt-Gaza border area.
8/23/2005:
Israeli troops have completed the evacuation of all settlers from the Gaza Strip and some settlers in the Northern West Bank.
Read More
8/22/2005:
"With
virtually all Jewish settlers evacuated Monday from the Gaza Strip
, Israeli forces began moving early today on two West Bank settlements where commanders fear there will be violent confrontations with anti-withdrawal activists."
Left behind in Gaza: A tattered economy | Evacuation of settlers hinders Palestinians' access to medical aid | Israel delays inking Philadelphi deployment deal with Egypt | Settlers vandalize at least eight West Bank villages
8/15/2005:
Clashes broke out in the Gaza Strip as Israeli troops prepared to evict Jewish settlers.
Read More | Gaza: Disengagement diary | Israeli Settlers Resist Gaza Pullout
8/14/2005:
Israeli and Palestinian forces have deployed to ensure calm in the final countdown to Israel's evacuation of Jewish settlements in the occupied Gaza Strip. Thousands of Israeli police blocked approaches to Gaza to keep back Jewish protesters sworn to stopping the first removal of settlements this week from land Israel captured in the 1967 Middle East war.
Read More
8/11/2005:
Palestinian security forces are gearing up to deploy 5,000 troops around settlements in the Gaza Strip as Israel intensified preparations just days before the historic pullout is to begin.
Read More | Gaza boats mass to mark pullout
8/1/2005:
On August 15th, Israel will start removing settlers from the Gaza Strip. "After 38 years of ugly occupation, they are leaving and they will never come back," Qureia said to the some 10,000 Palestinians gathered at a
mass rally
in the Parliament building in Gaza City in celebration Israel's upcoming withdrawal from the Gaza Strip. While this is often presented as a complete Israeli withdraw, the Palestinians in Gaza will likely
still be under indirect Israeli rule
with no control over their own borders. Some Palestinians see the "withdraw" as
merely a smokescreen
that is being used to prevent the world from questioning the
expansion of settlements in the West Bank
and the
wall Israel is building
within the 1948 borders, dividing Palestinian communities and likely resulting in expulsions.
Israel government officials predict that
half the Jewish settlers
in the Gaza Strip will likely refuse to relocate to Israel on time and will be removed by force. Some settlers have said they will
try to give up Israeli citizenship
and
become Palestinian citizens
so they can stay; Palestinian leaders said they would accept the change in citizenship but would still demand that the land the settlements are on be returned to the Palestinian people.
The
Gaza Strip
's borders were originally defined by the armistice lines between Egypt and Israel after the 1948 Arab-Israeli War, which followed the dissolution of the British mandate of Palestine. First controlled by Egyptian military, the Gaza Strip was later captured by Israel in the 1967 Six-Day War. Currently, around 1.37 million Palestinians and about 8,000 Israelis live in the Gaza Strip. The majority of these Palestinians are direct descendants of refugees who fled or were expelled from Israel in 1948 and most Jewish settlers in the Gaza Strip are Israeli citizens who moved into 21 guarded Israeli settlements after the 1967 Six-Day War.
Israel Prime Minister Ariel Sharon first announced a pullout of settlers from Gaza in 2004. On May 2nd of that year, Sharon's Likud party held a referendum and 65% of the voters voted against the idea. On June 6, 2004, Sharon's government approved an amended disengagement plan resulting in several resignations from his government. This left the Likud Party with a minority in the Israeli Parliament and forced a coalition government between Likud and Labour in January 2005. On February 16, 2005, the Knesset finalized and approved the plan with 59 in favor, 40 opposed, and 5 abstaining. A proposed amendment to submit the plan to a referendum was rejected (29-72). On March 17, 2005, the IDF Southern Command issued a military order prohibiting Israeli citizens who do not reside in the Gaza Strip settlements from relocating to that area. On May 9, 2005, the beginning of the evacuation of settlements was officially pushed back from July 20 to August 15
Read More
.
Gaza: Between freedom and fear | Gaza: When Will it End? | Behind the smoke screen of the Gaza pullout | Abbas says Palestinians want peaceful Israeli pullout | It can't be Gaza Last
Related Categories:
Palestine
We are 100% volunteer and depend on your participation to sustain our efforts!
Get Involved
If you'd like to help with maintaining or developing the website, contact us.