From the Open-Publishing Calendar
From the Open-Publishing Newswire
Indybay Feature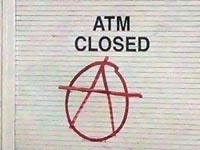 Fri Jul 15 2005
(Updated 12/21/06)
July 8th Anti-G8 Protest in San Francisco
Possible legal fallout for protesters from SF's Anti-G8 demo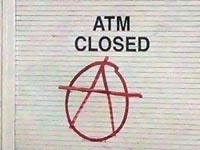 Demonstrators at the July 8th action met at 8pm at the 16th & Mission BART Plaza. During the first half hour, protesters converged, and bilingual pamphlets were distributed to residents, passers-by, and protesters. Within a few minutes of marching, the SFPD declared the march illegal and ordered those present to disperse. People continued to march down Mission St. and were pushed from the streets onto the sidewalks. A sound system was confiscated and the person carrying it was arrested relatively quickly for noise "violations."
Once it turned onto Valencia Street, the march broke up as one portion was blocked in by riot police and the other portion outran the cops. The march was periodically broken into different groups, taking different routes along Mission & Valencia streets. Many corporate businesses were targeted for property destruction and newspaper stands were placed in the roads as barricades to block the police. Damage to corporate targets included: Two Wells Fargo Banks, a Bank of America ATM, Kentucky Fried Chicken, PG&E, Chevron, Vanguard Properties, Skechers, and Shoebiz.
At 23rd and Valencia an altercation with police officers took place. Reports say that officers ran their car into the crowd at unsafe speeds, protesters attacked the car, and the police tackled people in the crowd. A scuffle broke out and left one police officer injured with a cracked skull that required 7 staples. 6 people were arrested and face severe charges. One person is still being held on a $50,000 bond. Corporate news is reporting that this incident is causing a political fallout within the SFPD. Deputy Chief Greg Suhr is being transfered from the SFPD and it has now been confirmed that the FBI is investigating the incidents.
Communique from Anarchist Action | Legal Updates: 1 | 2 | 3 | 4 | 5 | 7/25 Legal Update

Video: 1 | 2 | 3 | 4 | 5
Photos and Reports: 1 | 2 | 3 | 4 | 5 | 6 | 7 | 8 | 9 | 10 | 11 | 12 | 13
Commentary | So long Suhr

Read all Indybay's breaking news items from the West Coast G8 solidarity protests

Related: G8 Updates from Scotland | Midwest and East Coast Anti-Capitalist Actions | Legal Disclaimer from NLG | West Coast Anti-Capitalist Mobilization Against the G8
We are 100% volunteer and depend on your participation to sustain our efforts!
Get Involved
If you'd like to help with maintaining or developing the website, contact us.