Mon Jul 11 2005
Three Anti-G8 Solidarity Actions Held in Three Cities Across U.S.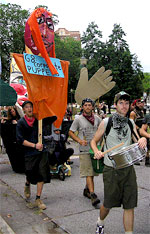 In addition to the
West Coast Anti-Capitalist Mobilization Against the G8
on the evening of Friday, July 8th, there were two other U.S. actions organized by
Anarchist Action
in solidarity with the mobilization against the Group of Eight (G8) summit in Scotland. The East Coast action was held in Richmond, Virginia on the afternoon of July 8th, and the Midwest action was held in Kansas City on Wednesday, July 6th.
East Coast: Hundreds of activists converged on Richmond, Virginia in solidarity with Appalachian residents fighting for self determination and community control and in solidarity with G8 protesters in Scotland and around the world. The primary focus of the actions was the issue of Mountain Top Removal, but connections were made to the global struggle against global capitalism's dominance over every sector of people's lives. Read More
Midwest: The Heartland G-8 anti-capitalist mobilization drew roughly 50-75 people from various places in the mid-west including people from Arkansas, Des Moines, St. Louis, and Kansas (and others). It was held in Kansas City, Mo with a diversity of groups from KC there to stand together in opposition to the G8 (Group 8) and the Free-Market principles it represents. These principles inevitably lead to environmental degredation, the erosion of worker's rights and social stratification among the poorest of the poor. Read More