From the Open-Publishing Calendar
From the Open-Publishing Newswire
Indybay Feature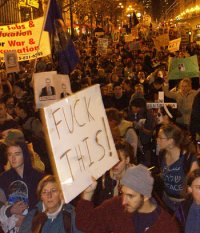 Breaking News from "Day After" Election Protest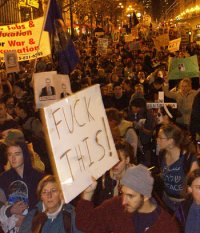 Photos: 1 | 2 | 3 | 4 | 5
11/04 1:07 a.m.
Police report 45 arrests on Market St, all charged with "unlawful assembly." According to police, one arrestee was in possession of a gun and will not be cited and released.
11:30 p.m.
The police say that 4 busloads of protesters are "outside," (in the buses) and that they will be able to state what the charges were in an hour.
11:24 p.m.
Legal support estimates 50-80 arrests tonight on Market St; the police estimate around 40 "right now." 16 protesters were arrested earlier today at the Federal Building, and one was arrested at 24th and Mission.
10:30 p.m.
2 officers, whose badge numbers are 1215 and 1127, are arresting and searching the two legal observers who were given permission to enter the police encirclement. Police are rifling through their bags and papers. Arrestees are slowly being taken into custody. A jail solidarity demonstration will be gathering at 850 Bryant St until all arrestees have been released.
10:17 p.m.
Mass arrest of reportedly 40 people underway on Market Street at 6th/Taylor Streets. Protesters are being loaded into vans and taken to 850 Bryant Street. Police have said that East Bay residents "won't make the BART home", and those without ID could be held for some time. Legal observers are on the scene.
10:07 p.m.
About 90 protesters surrounded by police on Market between 5th and 6th in front of the Warfield. They have not been told if they are being detained or under arrest. They are requesting solidarity.
9:13 p.m.
Group of protesters blockading 15th and Mission. Only one police officer present.
8:51 p.m.
Still heading down mission towards downtown, chanting whose streets, our streets
8:49 p.m.
Heading down Mission btw 21st and 20th. Cops barricaded st across sidewalks, separated group in half. Group now on capp, heading towards 19th (not allowed to go up 20th off of capp) They are trying to meet up with other groups.
8:49 p.m.
Wells Fargo bank has windows smashed. 50-100 people people in background: whose streets? our streets!
8:46 p.m.
Report that cops let a Bush effigee burn. Bank of America window busted. Protesters scattered after BOA window bust
1 person "escorted" by cops into BART station, people who tried to help him were hit with batons, BART station was closed at that time (gate taken down)
8:43 p.m.
Remaining people were surrounded by police when they tried to burn an effigee of Bush at 24th and Mission. 150-200 are marching down Mission toward downtown. Newspaper boxes and the like are being thrown into the street. Riot cops are following in vans.
11/03 5 p.m. - 8 p.m.
Reports of the size of the crowd at the protest varied from 5,000 to 10,000. People who called into ECR reported that at the opening rally, the crowd at Powell and Market spilled into the street even before the march started. There were many strong contingents in the march, but the biggest and loudest was the SIAFU, Anti-Imperialist contingent - which is made up of a number of member groups in the SF Bay Area. The second loudest contingent seemed to be the Class War contingent, made up of folks waving black and red flags. The march and rally was organized by a number of groups, sponsored by
Not In Our Name
(NION). The march went down Market St, after about an hour or so of speakers at the gathering spot, the
SIAFU
contingent started a chant to pump up the crowd and made the message simple "1 - We are the People. 2 - A little bit Louder. 3 - We want justice for the third world!!" The march went down Market St until it reached Valencia and continued to grow in size. At 16th St. it seemed like quite a few different folks were stopping, though a good deal of people seemed to continue to march down towards 24th St., and the planned die-in on Cesar Chavez St.(formerly Army St.).
We are 100% volunteer and depend on your participation to sustain our efforts!
Get Involved
If you'd like to help with maintaining or developing the website, contact us.