From the Open-Publishing Calendar
From the Open-Publishing Newswire
Indybay Feature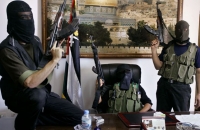 Sat Jun 16 2007
Hamas Seizes Full Control of Gaza. West Bank Controlled by Fatah
Occupied Territories Split Between Hamas and Fatah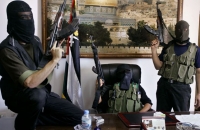 On
Friday, June 15th
, Hamas militants seized the Palestinian presidential compound in Gaza City and took full control of the Gaza Strip. The Occupied Territories have now been effectively split into two separate entities with Hamas in charge of Gaza and Fatah controlling the West Bank. On Thursday, Palestinian Authority President Mahmoud Abbas announced the dismissal of the Hamas-led government and
declared a state of emergency
. Abbas said he would now rule by presidential decree until the conditions were right for early elections. However, Hamas leader and elected Prime Minister Ismail Haniya says
his government will press on
and impose law and order. "In practical terms [Abbas'] decisions are worthless. Prime Minister Ismail Haniyeh remains the head of the government even if it was dissolved by the president," Hamas official Sami Abu Zuhri told Reuters. On Friday, Fatah fighters and activists stormed a Palestinian parliament building in Ramallah to protest the Hamas takeover of Gaza Abbas has announce he
will appoint Salam Fayyad as Prime Minister
and has asked hom to form a new cabinet. Haniyeh for his part has called for new negotiations with Abbas, urged calm from his own gunmen and
granted amnesty to Fatah leaders
. Haniyeh has also demanded the release of Alan Johnston, the BBC correspondent kidnapped in Gaza more than three months ago. Abbas adviser Yasser Abed Rabbo told a news conference on Saturday that the Abbas
will not engage in any dialogue
with Hamas.
Secretary of State Condoleezza Rice gave her backing to Mahmoud Abbas, saying he had exercised his "lawful authority." It appears that the Bush administration will boost aid to Abbas while allowing Gaza to slip into further despair in order to weaken Hamas' popular standing. Some analysts see the US intervention in the Palestinian affairs and categorization of Palestinian factions into moderates and extremists as partly to blame for the Gaza chaos, the intensifying power struggle between Fatah and Hamas and leaving plans for a unified Palestinian state up in the air.
Ha'aretz reports that Israel intends to release the Palestinian tax money it withheld since Hamas came to power, because the Palestinian president, Mahmoud Abbas, has fired the elected government. Haaretz has also reported that Israeli Prime Minister Ehud Olmert is planning to tell President Bush that that there is an urgent need to view the West Bank and the Gaza Strip as separate entities and prevent contact between them. The US isolation of Gaza, home to 1.5 million Palestinians, would have grave security and humanitarian consequences and
backfire at the end of the day
, American analysts, former and current US administration officials warned Saturday, June 16. "We could see Gaza be the font of a much more militant radicalism than we have seen in the Palestinian community so far," Jon Alterman told Reuters. Arab states have
thrown their support behind Abbas
and urged a halt to infighting so that the unity of Palestinian lands can be preserved. United Nations Secretary General Ban Ki-moon held preliminary talks on the idea of sending an international force to Gaza, but Hamas rejected the move, saying it would treat foreign troops as occupation forces. "We are supporting President Abbas and we are supporting the elected legislative assembly," Amr Moussa, Arab League secretary-general, said on Friday.

Democracy Now: What Next for Palestinians? | Denied Legitimacy by Vote, Hamas Wins it by Force | Awaking to a different Gaza | Robert Fisk: Welcome to 'Palestine' | Oslo's baleful legacy | Hamas hints at talks as chaos reigns in divided Palestine | US Meddling Blamed for Gaza Crisis | Ex-Fatahist Blasts Abbas-backed Dahlan | Abbas set to unveil new government |

NPR: What's in Store for the Middle East? | Gazans loot Erez crossing into Israel | Israel prisons separate Hamas inmates from Fatah ones | Haniyeh Defiant, Crisis Deepens | Growing fear of West Bank retribution | Palestinian president declares emergency | Hamas declares victory | A setback for the Bush doctrine in Gaza | 36 killed, 250 wounded in 24 hours of Gaza fighting | Hamas uncovers CIA plots in Occupied Palestine
Related Categories:

Palestine | International | Front Page
We are 100% volunteer and depend on your participation to sustain our efforts!
Get Involved
If you'd like to help with maintaining or developing the website, contact us.