From the Open-Publishing Calendar
From the Open-Publishing Newswire
Indybay Feature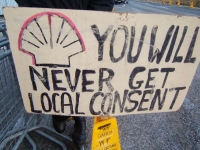 Sat Apr 7 2007
Welcome to Rossport, Ireland. Population: Pipeline
Welcome to Rossport, Ireland. Population: Pipeline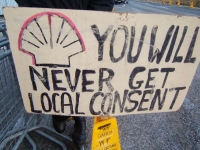 The meaning of this convoy was a plan by the infamous Shell Corporation to construct a massive, $1.1 billion, high-pressure pipeline and gas refinery, cutting through farms and villages, and ruining the obligatory protected natural areas.
In June of 2005, in a village called Rossport in Northwest Ireland, residents began to notice an unusual number of trucks carrying pipeline on their roads. There were so many trucks, in fact, that it was sometimes impossible to travel anywhere as these giant lorries could fully eclipse the narrow country lanes.
Thus, the "Shell to Sea" campaign was conceived by locals and drew activists from around Ireland and the UK in support, because, in the words of spokesperson Mark Garavan, "of the certainty that if this pipeline as currently proposed ruptures we—our families and neighbors—will die."
The idea is that if Shell simply builds its precious pipeline in the ocean, then the chances of accidental explosions and negative health effects are reduced, and everyone is happy. More militant protesters, however, have adopted the less merciful slogan of "Shell to Hell," suggesting that instead of assembling the pipeline in the sea, the corporation should just 'feck' off entirely. The Irish Sea (albeit on the east side of the island) is already one of the most radioactive bodies of water in the world, thanks to nuclear power plants in Great Britain. The added toxins from the Shell pipeline might soon guarantee all of Ireland to no longer be afloat in a pool of water, but rather, one of profitable pollution.
In the early days of the Rossport Solidarity Camp, five men—including a 65-year-old former schoolteacher—were imprisoned for denying Shell access to their land. They were incarcerated for over three months. Today, activists continue to be beaten and arrested. But with a highly functional 24-hour camp, with all the necessary structures for daily living including a kitchen, composting toilet, and grey-water system, evicting the protesters has proven exceedingly difficult. And as long as picketers remain present, Shell cannot move forward with its aforementioned plan to tear up County Mayo, Ireland.
Read More
Related Categories:

International | Environment & Forest Defense | Fault Lines
We are 100% volunteer and depend on your participation to sustain our efforts!
Get Involved
If you'd like to help with maintaining or developing the website, contact us.