From the Open-Publishing Calendar
From the Open-Publishing Newswire
Indybay Feature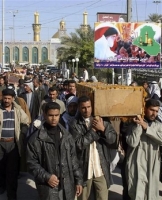 Sun Nov 26 2006
(Updated 11/27/06)
More than 200 dead in Baghdad's deadliest day of bombings
More than 200 dead in Baghdad's deadliest day of bombings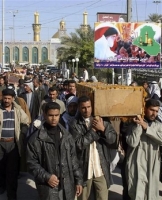 On
November 23rd
, sectarian warfare in Iraq escalated after more than 200 people died and at least 250 were wounded in Baghdad, in the deadliest single day of attacks since the US invasion in 2003.
A coordinated series of car bombs ripped through Sadr City, creating havoc in crowded marketplaces and intersections of the working class Shiite suburb, which is the stronghold of Shiite cleric Moqtada al-Sadr and his militia the Mahdi Army. According to police, the first suicide bomber struck at around 3.15 p.m. at a checkpoint leading to the area. Two other suicide car bombs and two unattended car bombs followed in rapid succession. Mortar shells also struck the area.
Read More | Baghdad bombs kill 160 in war's worst sectarian attack | 233 Dead in Civil War Carnage
Following the Sadr City attacks, there are reports that the Mahdi Army rounded up Sunni youths in the District of al-Jamilah and took them to a square and publicly executed them. The US military then went into Sadr City killing at least three Iraqis. At the same time, there were heavy sectarian clashes in the city of Baquba, northeast of Baghdad. The US military raided Sadr's offices in that city. Soon thereafter Sunni Arab guerrillas blew the offices up.
Read More | Anatomy of a Civil War: Writer Nir Rosen on Iraq's Descent Into Chaos | Sunni Iraqis targeted in revenge killings | Tribal/Fundamentalist Violence | Mosques hit amid Baghdad clashes | Suicide blasts kill 22 in northern Iraq | Only Iraqis can overcome this national catastrophe
Faleh Hasan Shanshal, a political aide of Moqtadr al-Sadr, said on Friday: "We have asked al-Maliki to cancel his meeting with Bush as there is no reason to meet the criminal who is behind terrorism in Iraq. "We will suspend our membership in parliament and the cabinet if he goes ahead."
Read More | Iraqi coalition on brink of collapse as country descends towards civil war
Raed Jarrar writes:
The pro-Iranian parties in the Iraqi government, like SCIRI and Dawa, are working to create a Shi'a state in the south of Iraq. Al-Qaida wants to create a Sunni state in the middle, and the U.S., supported by some allies in the region, wants to cut Iraq apart into small fragments and run away. But the vast majority of Iraqi Sunni and Shi'a groups and leaders are working, without a foreign agenda, to protect their country's unity. Read More
Related Categories:

Iraq | International
We are 100% volunteer and depend on your participation to sustain our efforts!
Get Involved
If you'd like to help with maintaining or developing the website, contact us.