From the Open-Publishing Calendar
From the Open-Publishing Newswire
Indybay Feature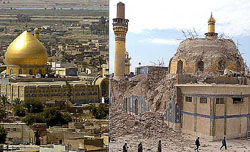 Tue Feb 28 2006
Al Askari Mosque Destroyed Sparking Sectarian Violence
Destruction Of The Al Askari Mosque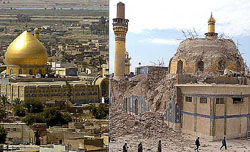 On
February 22nd, 2006
,
a bomb destroyed the dome
of the
Al Askari Mosque
in the northern Iraqi city of
Samarra
. The remains of the tenth and eleventh Shia Imams, Ali al-Hadi and his son Hassan al-Askari, rest at the shrine and it stands adjacent to a shrine to the twelfth, or hidden Imam,
Muhammad al-Mahdi
.
Juan Cole reports
: "The Twelfh Imam or Mahdi is believed by Shiites to have disappeared into a supernatural realm from which he will someday return. Some Shiites think his second coming is imminent. Muqtada all-Sadr and his followers are among them ... Iranian President Mahmoud Ahmadinejad is also a firm believer in the imminent coming of the Mahdi. "In a gesture of goodwill,
Iraqi Sunnis in Samarra helped work to rebuild the mosque
.
Samarra: Shia pilgrimage centre | History of the Shrine at Samarra | Bombers spent long hours planting explosives overnight
The destruction of Al-Askariya
brought tens of thousands of Shiite youth onto the streets
, vowing to exact retribution on Sunnis and the US-led occupation forces. The Mahdi Army and the Badr Brigade militia of the Shiite Supreme Council for the Islamic Revolution in Iraq (SCIRI) took over entire suburbs of Baghdad, Basra, Amarra, Najaf, Karbala, Nasiriya and other southern Iraqi cities.
Americans in Iraq initially were powerless
when the crisis broke out on Wednesday, and could only hope that the Shiite clerics would calm people down. They only gradually realized that the clerics were equally capable of stirring people up, and that the clerics themselves were under enormous pressure from enraged followers to do something. "Sunni leader Tariq al- Hashimi threatened reprisals for reprisal killings.
Abdul Aziz al-Hakim blamed the US
for holding back the Badr Corps. Grand Ayatollah Sistani called for nonviolent street protests that he must know won't be nonviolent. Iran is blaming Bush and the Israelis" On February 26th,
Muqtada al-Sadr said before a big crowd of his supporters in Basra
, "I call for a united, peaceful demonstration in the capital, Baghdad, which you will organize at a specific time, involving Shiites, Sunnis and others, in which you will demand the withdrawal of the Occupying forces, and call for mutual love among you." He made an attempt to rein in the Mahdi Army militia, whom Sunnis accuse of burning Sunni mosques in Baghdad after the Samarra attack. By February 28th,
As many as 1,300 people may have died
in the wave of sectarian violence that swept Iraq. Most of the dead had been shot, knifed or garroted, often with their hands tied execution-style behind their backs.
2/24: Democracy Now : Baghdad Imposes Daytime Curfew | Baghdad Under Daytime Curfew, Qaradawi Urges Restraint | Rockets hit Iraq Shia tomb
2/25: Violence in Baghdad, Samarra Curfew Partially Observed | Makkah Imam Urges Iraqis to Cool Their Guns | Raed: Shia and Sunni Iraqis ask the Occupation to Leave
2/26: Attacks push Iraq to brink | More Shrines Destroyed, 60 Killed - Sistani forms Militia | A Family In Baghdad: Reflections On The Imamain Shrine
2/27: Dozens killed after Baghdad lifts curfew | Sectarian crisis propels firebrand cleric to fore
2/28: Iraq: Slipping Back Into Unrest | Iraq PM defiant after bloody week | Mortar Strike on Sunni Mosque Kills 4 - Violence Subsides | Bahrainis Continue Protests Over Samarra Bombing
3/1: Iraq: After Askariya | Deadly Sectarian Violence kills 76, Wounds 179
3/2: Iraq: On the brink | There is ethnic cleansing | Gangs 'kill freely' in Iraq chaos | Kurds, Sunnis Attempting to Dump Jaafari - Violence Leaves 30 Dead
Iraq's defence minister
says a civil war will never end
if it erupts as violence escalates across Iraq.
Iraqi blogger Riverbend writes
:
"It does not feel like civil war because Sunnis and Shia have been showing solidarity these last few days in a big way. I don't mean the clerics or the religious zealots or the politicians- but the average person. Our neighborhood is mixed and Sunnis and Shia alike have been outraged with the attacks on mosques and shrines. The telephones have been down, but we've agreed upon a very primitive communication arrangement. Should any house in the area come under siege, someone would fire in the air three times. If firing in the air isn't an option, then someone inside the house would have to try to communicate trouble from the rooftop."
Life-and-death struggle for Iraq | Long path to Iraq's sectarian split | Iraq's Going According to the Plan? Death Squads, Shrine Bombers, Civil War | Iraq Cracks: And Now Come the Death Squads | The Iraq "Civil War" myth | Bush administration drags Iraq towards the abyss of civil war | Iraqi Sectarianism: Inherited, Irreversible?
We are 100% volunteer and depend on your participation to sustain our efforts!
Get Involved
If you'd like to help with maintaining or developing the website, contact us.