From the Open-Publishing Calendar
From the Open-Publishing Newswire
Indybay Feature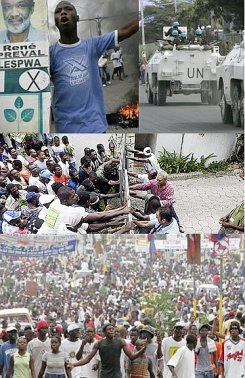 Tue Feb 14 2006
Attempt to Block Democracy in Haiti, Again
Fraud And Manipulation Lead To Runoff Vote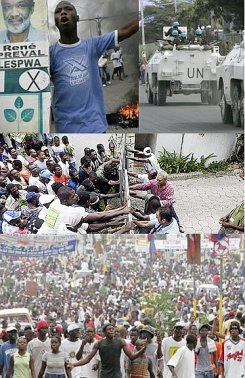 2/15/2006:
Former President
Rene Preval said on Tuesday he won last week's election outright
and urged Haitian elections officials to hold off publishing final election results because of possible fraud. "We are sure of having won in the first round," Preval said in his first significant comments on the election results in the week since the vote more On Wednesday, vote monitors
discovered piles and piles of burned and trashed ballots marked for Preval
.
Executive Director of Haiti's Provisional Electoral Council (CEP) Jacques Bernard, an appointee of 'interim' Prime Minister Gerard Latortue, indicated Saturday evening that the percentage of votes for Presidential candidate Rene Préval in the February 7 presidential elections was actually lower than originally estimated. This was due to the addition of 72,000 blank ballots. A spokesman for the electoral council said blank votes had not been counted in past elections, but these ballots were added to vote totals used to calculate each candidate's tally, effectively lowering each candidate's percentage of the overall vote and dropping the vote for Préval to less than 50 percent. If this stands, there will be a runoff vote, presumably pitting Préval against elite-backed Leslie Manigat, who only received around 12 percent of the vote.
Electoral council member Pierre Richard Duchemin said he was being denied his rightful access to information about the tabulation process and called for an investigation. Pointing to "a certain level of manipulation," Duchemin told The Associated Press, "there is an effort to stop people from asking questions." Dr. Frantz Large, a Senate candidate for Lespwa, Préval's party, observed: "The first objective of the provisional authority is to force René Préval to a 2nd round, and run a coalition of candidates against him. "The second objective is to push the popular masses who have a legitimate beef, into the streets, inciting them to vent blind rage onto the « bord de mer » (dockside) in Port-au-Prince which houses stores and offices of all kinds, small businesses, fine victims making up the country's working middle class. This would certainly lead to creating hate and resentment against President Préval, and a desire to find refuge in stifling policies that border on fascism."
Further fanning the flames of discontent amongst hundreds of thousands who have been subjected to unrelenting repression involving rape, extrajudicial execution and illegal imprisonment of dissidents since the February 2004 U.S.-backed ouster of the democratically-elected government of President Jean-Bertrand Aristide, the UN today again opened fire on demonstrators in Port-au-Prince. An anonymous UN official told a reporter that "several dozen" were injured.
Read More | Counting Some of the Votes in Haiti | Mass protests erupt over vote count | Haiti Democracy Project has U.S. Defense Dept Chief as an "election observer" | U.N. Troops Kill Haitian Democracy Demonstrators | Haiti's Poor Erupt in Protest | Préval supporters paralyze Haiti's capital, validity of elections in doubt | US troop deployment sparks protests in Dominican Republic
Related Categories:
Haiti
We are 100% volunteer and depend on your participation to sustain our efforts!
Get Involved
If you'd like to help with maintaining or developing the website, contact us.