From the Open-Publishing Calendar
From the Open-Publishing Newswire
Indybay Feature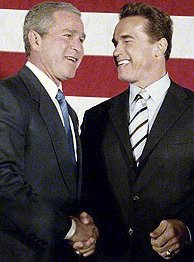 Mon Nov 7 2005
Elecciones Especiales en California el 8 de Noviembre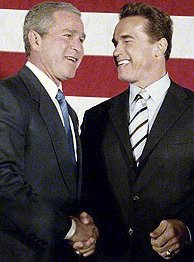 Las elecciones especiales en California de 2005 serán celebradas el
8 de Noviembre, 2005
luego de haber sido anunciadas por el Gobernador Arnold Schwarzenegger el 13 de Junio pasado. Personas registradas a votar en California votaran sobre ocho proposiciones.
Las medidas incluyen:
Prop. 73
: Crearía un periodo de espera y la obligación de notificar a los padres antes de que un menor se halla realizado un aborto.
Prop. 74
: Haría que nuevos maestros deban esperar cinco anios antes de tener un estado permanente, y haría que despedir maestros permanentes sea mas facil.
Prop. 75
: Haría que los sindicatos de organismos públicos necesiten tener permiso escrito cada anio de cada miembro antes de poder gastar dinero en actividades relacionadas con política.
Prop. 76
: Daria al gobernador poderes especiales para reducir el presupuesto publico. Dejaría sin vigencia la Proposición 98, votada y aprobada en la otra elección, que garantiza fondos mínimos para la educación.
Prop. 77
: Coloca la responsabilidad de redefinir los distritos en manos de un panel de jueces retirados, en vez de la legislatura estatal.
Prop. 78
: Iniciativa de prescripción de drogas escrita por grandes companias farmacéuticas. Companias farmacéuticas podrían entrar un programa voluntario de descuento en prescripción de drogas.
Prop. 79
: Iniciativa de la coordinadora por acceso a la saludo (Health Access coalition), crearía un programa de descuentos a las drogas que requeriría la participación de los que fabrican las drogas si ellos quisieran vender medicinas a través del programa del estado Medi-Cal.
Las próximas elecciones serán las mas caras en toda la historia de California.
Leer Mas En la Pagina sobre Elecciones y Gobierno de Indybay.
We are 100% volunteer and depend on your participation to sustain our efforts!
Get Involved
If you'd like to help with maintaining or developing the website, contact us.