From the Open-Publishing Calendar
From the Open-Publishing Newswire
Indybay Feature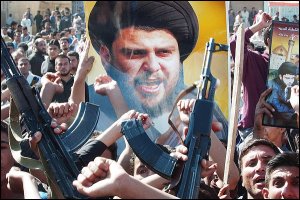 Wed Sep 7 2005
Iraqi Resistance Spreads South Into Shia Areas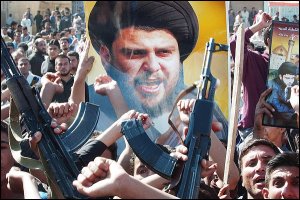 Despite all the bush administration attempts of showing the anti-occupation movement in Iraq as "Sunni" or "Saddamist" or "Baathist" or whatever other labels were, the Sadr movement has turned the table and proved that Iraqis are against the occupation and all its imposed consequences despite their ethnic and sectarian differences. As-Sadr movement arranged many demonstrations last week, along with other Iraqi political movements around the country, mobilizing tens of thousands of Iraqi protestors asking for a better constitution and better public services.

-
Raed Jarrar: 9/1/2005
Coalition and Iraqi authorities are wondering whether they are seeing the start of a
fresh wave of violence in Southern Iraq
in the run up to next month's referendum on the new Iraqi constitution. On
September 5th
,
a road side bomb killed two British soldiers in southern Iraq
, according to British authorities. On
September 7th
, a car bomb explosion in the southern Iraqi city of Basra killed at least 16 people and wounded 21 others. The
explosion targeted a resturant
frequented by Iraqi security forces.
While the
Pentagon is busy building four major, permanent air bases in Iraq
, resistance fighters
have taken over the city of Qaim
and "US troops
have officially handed over military control of the southern city of Najaf to Iraqi forces
". While the transfer of Najaf was officially to the "Iraqi army", the 1,500 soldiers shouted "Long live Sistani" during the ceremony, suggesting that real power will be in the hands of the Badr militia which is associated with the governing SCIRI party but accused by the US of getting its weapons from Iran.
Meanwhile,
Iraq's justice minister has condemned the U.S. military
for detaining thousands of Iraqis for long periods without charge and wants to change a U.N. resolution that gives foreign troops immunity from Iraqi law. Key rebuilding projects in Iraq are grinding to a halt because
American money is running out
and security has diverted funds intended for electricity, water and sanitation. "Water and sanitation have been particularly badly hit ...the investigative branch of Congress, $2.6bn has been spent on water projects, half the original budget, after the rest was diverted to security and other uses."
Related Categories:
Iraq
We are 100% volunteer and depend on your participation to sustain our efforts!
Get Involved
If you'd like to help with maintaining or developing the website, contact us.