From the Open-Publishing Calendar
From the Open-Publishing Newswire
Indybay Feature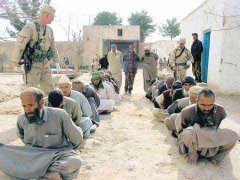 Tue Mar 1 2005
Torture And Abuse By US Soldiers Continues In Afghanistan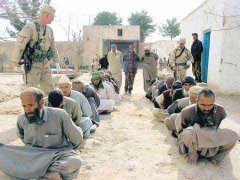 3/19/2005
"What has been glimpsed in Afghanistan is a radical plan to replace Guantánamo Bay. When that detention centre was set up in January 2002, it was essentially an offshore gulag - beyond the reach of the US constitution and even the Geneva conventions. That all changed in July 2004. The US supreme court ruled that the federal court in Washington had jurisdiction to hear a case that would decide if the Cuban detentions were in violation of the US constitution, its laws or treaties. The military commissions, which had been intended to dispense justice to the prisoners, were in disarray, too. No prosecution cases had been prepared and no defence cases would be readily offered as the US National Association of Criminal Defence Lawyers had described the commissions as unethical, a decision backed by a federal judge who ruled in January that they were "illegal". Guantánamo was suddenly bogged down in domestic lawsuits. It had lost its practicality. So a global prison network built up over the previous three years, beyond the reach of American and European judicial process, immediately began to pick up the slack. The process became explicit last week when the Pentagon announced that half of the 540 or so inmates at Guantánamo are to be transferred to prisons in Afghanistan and Saudi Arabia."
Read More | Taliban Country: Afghanistan 3 1/2 Years After the U.S. Invasion
2/17/2005
Evidence has emerged
that "US forces in Afghanistan engaged in widespread Abu Ghraib-style abuse, taking 'trophy photographs' of detainees and carrying out rape and sexual humiliation" The
UK's Guardian newspaper
has obtained documents that "contain evidence that such abuses took place in the main detention centre at Bagram, near the capital Kabul, as well as at a smaller US installation near the southern city of Kandahar." Photographs taken in southern Afghanistan "show US soldiers from the 22nd Infantry Battalion posing in mock executions of blindfolded and bound detainees." In addition,
several American soldiers are under investigation
in the shooting deaths of two Afghan villagers outside a U.S. base in western Afghanistan. Witnesses and local officials said the on the afternoon of February 11th, two villagers were shot while they fled across a field. Two witnesses said in an interview that two American soldiers then approached one of the Afghans, who was wounded, and shot him dead at close range.
The US is also accused of
spraying toxic chemicals on Afghan fields
causing serious health problems for the population. Afghanistan has become the world's largest opium producer (
producing 90% of the heroin sold in Britain
) and its likely the spayings were part of a US attempt to destroy opium fields. WHile the US has denied carrying out such sprayings, "They are the ones with the planes," said Abdul Ahmad who lost, together with his brother Abdullah, 200 animals from symptoms that suggested poisoning. Abdullah told an American daily that one night in early February he was watching over his animals when suddenly a plane flew overhead three time. In the morning, the animals "went mad, their eyes went blue and they could not eat," said his brother Abdul Ahmad. "Water was coming from their mouths, they were trying to eat their droppings and they were shivering," he added. The February 3 incident also left villagers, particularly children, complaining of fevers, skin rashes and bloody diarrhea.
UK attempt to eradicate Afghan opium fails | US Troops Slaughter Afghan villagers | Abu Ghraib-style abuse by the US in Afghanistan
We are 100% volunteer and depend on your participation to sustain our efforts!
Get Involved
If you'd like to help with maintaining or developing the website, contact us.