Sat Jun 7 2003
Protest Bioimperialism!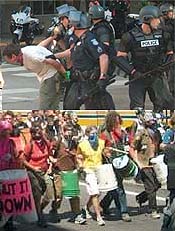 Breaking news at Biotech IMC | Listen to Sacramento Live Web Radio
Ministers of Trade, Agriculture and Environment from 180 nations, including all member states of the World Trade Organization (WTO), are expected to participate on June 22-25 in Sacramento in a conference hosted by the U.S. Department of Agriculture (USDA), USAID, and the US State Department. This meeting will be a stepping stone to the September WTO Ministerial in Cancun and the Summit of the Americas on FTAA scheduled for Miami in November. There is a call out for people to go to Sacramento for a five-day convergence of action and education. There is a schedule for
Bay Area mobilization planning meetings
for people planning to take action in Sacramento.
Photos: 1 - 2 - 3 - 4 - 5 - 6 - 7 - 8 - 9
Archive: ECR Live from the Sacramento Mobilization
Biotech IMC - For Breaking News | Portland IMC | Biodev.org | Sacmobilization.org | Anti-capitalist/Anti-authoritarian Gathering | Audio Interview with Luke Anderson | Convergence Schedule