From the Open-Publishing Calendar
From the Open-Publishing Newswire
Indybay Feature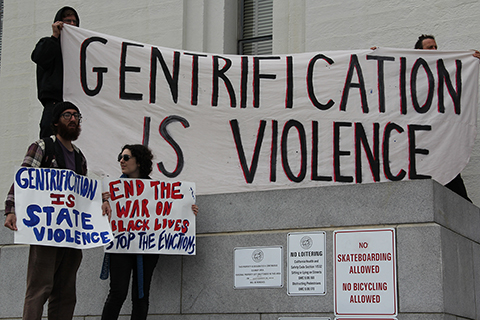 Sat Nov 19 2016 (Updated 11/20/16)
Renter Control Ballot Measures Pass in Oakland, Richmond, and Mountain View
Sat Nov 19 2016 (Updated 11/20/16)
Renters Win in Three Cities, But Measures in Burlingame, San Mateo and Alameda Do Not Pass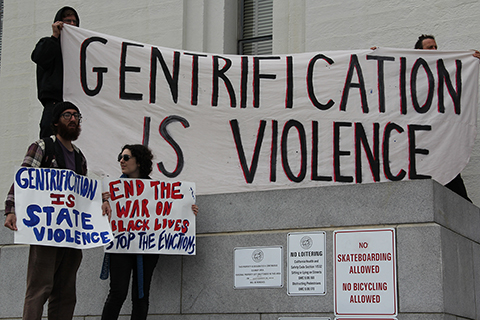 Tenants in the cities of Oakland, Richmond, and Mountain View are celebrating rent control victories. Tens of thousands of renters will have new protections from greedy landlords, realtors and speculators around the Bay Area.
The renter protection ballot measure in Oakland, known as Measure JJ, was voted into law with 74% of the vote. The measure only needed a majority of voters to pass. Measure JJ has become the law of the land.
In Richmond, after a long hard struggle against the schemes of the landlords, realtors, speculators, and the California Apartment Association (CAA), Measure L passed with 64% of voters supporting rent control and just cause eviction protections.
Also, in a victory for Mountain View over corporate interests, the grassroots renter protection measure known as Measure V was passed with 53% of the voters saying yes. Measure V will protect over 14,000 households, including families, teachers and nurses from rent price gouging and eviction-for-profit schemes.
Rent control measures in Burlingame, San Mateo and Alameda did not succeed. After spending large amounts of money to defeat rent control across the Bay Area, the California Apartment Association (CAA) is gloating on their website about these losses for renter protections.
Read More
Related Feature:
Fight Over Skyrocketing Bay Area Rents to Hit the Ballot Box
Related Categories:

California | East Bay | Peninsula | South Bay | Government & Elections | Health, Housing & Public Services | Front Page