From the Open-Publishing Calendar
From the Open-Publishing Newswire
Indybay Feature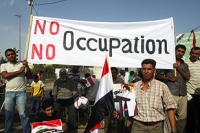 Sun Dec 7 2008
Iraq-US Status Of Forces Agreement
Protests As Iraqi Government Approves SOFA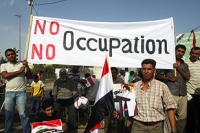 The U.S.-Iraq Status of Forces Agreement (SOFA) is a pact that provides a legal basis for U.S. troops in Iraq and establishes their departure from Iraq by December 31st, 2011 pending any negotiations. On November 16th, 2008, Iraq's Cabinet approved the agreement. On November 27th, the Iraqi Parliament ratified the agreement. Followers of Moqtada al-Sadr and many others protested the passing of the accord as prolonging and legitimizing the occupation, and Grand Ayatollah Sistani expressed concerns with the ratified version. On December 4th, Iraq's presidential council approved the security pact. A referendum must be held by mid-2009 which may terminate the agreement and require Coalition forces to completely leave by the middle of 2010.
On May 22nd 2003,
UN Security Council Resolution 1483
created a "legal" framework for the US occupation of Iraq. The resolution affirmed that the United States and the United Kingdom had responsibility for Iraq as the "occupying powers under unified command". It empowered the US-UK coalition, making it the legitimate and legal governing and peacekeeping authority recognized the creation of a transitional governing council of Iraqis. On November 18th, 2006,
UN Security Council Resolution 1723
extended the mandate of multi-national forces in Iraq until December 2007. On December 18, 2007,
UN Security Council Resolution 1790
extended the mandate of multi-national forces in Iraq until December 31st 2008.
On June 13th, 2008, Iraqi Prime Minister Maliki said that negotiations with the United States on a long-term security pact were deadlocked because of concern the deal infringed Iraqi sovereignty. "We have reached an impasse because when we opened these negotiations we did not realize that the US demands would so deeply affect Iraqi sovereignty and this is something we can never accept...We cannot allow US forces to have the right to jail Iraqis or assume, alone, the responsibility of fighting against terrorism." On October 16th, after several months of negotiations, U.S. Secretary of Defense Robert Gates and Secretary of State Condolezza Rice briefed senior U.S. lawmakers on the draft SOFA, but despite a compromise on the issue of jurisdiction over off-duty U.S. troops who commit crimes under Iraqi law, issues related to the timeline for U.S. withdrawal and Iraqi insistence on "absolute sovereignty" remained.
On November 16th, Iraq's Cabinet approved the agreement, which cited the end of 2009 for the pull out of US troops from Iraqi cities. On November 27th, the Iraqi Parliament ratified SOFA, establishing that Coalition combat forces will withdraw from Iraqi cities by June 30th, 2009, and will be completely out of Iraq by December 31st, 2011, but allowing for further negotiation if the Iraqi Prime Minister believes Iraq is not stable enough. The pact forbids holding prisoners without criminal charges, and limits searches of homes and buildings. Coalition forces are subject to Iraqi law if they commit major and premeditated crimes while off-duty and off-base. A referendum of Iraqis will be held in mid-2009 on the pact, which may require Coalition forces to leave by the middle of 2010. Parliament also passed another U.S.-Iraqi bilateral pact called the Strategic Framework Agreement, aimed at ensuring minority Sunni interests and constitutional rights.
In Iraq's Parliament, the pact was supported by 149 of 275 members from SCIRI, Dawa, the two Kurdish parties and members of the Sunni-based Iraqi Accord Front.
After the deal passed, some 9,000 Iraqis gathered to protest in Sadr City. Protesters burned a U.S. flag and held banners reading: "No, no to the agreement". "We condemn the agreement and we reject it, just as we condemn all injustice." Muqtada Sadr called for three days of peaceful protests and mourning after the passing of the agreement.
The most powerful religious figure in Iraq, Grand Ayatollah Sistani, expressed concerns with the ratified version of the pact and noted that the government of Iraq has no authority to control the transfer of occupier forces into and out of Iraq, no control of shipments, and that the pact grants the occupiers immunity from prosecution in Iraqi courts. In Karbala, an aide to Sistani, Sheikh Ahmad al-Safi, said he had two concerns. First, would the Iraqi government actually exercise sovereignty to the degree stipulated in the agreement? And, second, he regretted the lack of any guarantee that Iraq would be removed from Chapter 7 of the UN Charter (and thus regain its independence from the UNSC). He pointed out that as long as US troops were on Iraqi soil, the government in Baghdad would not be truly sovereign. Ayatollah Muhammad al-Ya`qubi, the spiritual leader of the Islamic Virtue Party, also expressed his "disappointment" that the pact was enacted.
On December 3rd, about 2,000 Syrian-based Iraqi refugees staged a protest against the Iraq-US military pact saying that the agreement would place Iraq under US domination. The Association of Muslim Scholars, a group of Sunni religious leaders in Iraq, accused the Sunni Accordance Front, a party which supported the pact, of "selling Iraq" and also denounced the deal as "legitimising the occupation".
Related Posts:
December 2008:
Security agreements mean Iraq occupation will continue to 2012 and beyond
|
Iraq's US security charade
|
Controversy Rages over Security Pact
November 2008:
SOFA Vote Set for Wednesday
|
No post-withdrawal guarantees
|
Thousands Demonstrate Against US Security Pact
|
Hizbullah urges Iraqis to reject US military pact
|
Iraqis hold protest against US pact
|
US-Iraq security agreement set to be ratified
|
Parliament Session on Security Agreement Interrupted by Altercation
|
Iraq debate on US pact disrupted
|
Blocs in Parliament Maneuver to Defeat SOFA
|
Iran's Sudden Support for Iraq-US Security Pact
|
Iraqis View Security Agreement as having a Flexible Timetable
|
U.S. Troops In Iraq Until 2012
|
Al-Maliki Backs Security Pact; Muqtada Calls for 'Universal Demonstration'
|
US pact changes not enough
|
Return of the Baghdad Pact
|
Al-Maliki to Parliament on Security Agreement: 'Take it or Leave it'
|
Poll proposed for Iraq-US pact
October 2008:
Iraqis Want Strict Withdrawal Timetable
|
Iraq Condemns Syria Raid; Seeks Renegotiation of Security Accord
|
Al-Maliki Will Not Sign Security Agreement
|
Iraqi Shia hold security pact march
|
Sadrist Parliamentarians on Strike against Security Agreement
|
What Security Pact? Iraqis Ask
|
US gives warning on Iraq troop pact
|
Iraq-US Pact in Hot Water
|
Iraq seeks security pact revisions
|

DN: Iraqis Protest Proposed Deal to Allow US Troops to Stay in Iraq Until 2011
|
Shiite MPs demand SOFA Renegotiation
|
Iraqis protest against proposed security agreement with US
|
Muqtada Calls on Parliamentarians: 'Just say 'No'
|
Al-Sadr condemns Iraq security plan
|
Thousands Protest Security Pact
September 2008 And Earlier:

DN: Leaked U.S.-Iraqi Draft Agreement Envisions Indefinite Occupation
|
SOFA Near to Agreement?
|
Al-Sadr Calls for Rejection of SOFA
|
Negotiations continue over long-term US presence in Iraq
|
Diplomatic Stalemate Over U.S. Presence
|
Iraqis Consider Alternative Deal For U.S. Presence
|
Sovereignty vs power
|
Iraq deal with US to end immunity for foreign contractors
|
Stalemate in Iraq over Extending U.S. Military Presence
|
Patrick Cockburn on the US-Iraqi Clash Over the Status of US Troops
|
US "Blackmails" Iraq for Military Deal
|
A resounding 'No'
|
Secret plan to keep Iraq under US control
|
Shiite Cleric, MP, from al-Maliki's Coalition Denounces Security Accord
|

Thousands of Sadrists Protest Security Pact With US
|
Iraqis protest agreement for indefinite US occupation
|
Sadr demands Referendum on SOFA; Sistani said to Support Referendum
|
Sistani Opposes SOFA
Wikipedia: Iraqi-US SOFA | United Nations Security Council resolutions concerning Iraq
Related Categories:

Iraq | International | Front Page
We are 100% volunteer and depend on your participation to sustain our efforts!
Get Involved
If you'd like to help with maintaining or developing the website, contact us.