From the Open-Publishing Calendar
From the Open-Publishing Newswire
Indybay Feature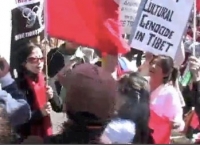 Tue Apr 8 2008
(Updated 04/13/08)
Olympic Torch Protests Come to San Francisco
Protests Against China and Tibet in Leadup to Summer Olympic Games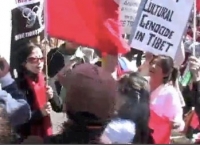 On
Wednesday, April 9th
, the Olympic Torch came to San Francisco. Thousands of people gathered in an Francisco to either cheer or protest. Supporters of China waved Chinese flags and supporters of Tibet hung "Free Tibet" banners from buildings but few saw the torch as the relay did not go along the announced route and the closing ceremony was cancelled. One torchbearer, Majora Carter,
tried to display a Tibetan flag
while running with the torch on Van Ness Avenue but the SFPD quickly took the torch from her and pushed her onto the sidewalk. On Monday April 7th activists from Students for a Free Tibet hung banners from the Golden Gate Bridge; they were later arrested and are now facing felony charges.

CodePink/Global Exchange Brings Positive Olympic Torch |

Rallies On The Embarcadero |

Big Group Takes Torchless Embarcadero

Banner Confrontation |

Tanks in the streets | Sanity in SF Torch Route | Compiled breaking news reports | Archive of live mobile streams |

Pro-Tibetan demonstrators march, and no torch
April 8th San Francisco Tibet Vigil | Action Alert | Burma Contingent | Scaling the Golden Gate cables for a free Tibet |

Photos from the banner drop | Protest on Golden Gate Bridge | SF Welcomes China's Official Secret Police For Lighters On Steroids | Will SF also cede sovereignty to China's police? | Less than a week before the Olympic Torch arrives | Info on Text and Video Updates | Cable Access coverage of the San Francisco Olympic Torch Relay | Twitter the Torch
The Olympics will be taking place between
August 8th and August 24th
in Beijing, China. Many human rights groups are concerned that China is cracking down on dissidents ahead of the games.
On September 28, 2007, the Nobel Peace Prize laureate Desmond Tutu
urged China to intervene
in the crackdown on protests in Myanmar. Tutu said that if China did not take a stance against the military rulers in Myanmar he would "join a campaign to boycott the Beijing Olympics" The press freedom organization
Reporters Without Borders
(RWB) has advocated a boycott of the Olympics expressing concerns over violations of free speech and human rights in China. RWB hopes that international pressure and petition can effect the release of prisoners of conscience, and hold China to promises made to the IOC regarding improvements in human rights. RWB journalists interrupted the speech of the China organizing committee chief during the Olympic torch lighting ceremony in Greece March 24. One protester tried to snatch the microphone as another unrolled a black flag showing the Olympic rings as handcuffs. Activists working to address the ongoing violence in Darfur, Sudan, have called for pressure to be exerted on China because of their financial and diplomatic support for Omar al-Bashir, who is responsible for the Sudanese government's proxy militias. Pro-Tibetan independence groups, such as
Students for a Free Tibet
, have initiated a campaign to protest the Olympics. The group plans to protest for Tibetan independence. The Tibetan People's Movement has also demanded representation of Tibet with its own national flag. On Sunday April 6th, protesters tried to steal the torch as it made a 31-mile trip through London from Wembley Stadium to the O2 Arena in North Greenwich. Several protesters were arrested.
On Monday April 7th, protests in Paris forced an end to the relay in France after protesters repeatedly extinguished the torch.
French snuff Tyranny Torch | UK Indymedia Photos&Video Of London Tibet Protests | Demonstrations in Paris cancel Olympic torch relay | Activists urge torch-bearers to speak out on Tibet oppression | Forget the Olympic Torch: Free Tibet | NYPD caught on tv beating up Tibet protestors in NY | Incendiary Device Left at the Chinese Consulate in SF | HRW: International Olympic Committee Operating in Moral Void
On March 10th 2008, monks from the Drepung monastery in Tibet staged a protest on the anniversary of the 1959 failed rebellion led by the Dalai Lama. Chinese police arrested 60 monks. The next day around 600 monks staged a protest in front of the Lhasa police headquarters demanding the release of the detained monks. Protest across China led to many arrests and possibly hundreds of deaths. The Chinese government has now sealed off Tibet from the outside world
preventing journalists
from getting into the provence and
many essential goods
(such as food and medicine) from getting into monasteries. On April 3rd, China sentenced
AIDS activist Hu Jia
to 3 1/2 years in prison after he testified to the European Parliament and published a letter urging a focus on human rights as the Summer Olympics approach.
The largest Tibetan uprising since 1959 | Tibet Intifada Day 2 | Tibet Intifada Day 3 | HRW: Restrain Forces From Violently Attacking Protesters in Tibet | Petitition to Boycott Beijing 2008 Olympic Games | Repression in Tibet and China | 1959 Tibetan Insurgency | In Tibet, China dishonours Olympic spirit | Chinese profits will soon make the world forget Tibet | Gruppo EveryOne: Save Tibet, Boycott Beijing 2008 | Yahoo and MSN helping to root out Tibetan rioters | China claims "Intern'l Community on OUR side" | More info on the ethnic cleansing of Tibet | M19 Tibet Protest at the Chinese Consulate in SF |

August 8th 2007 SF Protest Against Olympic Torch
Some activists groups are concerned that protests against China are motivated more by US government military and economic interests rather than real concerns about human rights. They point out that the 1959 Tibetan Uprising was sponsored by the CIA and Tibet under the rule of the Dalai Lama was a theocracy .
Party for Socialism and Liberation: Statement Opposing Anti-China Campaign | Oil in Tibet and gold, uranium and more | A Free Tibet: Freedom for whom? | From Brutal Theocracy to Socialist Liberation to Capitalist Nightmare | The Protests in Tibet and the Discontent Below | China, Tibet and the Propaganda Olympics | What's really going on in Tibet
2023-08-19
Environmentalists Speak Out Against Airport Expansion as Climate Disasters Accelerate
Front Page | Environment & Forest Defense | East Bay
2023-08-12
Starbucks Bus Tour Stops in San Francisco, Rallies with Allies to Support Unionization
Front Page | Labor & Workers | San Francisco | Peninsula | California | U.S.
2023-07-19
Halt to Fossil Fuel Funding Demanded as Wells Fargo Operations Shut Down
Front Page | Environment & Forest Defense | Global Justice & Anti-Capitalism | San Francisco | U.S.
2023-07-13
Demonstrations Wrack France, Boiling Over After Police Murder of Youth
Front Page | Police State & Prisons | Health, Housing & Public Services | Global Justice & Anti-Capitalism | LGBTI / Queer | International | Government & Elections | Immigrant Rights
2023-07-02
A Call for Pride to Return to its Roots as a Riot in Defense of LGBTQ+ Rights
Front Page | Health, Housing & Public Services | LGBTI / Queer | Womyn | San Francisco
2023-05-31
Reactionary "Street Art" Campaign Backed by Billionaire Michael Moritz Targeted by Graffiti Artists
Front Page | Police State & Prisons | Health, Housing & Public Services | Global Justice & Anti-Capitalism | Drug War | Arts + Action | San Francisco
2023-05-27
Long-Time Industry Goal Is to Hamper CEQA by Expanding Exemptions, Limiting Challenges
Front Page | Environment & Forest Defense | Central Valley | East Bay | North Bay / Marin | California | Government & Elections
2023-05-25
Critics Say Bankruptcy Stiff-Arms Sexual Abuse Survivors by Limiting Their Options in Court
Health, Housing & Public Services | Education & Student Activism | East Bay
2023-04-25
Tradition of Revolutionary Protest Continues in Paris and Across France as Labor Fights On
Health, Housing & Public Services | Labor & Workers | Global Justice & Anti-Capitalism | International | Government & Elections
2023-04-21
Protests Continue Despite US Supreme Court Allowing Access to Abortion Pill Temporarily
Health, Housing & Public Services | Womyn | San Francisco | South Bay | East Bay | Peninsula | California | U.S. | Government & Elections | Santa Cruz Indymedia
2023-04-17
Big Oil Sponsors Dinners and Awards for California Journalists, Gets Favorable Mentions
Environment & Forest Defense | Media Activism & Independent Media | Central Valley | California | Government & Elections
We are 100% volunteer and depend on your participation to sustain our efforts!
Get Involved
If you'd like to help with maintaining or developing the website, contact us.