From the Open-Publishing Calendar
From the Open-Publishing Newswire
Indybay Feature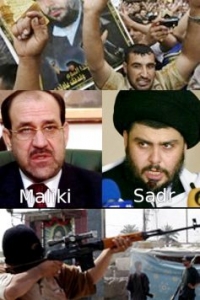 Sat Mar 29 2008
(Updated 03/31/08)
U.S. Occupation Backs Shia Civil War
Sixth Year Of Occupation: The Sieges of Basra and Sadr City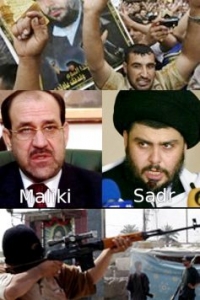 Fighting between Iraqi government forces and militias loyal to Shiite leader Moqtada al-Sadr erupted Tuesday March 25th in the southern port city of Basra. A new civil war is breaking out in Iraq as American-backed Iraqi government forces, many of whom are members of SCIRI's Badr militia, fight rival Shia militiamen tied to Sadr's Mehdi army. Fighting Tuesday quickly engulfed Baghdad's Sadr City neighborhood and spread to other towns as the Iraqi Prime Minister, Nouri al-Maliki, gave fighters of the Mehdi Army 72 hours to surrender their weapons. On Wednesday March 26th, at least 16 rockets were fired into Baghdad's Green Zone following a surrender ultimatum from Iraq's prime minister. On Thursday, one of southern Iraq's two main oil export pipelines was severely damaged in a bomb attack.
The US got drawn into the fighting on Friday March 28th. US planes bombed alleged Mehdi Army positions both in Basra and in Baghdad. Despite the US intervention, government troops were unable to pierce Mehdi Army defenses or over-run their positions. The police force in Basra suffered numerous mutinies and instances of insubordination, with policemen refusing to fire on the Mehdi Army.
On Sunday, March 30th, Sadr called on followers to cease offensive operations. Reportedly, a parliamentary delegation from Maliki's political party defied him by going off to the holy seminary city of Qom in Iran and negotiating directly with Sadr and the leader of the Quds Brigades of the Iranian Revolutionary Guards, Brig. Gen. Qasim Sulaymani.

Iran Brokers Call for Ceasefire Bush reduced to Irrelevancy | Sadr orders fighters to stand down | The sieges of Basra and Sadr City: another US war crime in Iraq | Police Mutiny, Refuse to attack Sadrists; Clashes continue in Basra | A Family In Baghdad: Five years after occupation of Iraq | Demonstrations in Baghdad against al-Maliki | Iraqi government offensive in Basra threatens to trigger Shiite uprising | Bombers attack Basra oil pipeline | Rockets hit Baghdad Green Zone | Iraq implodes as Shia fights Shia | Dozens Dead in Basra Clashes; Mahdi Army Occupies Kut | Iraqi regime launches assault on Basra | Sadrists clash with Iraqi, US forces in Basra | Sadrists' Civil Disobedience Campaign | Sadrists Threaten General Strike
Related Categories:

Iraq | International | Front Page
We are 100% volunteer and depend on your participation to sustain our efforts!
Get Involved
If you'd like to help with maintaining or developing the website, contact us.