From the Open-Publishing Calendar
From the Open-Publishing Newswire
Indybay Feature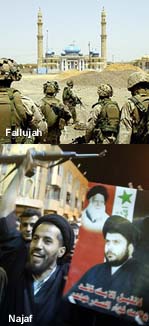 Sun Apr 25 2004
Unrest In Iraq Spreads As Bloodbath Looms In Najaf and Fallujah
Standoff In Fallujah and Najaf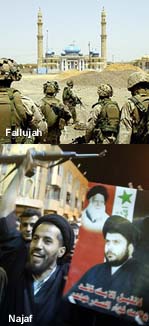 4/25/2004:
The US is
threatening to move into both Najaf and Fallujah
as troops continue to surround both cities, engaging in daily skirmishes with
both Sunni and Shi'ite
resistance fighters. Bombings across Iraq have resulted in many civilian deaths but it remains unclear who has been carrying them out.
The
US is threatening
to move troops into the
Shi'ite holy city of Najaf
, claiming that Sadr's militia is
stockpiling weapons and ammunition
.
Grand Ayatollah Sistani
has
declared a "red line" around the city
forbidding the US from entering. Sadr has
threatened suicide attacks
against the US if attacked and
Iran has also expressed its concern
about the US entrance into a city considered holy to most Iranians. An
emergency delegation of U.S. civilians
(
including two activists from Santa Cruz
) has gone to Najaf to place themselves "nonviolently, symbolically and physically" between the U.S. armed forces and the civilian population. As the Najaf standoff continues,
clashes are already taking place
in Karbala, which is the
second holiest city to Shi'ites
after Najaf. Anger over US attacks on Sadr and an attack on free speech that makes
even private displays of Sadr's picture illegal
have lead to widespread Shi'ite unrest that now appears to include the
"infiltration" of the US backed Iraqi army
by resistance fighters.
Coverage of the Fallujah massacre
in the Arab press has raised anti-American sentiments in Iraq (
and the rest of the Arab world
) to unprecedented levels, but the details of what has been happening in Fallujah are
only starting to emerge
in the mainstream Western press. As
US soldiers brag
of the number of Iraqis they have killed in Fallujah,
estimates of the number of civilian dead grows
.
Schools no longer have pupils
,
homes are being demolished
, and "the
stench of dead bodies
has become overpowering" due to the
US targeting of ambulances
and
hospitals
. Despite the large number of deaths in a city of only 300,000,
resistance fighters in Fallujah
remain resolute with anger over deaths of relatives and destruction of mosques only encouraging them to fight harder.
On
April 21st
,
68 Iraqis were killed and over 200 injured
when bombs went off in downtown Basra. No group took responsibility for the attacks but
protesters in Basra
blamed British forces. On
April 24th
, over
40 died in a day of violence
that included a rocket attack on a busy market in Sadr City that locals claim to have come from US helicopters. Also on the 24th,
three boats exploded
, as
suicide boats
attacked Iraq's main oil terminal. Instability and violence in Iraq have resulted in
endless suffering
for most Iraqis who can not
"change the channel"
as Brigadier General Mark Kimmitt asked people to do in response to questions about problems in the country.
Related Categories:
Iraq
We are 100% volunteer and depend on your participation to sustain our efforts!
Get Involved
If you'd like to help with maintaining or developing the website, contact us.