From the Open-Publishing Calendar
From the Open-Publishing Newswire
Indybay Feature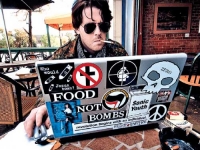 Sat Apr 7 2007
The Home Front: Resistance Spreads as Iraq Veterans Return
The Home Front: Resistance Spreads as Iraq Veterans Return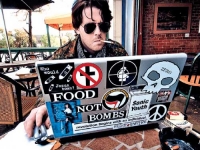 When Jeff Englehart, Thomas Cassidy, and Joe Hatcher joined the Army in early 2001 they were looking for a change of pace and some college money. A few months later, however, the Twin Towers were smoldering, the 'war on terror' was growing from their ashes, and what it meant to be a US soldier was changed dramatically. They three strangers met in the Army and soon found themselves stationed in Iraq, where they served in and around the violent Sunni Triangle from February 2004 until February 2005.
In addition to the ways of war, the Army taught them a lot about power, militarism, capitalism, and resistance. This rapid politicization left the three fighting on behalf of a government they didn't believe in with little choice but to just wait for their three-year enlistments to be over. While still in Iraq, Englehart and Hatcher joined Iraq Veterans Against the War (IVAW); Cassidy followed suit soon after returning. Now they are tireless anti-war activists, dedicated full time to sharing their stories and ending all US aggression abroad.
Fault Lines
talked with them about their time in Iraq and their work since when they stopped in Berkeley as part of a recent West Coast mini-tour.
FL: I know that you're very politically engaged right now. But what kind of political awareness did you have when you joined the Army?
JE: Absolutely none. If I'd had any political awareness I wouldn't have even considered putting on the uniform of a United States soldier. My political education didn't come until I got to my unit. Basically what I realized real quick was I didn't like the army for its authority and its authoritative structure and I learned real quick what can happen when you're placed in a situation when authority is rampant and it's in the hands of irresponsible people. I started reading books that were in opposition to what the military was doing across the globe—books like Chomsky and Howard Zinn, Emma Goldman, Kropotkin, things of that nature. Before I even got to Iraq I was aware of what was happening in the world just from reading these great books. But when you're tied to a system that governs you and rules you by fear, and the punishment for speaking out or acting against the grain can be jail, that fear over your head kept me in line enough to go to Iraq.
FL: How did this politicization affect your relationship to other soldiers?
Read More
Related Categories:

U.S. | Anti-War | Fault Lines
We are 100% volunteer and depend on your participation to sustain our efforts!
Get Involved
If you'd like to help with maintaining or developing the website, contact us.