From the Open-Publishing Calendar
From the Open-Publishing Newswire
Indybay Feature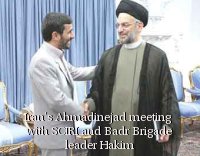 Sat Feb 3 2007
(Updated 03/22/07)
The US gears up for conflict with Iran
Latest US moves in Iraq seem aimed at Iran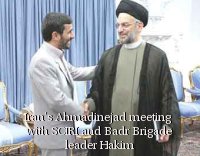 On
January 30th
, Bush ordered on a second aircraft carrier strike group to the Gulf region, raising the US naval presence in the region to its highest level since the 2003 invasion of Iraq. A U.S. buildup for war against Iran may currently be underway. President Bush has ordered the US military to "seek out and destroy" Iranian networks in Iraq, and confirmed last week that he has authorized American troops to capture or kill "Iranian agents". The chief accusation currently being levelled against the Iranian regime is that its agents are supporting and arming Shiite militias inside Iraq to attack US troops—a charge that has yet to be substantiated with concrete evidence. On
February 2nd
, Bush administration officials acknowledged that there was no evidence that Iran was behind any of the unrest in Iraq. "Administration officials have long complained that Iran was supplying Shiite Muslim militants with lethal explosives and other materiel used to kill U.S. military personnel. But despite several pledges to make the evidence public,
the administration has twice postponed the release
— most recently, a briefing by military officials scheduled for last Tuesday in Baghdad."
The U.S., Not Iran, is Wrongfully "Meddling" in Iraq | Charges vs. Iran recall pre-Iraq-war hysteria | Al-Ahram: Blaming Iran | The Bush administration prepares for war against Iran | US-North Korean nuclear agreement: clearing the decks for Iran | Washington sets stage for a new confrontation | NYT Falls for Bogus Iran Weapons Charges | It is no use blaming Iran for the insurgency in Iraq | The Bush administration's campaign of lies and misinformation | Iran envoy 'abducted in Baghdad' | Does the US intend to attack Iran, or is it only sabre-rattling? | Why is the US press silent on Brzezinski's warnings of war against Iran? | Ex-national security adviser warns that Bush is seeking a pretext to attack Iran | Europeans, Senators Fear Iran War | Cruise Missile Diplomacy: Bush Targets Iran | Neocons Manufacture "Crisis in Iran" | Bush Admin. launches anti-Iran propaganda campaign | Realists in US Tone Down Iran Accusations
While the US is demonizing Iran for supporting the Iraqi resistance, the US is arming members of the very militias that are accused of having Iranian influence. The current Iraqi government is closely tied to the Badr Brigades which is the armed wing of the SCIRI political party which is lead by Abdul al-Aziz al-Hakim. The party that gained the most votes in both the 2004 and 2005 Iraqi elections was the United Iraqi Alliance (UIA), which is dominated by SCIRI. Hakim lead the UIA in 2005 and was instrumental in the choice of Maliki to lead Iraq in 2006. Hakim even meet with Bush at the White House in December 2006 to help plan Bush's current Iraq strategy. Hakim's Badr Brigades are likely the main Shiite militia in the Iraqi Civil War but one rarely reads about this in the mainstream media since unlike Sadr's Mahdi Army, the Badr Brigades form the primary Shia component of the US backed Iraqi Army (the police force contains many members of both the Badr Brigades and the Mahdi Army). While Sadr's militia may receive some Iranian help, members of Sadr's family were Shia nationalist leaders in Iraq as far back as the early 1900s. The Badr Brigades, on the other hand, were founded in Iran and trained by the Iranian Revolutionary Guards. Iranian influence in Iraq may scare US policy makers but ultimately Iran and the US are arming the same groups.
Iraqi Army division deepens discord | al-Hakim in Tehran seeks Regional Cooperation | Sunnis Accuse Iraqi Military of Kidnappings and Slayings | Wikipedia: Badr Organization and Post invasion Iraq | Pre-2003 Profile Of SCIRI | Sunnis Accuse Iraqi Military of Kidnappings and Slayings | Iranian Shadow Falls Over Baghdad | Badr vs. Sadr | Will Iran Enter the Iraq War?
Part of the US strategy to raise concerns over Iranian influence in Iraq is to point to the large numbers of Iranians who have visited Iraq since the fall of Saddam Hussein. With the main Shia religious cities located in Iraq (the cities of Najaf and Karbala), Iranian visitors should not be much of a surprise. Many of the religious leaders in Iraq's Najaf, including
Grand Ayatollah Ali al-Sistani
, were born in Iran. As the only majority Shia country, Iran was a strong backer of oppressed Shia groups in Iraq under Saddam's rule and most of those relationships continued after the US invasion. Prime Minister Nouri al-Maliki was born in Iraq but lived in exile, first in Iran and later in Syria. With both Ahmadinejad and many leaders in Southern Iraq following the orders of the Shia religious establishment, it is unclear what US accusations of Iranian interference in Iraq would even mean.
Ali Khamenei
, who is the Supreme leader of Iran (a position more powerful than that of Ahmadinejad), studied in Iraq's Najaf as did Hezbollah's Hassan Nasrallah. Muqtada al-Sadr's father-in-law,
Mohammad Baqir al-Sadr
, was a well known Najafi religious leader, a strong supporter of the Iranian revolution and a mentor to several of the initial members of Hezbollah. The leader of the Iranian revolution
Grand Ayatollah Ruhollah Khomeini spent 14 years in Najaf
before returning to Iran to found the current state. One could claim that Shia fundamentalism in both Lebanon and Iran is more a product of Iraq's Najaf than the other way around.
We are 100% volunteer and depend on your participation to sustain our efforts!
Get Involved
If you'd like to help with maintaining or developing the website, contact us.