From the Open-Publishing Calendar
From the Open-Publishing Newswire
Indybay Feature
Indybay Journalist Faces Prosecution for Documenting UCSC Highway Blockade
Independent journalist Alex Darocy, long-time Indybay contributor and editorial collective member, is currently facing criminal charges for shooting photographs of a student protest on Highway 1 in Santa Cruz earlier this year. In a Motion to Dismiss set to be heard in Santa Cruz County Superior Court on November 13, Alex and his attorney George J. Gigarjian argue that the prosecution is attempting to criminalize and chill conduct that is protected under the First Amendment. It's certainly not the first time the Santa Cruz district attorney's office has tried to do so.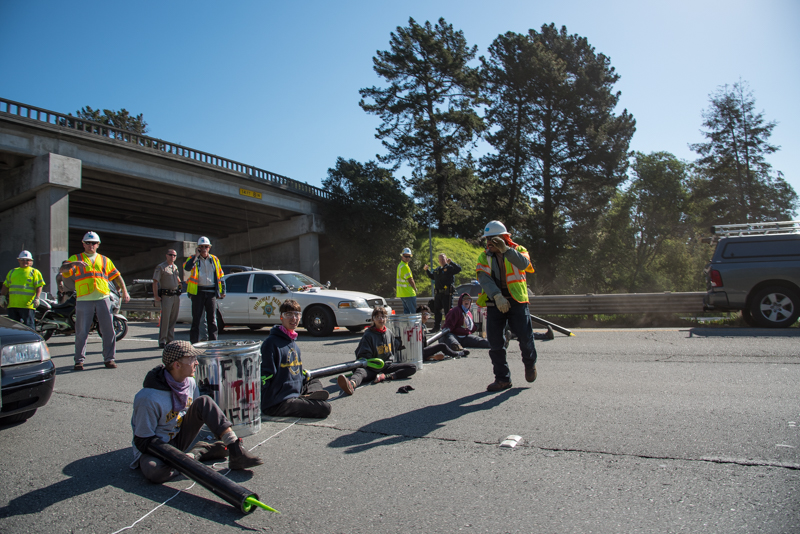 [Is
this photo by Alex
really worth the court's time? Is it worth possible jail time?]
On the morning of Tuesday, March 3,
six UCSC students blocked California Highway 1
using lockboxes and garbage cans filled with concrete and metal objects. The blockade of the
Cabrillo Highway
— which effectively disrupted traffic at the primary northern approach to the city of Santa Cruz for over four hours — was one of numerous "96 Hours of Action" demonstrations across the state during four days of student-led protests that linked shrinking budgets for education to the expansion of prisons and policing.
The shutdown of the freeway by the students in Santa Cruz was a highly newsworthy event. Having already photographed the UCSC campus
rally and marches
the previous day, Alex hurried to the site of the freeway blockade to document events, making it there within an hour of the initial lockdown.
In a matter of 15 seconds upon his arrival on the scene, Alex shot several photographs of the student demonstrators from his car as he passed the blockade, and for that he is currently being prosecuted, facing the possibility of jail time. The California Vehicle Code sections Alex is charged with violating are 2800(a), failing or refusing to comply with a lawful order of a peace officer (a misdemeanor), and 21718(a), stopping on a freeway (an infraction).
While undoubtedly shaken after his arrest by California Highway Patrol officer C. Geddes on March 3, Alex continued to cover student demonstrations during the "96 Hours of Action". Over the course of the next few months, he even went on to follow the
court proceedings for the six UCSC students arrested
for blocking Highway 1, publishing numerous photographs and updates to Indybay.
This is not surprising. Since 2010, Alex has documented hundreds of social justice events for Indybay. He has covered rallies, vigils, protests, and other actions from Monterey to Sonoma counties, from the city of Salinas to Oakland. Artistically, Alex has a sharp eye for creating powerful photographs. And he diligently follows stories over the long term. Recently, Alex has thoroughly reported on the ongoing
Community Sleepouts on Santa Cruz City Hall grounds
. But he should be able to do so without risk to his own person.
The Santa Cruz district attorney's office, regardless of who holds the title of DA, has a clear history of targeting not only protesters for prosecution but the independent journalists who report on their actions. In 2012, district attorney
Bob Lee came after four regular contributors to Indybay with felony charges
, including editorial collective members Alex Darocy and Bradley Stuart Allen. The charges were related to the occupation of a vacant bank at 75 River Street. It was obviously a case of selective prosecution given that a corporate
Santa Cruz Sentinel photographer also entered the building
and was not charged. Fortunately, Santa Cruz County Superior Court
Judge Paul Burdick put a stop to the DA's attack against independent media
and dismissed all charges against Alex and Bradley, eventually dismissing charges against the other Indybay contributors and several protesters as well.
More recently, in yet another attempt to criminalize independent media in Santa Cruz, Alex has received multiple citations for his persistent coverage of the city hall Community Sleepouts. While documenting the September 1 sleepout at city hall, Bradley likewise was pointed out and issued a citation for "being in a park after hours." His infraction charge was dismissed in court on November 10. Alex's charges from the sleepouts are being fought in court this Thursday. He faces steep fines for documenting the nighttime protests.
The prosecution of Alex by current district attorney Jeffrey Rosell over the March 3 photographs, however, is even more serious. While
law enforcement officers pose with protest trophies for Sentinel photographers
, Alex now faces jail time over the matter of a few photographs taken within a 15-second timespan. Hopefully the judge in the case will shut down this misguided prosecution by the Santa Cruz DA as was done in 2012.
The six UCSC students who bravely set themselves down on Highway 1 in an act of civil disobedience have
served jail time and/or been assigned to work release programs
for making their stand. Will Alex Darocy be convicted and receive a similar sentence for photographing their protest?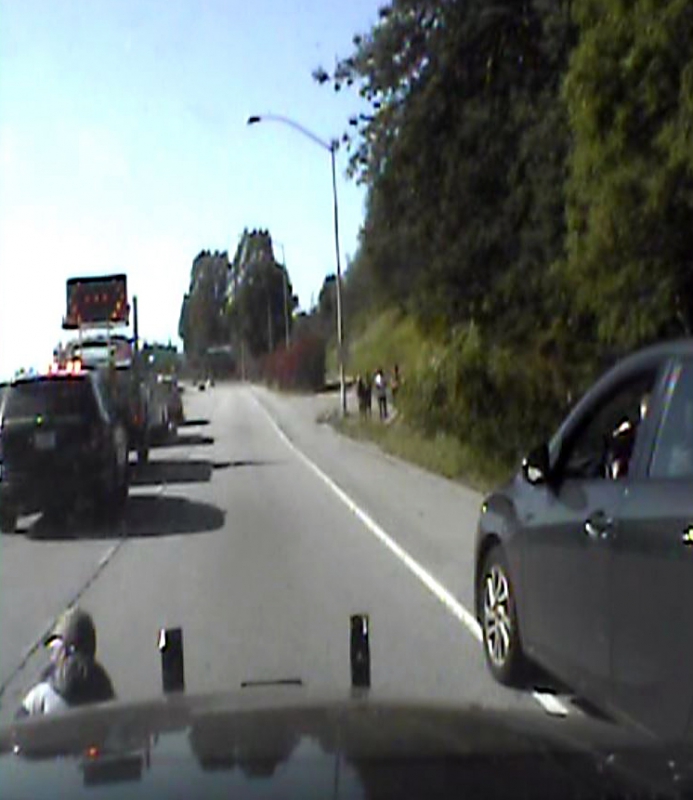 A locked-down student is sitting directly in front of the CHP vehicle.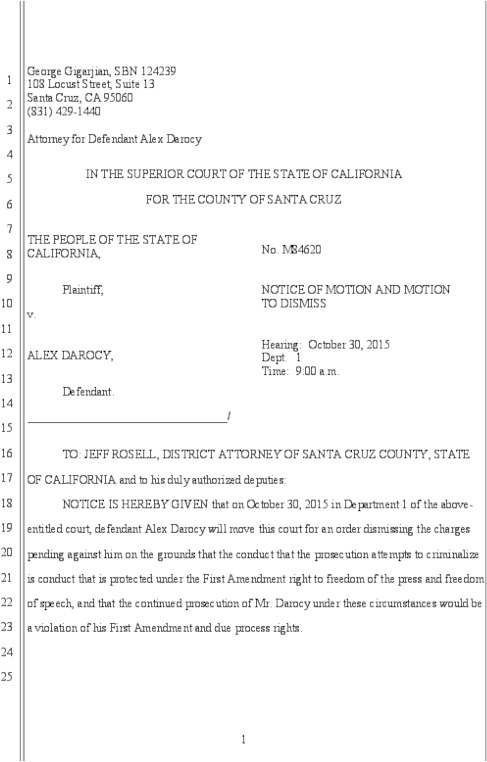 (9-page PDF)

The DA will be asking for a continuance in my case, so tomorrow is a no go for the actual motion to dismiss hearing. I really appreciate the kind words and all of the support from everyone and I will post the new court date when we get it!
We are 100% volunteer and depend on your participation to sustain our efforts!
Get Involved
If you'd like to help with maintaining or developing the website, contact us.