From the Open-Publishing Calendar
From the Open-Publishing Newswire
Indybay Feature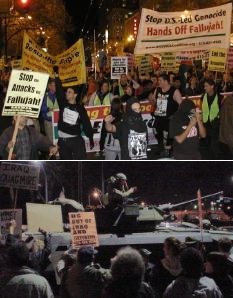 Tue Nov 9 2004
US Military: "No Civilians Left Alive in Falluja"
US Massacres Civilians in Falluja; "Body Parts Everywhere"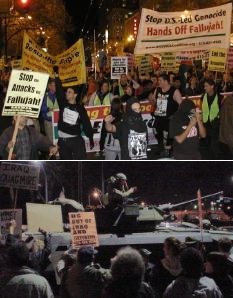 11/14: Updates on the Iraq news page
11/09/2004, several thousand people gathered at Powell and Market Streets in San Francisco and marched in opposition to the US attack on Falluja. The march route took protesters past many of the hotels where workers are locked out and protesters joined in with the picketers at the hotels demanding an end to the lockout.
Photos: 1 | 2 | 3 | 4 | 5 | 6   Video: 1
Two tanks were called out into the streets in response to a simultaneous antiwar protest in LA (
Video & photos
).
Read More on Indybay's Anti-War Page
11/13/2004
The US has declared "mission accomplished" in Falluja, with the US military claiming to have killed over 1000 people in the week long assault. While an Iraqi Red Crescent aid convoy was allowed to enter Falluja they were only allowed to visit the main hospital and were not allowed to distribute aid to those in the city or the refugee camps that have sprung up around the city's outskirts. "They are dying of starvation and a lack of water, especially the children," a Red Crescent spokeswoman said.
11/12/2004
The mass killing of Iraqis by US troops continues in Falluja.
Resistance attacks have spread across the war-torn country
to alleviate the pressure on Falluja. Aid agencies say they are increasingly concerned about Iraqi civilians trapped in the besieged rebel city of Falluja.
11/11/2004:
Two U.S. helicopters were shot down
near Fallujah and the Iraqi Resistance
took control
of much of the Northern Iraqi city of Mosul. Clashes also broke out in the
oil center of Baiji
in northern Iraq. A Car bomb exploded near Kirkuk and a series of car bombs
killed many in Baghdad
. Little real news is able to make its way out of the city and coverage could get even worse as
Iraq's media regulator
has warned news organisations to stick to the government line on Falluja or face legal action.
11/10/2004:
U.S. artillery have been firing white phosphorous rounds into Fallujah neighborhoods, creating a screen of fire which melts skin and cannot be extinguished with water. Almost half of the mosques in Falluja have been destroyed so far in the US raid. Meanwhile, members of Iraqi Prime Minister Allawi's family have been abducted and hundreds of armed men control much of Ramadi and briefly took over over a major bridge in Baghdad.
11/08/2004:
The US ground assault on Falluja has begun. Falluja General Hospital has been occupied by U.S. soldiers. At least
200 Iraqi troops had deserted their posts
.
Full Coverage Of Attack On Falluja
We are 100% volunteer and depend on your participation to sustain our efforts!
Get Involved
If you'd like to help with maintaining or developing the website, contact us.