From the Open-Publishing Calendar
From the Open-Publishing Newswire
Indybay Feature
Oscar Grant 5th Anniversary Event at Bikes 4 Life, 1/1/2014: photo & audio (1 of 2)
On January 1, New Year's Day 2014, community members gathered in the evening at Bikes 4 Life in Oakland to mark five years since Oscar Grant was murdered by BART police officer Johannes Mehserle on the Fruitvale station platform. Before a standing-room-only crowd, a panel moderated by Tony Coleman and featuring Cat Brooks, Dan Siegel, Nigel Bryson, and Minister Keith Muhammad examined various aspects of the Justice for Oscar Grant Movement, its legacy, and how it continues to shape current events in Oakland. (Full audio below.) The event was a "friendraiser" for the forthcoming documentary "Oscar Grant: The Rest of the Story," set to begin production early this year.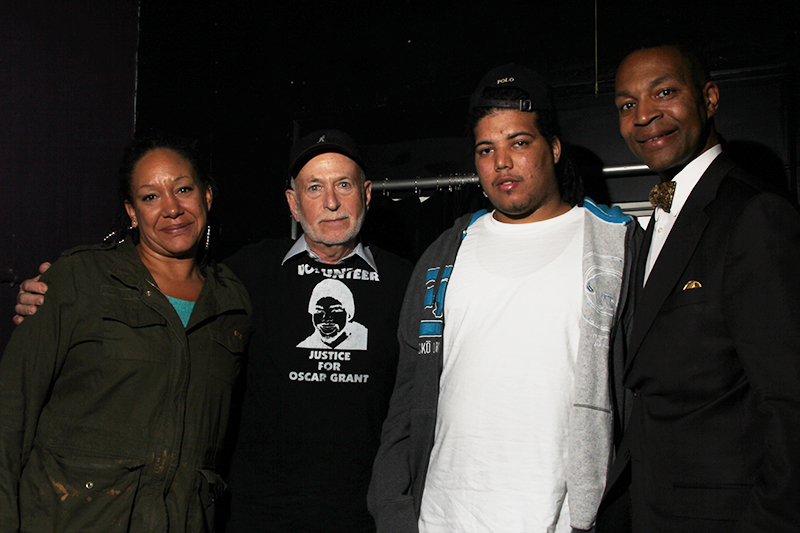 (Pictured: panelists Cat Brooks, Dan Siegel, Nigel Bryson, and Minister Keith Muhammad. Not pictured: MC Tony Coleman.)
Tony Coleman, an organizer in the Justice for Oscar Movement and founder of
Bikes 4 Life
and
One Fam
on 7th Street in West Oakland, hosted and MCd the panel which featured Cat Brooks, Dan Siegel, Nigel Bryson, and Minister Keith Muhammad. Tony Coleman will be one of seven producers for the documentary "Oscar Grant: The Rest of the Story."
Cat Brooks, a long-time community organizer in Oakland, involved in organizing within the Justice for Oscar Grant Movement, is a founder of the
ONYX Organizing Committee
and will be one of the producers of the upcoming Oscar Grant documentary.
Dan Siegel is a long-time
civil rights attorney
in Oakland who has worked to support movements for social justice for decades. Dan Siegel will be announcing his candidacy for Mayor of Oakland on the morning of January 9 at Oscar Grant Plaza on 14th and Broadway. See the Indybay calendar item
Dan Siegel Candidacy for Mayor of Oakland Formal Announcement
.
Nigel Bryson was one of Oscar Grant's friends on the BART platform when Oscar Grant was shot in the back. Nigel Bryson, along with his brother, Jackie, and three other friends of Oscar Grant who were present at the time, were handcuffed and detained by BART police for about six hours after Oscar Grant was shot, despite the fact that they were never charged with a crime. Together, they are currently pursuing civil litigation against BART officers Johannes Mehserle, Tony Pirone, Marisol Domenici, and the BART police department for the physical and verbal abuses they suffered early that morning on New Year's Day 2009. (One of the group of friends who was on the platform at the time and a plaintiff in the litigation,
Johntue Caldwell
, was himself murdered on July 15, 2011.)
BART has been fighting the young men tooth and nail
ever since -- attempting to blame them at least in part for the shooting of Oscar Grant by Johanness Mehserle -- and their case is expected to go to trial in June of this year.
Minister Keith Muhammad, along with other clergy and community activists, was instrumental in pressuring former Alameda County District Attorney Tom Orloff to file a murder charge against Johannes Mesherle for the killing of Oscar Grant. This same group led a recall effort that undoubtedly contributed to the early resignation of DA Orloff in 2009. Minister Keith also helped organized the related Town Hall meetings that ran every week for over a year after Oscar Grant was shot.
While not formally on the panel, Jack Bryson, father of Nigel and Jackie, and community activist, fielded questions from Tony Coleman as well.
Topics discussed included the role of police in our society being to oppress people of color and the poor on behalf of "the 1%"; the murder of Alan Blueford on May 6, 2012, and how Oakland police officer Manuel Masso has yet to be held to account for chasing down Alan Blueford and killing him; how alliances created during the movement for justice for Oscar Grant helped shape Occupy Oakland and other East Bay activism since; what is was like for Nigel Bryson on January 1, 2009, and how he has seen the movement from the eyes of someone who was present when Oscar Grant was killed; tactics used by Mehserle's defense attorney Michael Rains during his trial; as well as an examination of the victories and shortcomings of the Oscar Grant movement itself.
Those in attendance asked questions and made statements following the panel discussion.
Closing note: this reporter has signed on as one of the producers for the forthcoming documentary on the Justice for Oscar Grant Movement. (Additional disclosure: Dan Siegel's son, Michael Siegel, is currently representing this reporter in a civil suit against BART PD over a
wrongful arrest at a 2011 protest at the Powell Street station
. A trial is currently scheduled for March of 2014.)
Audio and photos from the later musical portion of the January 1, 2014, event will be posted in the near future.
January 1st Event Announcement:
Celebrate the Life of Oscar Grant @ Bikes 4 Life
https://www.indybay.org/newsitems/2013/12/19/18748104.php
Indybay Coverage of the Justice for Oscar Grant Movement:
(audio 1:49:15)
Panel runs for 1 hour, 23 minutes.
Speaking after the panel, organizers with the Oscar Grant Committee called for support for Nigel Bryson and Oscar Grant's other friends in their legal fight for justice against BART PD.
oscargrantcomm [at] gmail.com
Hannibal Shakur wanted to raise awareness about his upcoming trial related to the
July 2013 Trayvon Martin rebellions in Oakland
. His case is set to be heard at 9am on January 13, 2014, in department 115 at the Wiley W. Manuel courthouse at 7th Street and Washington. He asked supporters to arrive at 8-8:30am.
Civil rights attorney Dan Siegel announced his candidacy for mayor of Oakland on January 9 before a crowd of well over 100 supporters in Oscar Grant plaza at the corner of 14th & Broadway. Under an arc of green and gray balloons that framed the Jack London Oak, Siegel spelled out an ambitious agenda should he be elected mayor of Oakland. He wants a $15 minimum wage, public schools to develop into community centers, neighborhood gardens to flourish throughout the city, Oakland police to stop abusing citizens, and the Domain Awareness Center to be shut down. To the conventional wisdom in Oakland's halls of power, this a radical agenda. To many in Oakland, however, it's just common sense.

Full video at link below:
We are 100% volunteer and depend on your participation to sustain our efforts!
Get Involved
If you'd like to help with maintaining or developing the website, contact us.