From the Open-Publishing Calendar
From the Open-Publishing Newswire
Indybay Feature
Related Categories:

California | Central Valley | East Bay | North Bay / Marin | North Coast | Peninsula | San Francisco | Santa Cruz Indymedia | South Bay | U.S. | Media Activism & Independent Media
Indybay Ten-Year Anniversary Fund Drive: Your Financial Support Urgently Needed Now
INDYBAY NEEDS TO RAISE $2,010 in order to continue operating.
Indybay has expenses that amount to several hundred dollars every month for hosting this website. It's been over two years since Indybay last had a fundraising drive and now we need to ask for donations again to cover our costs into the foreseeable future. We'll be happy to end this drive as soon as we reach our goal. Please
donate now
so we can end it soon.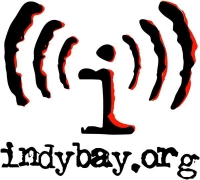 Donation progress toward $2,010 since May 9th:
$2,010
Indybay.org is maintained by all-volunteer collectives and our costs are minuscule in comparison with the service that the website provides to the Bay Area, Santa Cruz, and Northern California activist communities.
Please DONATE NOW! And consider becoming a Friend of Indybay to help us secure our financing into the future.
---
Ten Years Strong: Happy Birthday Indybay!
Born on March 23, 2000, online by August 2000, Indybay.org has hosted TEN YEARS of radical, independent media from the S.F. Bay Area and beyond. All posts, photos, videos, and audio hosted in that time are archived here for your continued use. Indybay has also been the home of
Santa Cruz Indymedia
since January 2006, currently hosts
Bolivia Indymedia
,
Paraguay Indymedia
, and has helped out
San Diego IMC
.
Early Indymedia and Indybay History
|
Troublemaking: The Worst and Best of Indybay
Indybay Is Grassroots Media at Its Finest
The
SF Bay Area
and
Santa Cruz
Independent Media Centers are grassroots organizations truly committed to using media production and distribution as a tool to promote social and economic justice. The IMCs are a cooperative effort of hundreds of independent journalists and media activists. We are neither owned nor funded by big conglomerates, foundations, or advertisers — that's why we urgently need your support now to sustain our efforts!
Indybay's popularity adds to our bandwidth expenses. For years now, Indybay has consistently served over 100,000 page views each and every day, reaching 200,000 daily page views at times. Site visitors are currently uploading and downloading hundreds of gigabytes of news reports, photos, audio, and video every month. Between May 1st and May 8th, for example, Indybay served 845,000 page views and 418 Gbytes of data.
The Importance of Radical Activists and Journalists Utilizing Indymedia
Limited Fundraising Drives
We have not made a major request for donations in over two years but now we must ask again that fans of this site contribute what they can to keep us going. As our expenses are relatively low in comparison with the service that the website provides, we are hoping that we can sustain the website with a limited number of fundraising drives in order to minimize intrusions into your use of the site. If enough people choose to become "Friends of Indybay" we need to do even less.
If you are one of the many who find the coverage on Indybay to be a useful part of your socially conscious life, we ask that you make a small donation of just $20-40. Every little bit you can give will help us maintain this website. If you are a heavy user and visit the site daily or even several times a week, please consider a medium-sized donation of $40-60. If you regularly publish to the newswire, especially posting larger media files, you can help us continue to be a great open-publishing resource by making a more sizable donation of your choice right now.
This fundraising drive will end the minute we reach our goal. Please DONATE NOW! And consider becoming a Friend of Indybay to help us secure our financing into the future.
Support Independent Media!
We are 100% volunteer and depend on your participation to sustain our efforts!
Get Involved
If you'd like to help with maintaining or developing the website, contact us.