From the Open-Publishing Calendar
From the Open-Publishing Newswire
Indybay Feature
LA Indymedia 10-Year Anniversary: "Troublemaking: The Worst and Best of Indybay"
On Saturday, November 14th, 2009,
Los Angeles Indymedia
celebrated 10 years since the first Independent Media Center (IMC) opened its doors in Seattle to cover and support the demonstrations against the meeting of the World Trade Organization (WTO). While the entirety of 10 years of media activism can hardly be presented in an hour, Indybay discussed some of the highlights of stories covered, technologies developed, legal threats battled and lessons learned over the past 9+ years of Indymedia in the Bay Area and Northern California. Attached below are the accompanying 35-page PDF slideshow and full audio.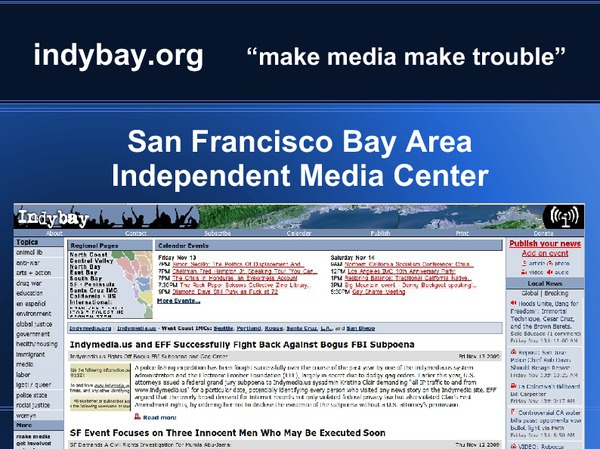 San Francisco Bay Area Independent Media Center

- Initial meetings and indybay.org domain registered in early 2000
- Site launched after the LA DNC
- SF-active codebase forked from LA-active code

- One of the initial features was "The Housing Project" covering housing crisis/gentrification (AKA dot-com boom, AKA dot-com bubble)
- Users were initially allowed to create account and rate articles.

- Indybay expands to cover prison industrial complex, forest defense, other issues and surrounding region.
- Photo by Jeff Paterson

- Global Indymedia gathering held at SF State in April 2001: Indymedia Principles of Unity

- Sept. 2001: SF IMC space opened in historic Redstone Building: public computer lab, video editing, meeting space.
And Indybay is one of few outlets covering anti-war movement.

- January 2003: Aerial photos by Indymedia photographer Peter Maiden showed that the Jan. 18 anti-war march numbered 250,000 -- far more than the 55,000 police estimate.

- Google delivers huge number of page views to Indymedia sites.
- May 2003: Indybay removed from Google News index; hate speech controversy.
- Finally restored in 2004.

- We Interrupt This Empire

- Diebold: Electronic voting systems. CEO promised to get Bush elected (?!)
- Sept 29, 2003: Diebold memos reposted to web from public (oops) FTP server and link published to Indybay.

- Diebold sends DMCA take-down notice to Indybay's upstream host, a non-profit called Online Policy Group.
- Judge ruled that Diebold had misused DMCA; awarded $150,000 damages.

- Other legally problematic posts: Threats – Other "illegal" content? Claims of responsibility

- CHP revokes Indybay press passes after Humboldt County Sheriff complains.
- CHP gave up on its entire press pass program after Indybay and First Amendment Project attorneys intervene.

- Fault Lines newspaper
- 10,000 circulation
- monthly/bi-monthly
- Supported by subscribers
- and ads from local coops, small businesses

- Street Level TV: womyn-run community TV
- Enemy Combatant Radio
- Internet radio; relayed on FM microradio in SF, East Bay, Modesto...
- Took calls from the streets, coordinated information exchange with other sources.

- Breaking news via SMS text message.
- Utilized TXTmob.com
- Automatically syndicate breaking news items from Indybay to TXTmob.com to phones.

- Josh Wolf ordered to turn over video in Grand Jury investigation of July 2005 anti-G8 protest.
- Jailed for 226 days, a record for a journalist refusing to divulge source materials.
- Photo by Bill Carpenter

- Can journalists refuse to comply with grand jury subpoenas?
- Definition of journalist (professional vs. participatory)
- Does Fed. Govt. have standing?

- International solidarity in Lebanon, Oaxaca
Photos by Calamity (Barucha Peller)

- Tristan Anderson
- Prolific contributor of photographs and written reports to Indybay



Indymedia vs. Racist Police Violence

Fruitvale BART station in Oakland, Oscar Grant murdered January 1st, 2009.

Video surfaced publicly a few days later.

Rebellions on Jan. 7th...
…and Jan 14th...
- ...Lead to first ever murder charge against California cop for on-duty shooting.

- Corporate media coverage biased towards police and ignored key points.

- Change of Venue: defense blamed Indybay...
- … and community activists. Judge agreed.

- LA or San Diego?
- Need media activists in courtroom and outside courthouse.
- Need housing for Bay Area activists.
- Solidarity for precedent-setting case.


Questions?

We are 100% volunteer and depend on your participation to sustain our efforts!
Get Involved
If you'd like to help with maintaining or developing the website, contact us.