From the Open-Publishing Calendar
From the Open-Publishing Newswire
Indybay Feature
Remember BART PD? Let Them Know You Do at Public Forum on New Police Chief on 12/17/09
BART's General Manager Dorothy Dugger, the only person currently empowered to fire a BART police chief, decided that it was appropriate to allow Chief Gary Gee to retire of his own accord with full benefits. Dorothy Dugger is also the only person at BART with the authority to hire Gee's replacement. The BART Board of Directors can fire Dugger, though, and now is the time to reiterate that long-time community demand before she is allowed to install another chief of her own choosing. BART is holding a public forum Thursday, December 17th purportedly to gather feedback on the choice of their next chief and it is likely your last opportunity to give them a piece of your mind on the matter before a decision is made early next year.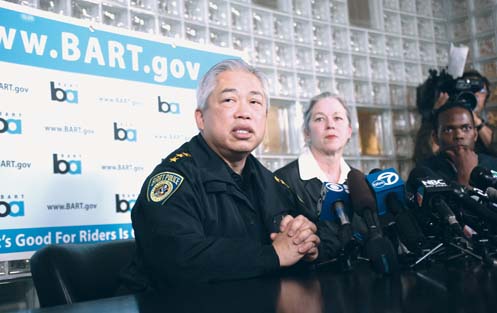 While BART's PR machine saw fit to
blame Oscar Grant for his own murder
in April, it also recently credited Gary Gee with thirty-six years of "
dedicated service
" -- this, despite that fact that Gee has overseen an abhorrently dysfunctional and corrupt police force as documented by
NOBLE
in their review of BART PD and
Meyers Nave
with their investigation into the events of New Year's Day, and despite the fact that Gee refused to hold a single person accountable related to the murder of Oscar Grant, even going so far as to declare that every officer acted
professionally and according to protocol
on January 1st. Currently, Gee is on
extended medical leave
until he cashes out at the end of this year.
Commander Dan Hartwig is now filling in as interim police chief and on November 21st, a BART police officer was again
caught on camera
using excessive force. In a subsequent meeting of BART's
Police Department Review Committee
on November 25th, when questioned about supposed increased training of BART officers, especially regarding mental health issues, Hartwig played typical police misconduct apologist and showed open hostility to public accountability by implying that only police officers are in a position to question police brutality. Of course, Hartwig was hired for the job by Dorothy Dugger.
In short, can the community really afford to sit back and allow Dorothy Dugger to choose the next chief of police at BART?
Protest at BART Public Meeting on New Police Chief
Thursday December 17th
6:00 PM - 8:00 PM
Joseph P. Bort MetroCenter Auditorium
101 - 8th Street in Oakland
http://www.indybay.org/newsitems/2009/12/06/18631625.php
BART Committee on Police Violence Caught on Camera, Hiring Police Chief, & New Year's Eve, 11/25/09: audio
http://www.indybay.org/newsitems/2009/11/28/18630712.php
Violence again on BART involving police and passenger
http://www.indybay.org/newsitems/2009/11/23/18630174.php#18630185
We are 100% volunteer and depend on your participation to sustain our efforts!
Get Involved
If you'd like to help with maintaining or developing the website, contact us.