From the Open-Publishing Calendar
From the Open-Publishing Newswire
Indybay Feature
Big Money Behind Greenway's Effort to Block Passenger Rail in Santa Cruz County
The 'Yes Greenway' campaign took $56,876.47 in contributions between July 26 and September 30, according to financial documents filed today, November 1 with the County of Santa Cruz (see attached PDF file). The 'Yes Greenway' campaign committee has been collecting signatures, and officially soliciting donations, since July of this year to put an initiative on the 2022 ballot that would block the establishment of clean, electric passenger rail service along the Coastal Rail Corridor in Santa Cruz County. Greenway has the potential to raise very large sums of money, having taken in over half a million dollars in contributions since the organization's founding in 2017. According to financial documents filed with the Internal Revenue Service (IRS), Santa Cruz County Greenway, Inc. took in $194,892.00 in 2017, and $305,698.00 in 2018 (see attached PDF files).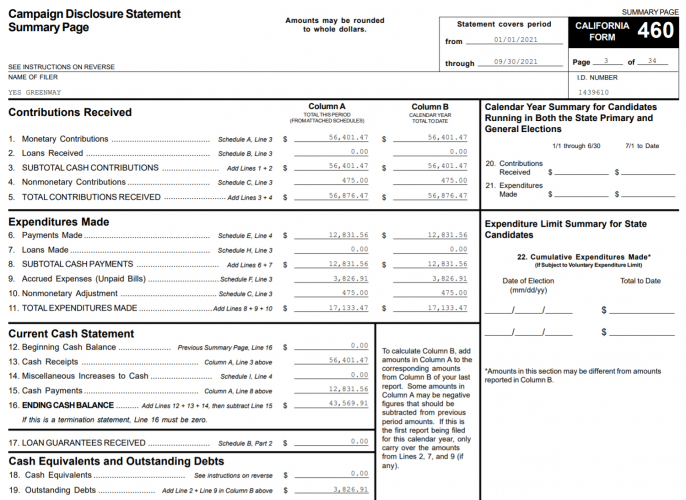 The Yes Greenway measure calls for the removal from Santa Cruz County's general plan all references to the establishment of passenger rail service, and the continued construction of the Rail Trail, in order to remove the train tracks in favor of a 'trail only' model. Multiple segments of the 'Rail Trail' have already been constructed, and are in use, in the cities of Santa Cruz and Watsonville (see attached photos). The Rail Trail plan preserves the existing train tracks, while adding a new bike and pedestrian trail along the edge of the rail corridor.
As a a 501(c)(4) 'dark money' organization, Santa Cruz County Greenway, Inc. is not required by law to disclose the identity of its donors. As a county campaign committee, however, Yes Greenway must disclose its top donors supporting the ballot initiative.
Top contributors to 'Yes Greenway':
$5,000 - John W. Ballard
$5,000 - William Menchine
$5,000 - Rowland K. Rebele
$5,000 - Miles Rieter, CEO Driscoll's Berries
$5,000 - Bill Simpkins
$5,000 - Robert Stephens
$1,039.04 - Jack Brown
$1,038.73 - Ed Colligan
$1,038.73 - Elizabeth Doolin
$1,038.73 - Carin Hanna, Owner of Craft Gallery, Capitola
$1,038.73 - Rick Magnuson, Managing Director, Orpheum Capital, LLC
$1,038.73 - Peter Meehan
$1,038.73 - Gayle Ortiz, Owner of Gayle's Bakery, Capitola
$1,000 - Jeremy Ertl
$1,000 - Suzanne Holt
$1,000 - Gerald Weber
Sources and More Information:
IRS Tax Exempt Organization Search
https://apps.irs.gov/app/eos/
Santa Cruz County Campaign Reporting Documents for Yes Greenway
https://public.netfile.com/Pub2/AllFilingsByFiler.aspx?id=200915759
We are 100% volunteer and depend on your participation to sustain our efforts!
Get Involved
If you'd like to help with maintaining or developing the website, contact us.