From the Open-Publishing Calendar
From the Open-Publishing Newswire
Indybay Feature
PPP loans may have helped save the music and guitar building industry
Eastern Kentucky Guitar Show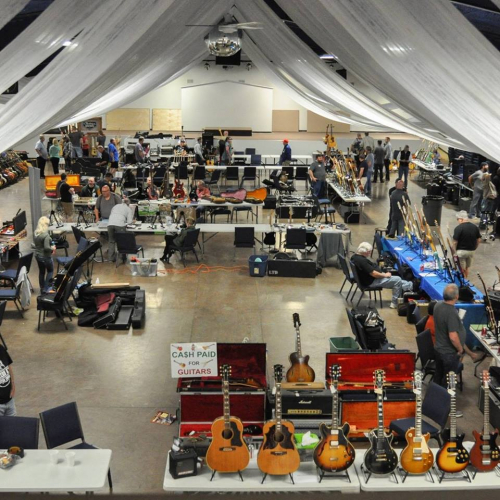 PPP loans may have helped save the music and guitar building industry
By Lynda Carson - May 26, 2021
Oakland, CA - This past year has been tough on many musicians in Oakland, and to be safe during the coronavirus Covid-19 pandemic,
the Oakland Symphony performed some of their music on Zoom,
including a song called "This Land Is Your Land," by Woody Guthrie.
During the pandemic, some Bay Area local musicians from Oakland and Berkeley including the members of Vitamin Em,
also performed some of their music on Zoom to the joy and delight of many music lovers, including myself.
Live stream music events through the Freight and Salvage in Berkeley,
may be found by clicking here.
And if you would enjoy hearing three original songs of mine on acoustic guitar that were recorded live as recent as February, 2021, please feel free to
click here,
or you may
click here,
or you can
click here,
and then click on the small triangle at the bottom of the page to hear some live recorded music.
Paycheck Protection Program (PPP)
Thanks to the Paycheck Protection Program (PPP) of the federal government that was funded by Congress during the pandemic, some in the music industry and guitar building industry that may have received financial assistance to help them survive the coronavirus Covid-19 pandemic, may include
Real Guitars in San Francisco,
and the
Santa Cruz Guitar Company,
the
San Francisco Conservatory of Music,
the
San Francisco Symphony,
plus
Paul Reed Smith Guitars,
or the
Roberto-Venn School of Luthiery,
in addition to
Studio Instrument Rentals (S.I.R.),
plus the
Guild of American Luthiers,
and the illustrious
Dream Guitars, owned by Paul Heumiller,
who offers some of the
worlds finest guitars and stringed instruments to those who can afford them.
Other entities including musicians, filmmakers, the arts, and entertainment entities that may have also received PPP loans during the pandemic may be found by
clicking here.
That's right, in the past year, the coronavirus pandemic effects on Bay Area guitar builders and musicians was a very daunting experience for many, and
more about this may be found by clicking here.
During 2020,
many luthiers and guitar builders including Michihiro Matsuda (Michi) of Matsuda Guitars,
were concerned that the Woodstock Invitational Luthiers Showcase was cancelled.
Now around 10 months later, according to the website of Michi, Matsuda Guitars, he will be exhibiting some of his guitars at the NAMM Believe In Music event during July of 2021.
During May 2021, as a sign of the times, to the excitement and relief of many guitar lovers during the coronavirus Covid-19 pandemic that has killed over 550,000 people across the nation during the past year, on May 2, 2021, the
Eastern Kentucky Guitar Show reportedly took place at the Boyd County Convention and Arts Center.
An anticipated 40 to 50 vendors appeared there showcasing around 3,000 to 5,000 guitars and equipment at the event.
More about the guitar lovers event with handmade and factory made guitars available for the public, may be seen by clicking here.
Additionally, coming up in September 2021, over a three day holiday weekend,
the small private invitational handmade guitar show event known as Tom Bowersox's B.I.G. Show in New Braunfels, Texas, is scheduled to occur, and more about the event is available by clicking here.
The private handmade guitar event is expected to have around 10-12 luthiers exhibiting their handmade guitars to several dozen anticipated spectators and musicians. The luthiers/guitar builders lined up already for the handmade guitar show private event includes Ben Wilborn, Benjamin Paldacci Guitars, Steve Kinnaird and Ryan Middlebrook, Lamehorse guitars, Rebecca Urlacher, Edwinson guitars, Leo Buendia, John Kinnaird, Mark Hatcher, and Two Hands Guitar Co, and Jason Kostal. There should be plenty of fun, food, music and some beautiful handmade guitars at the event, according to sources.
Leo Buendia who is expected to be at Tom Bowersox's B.I.G. Show in New Braunfels, Texas,
builds his exquisite beautiful handmade guitars in Oakland, CA,
at the same sunny location with
Oakland's famed Master Luthier, Ervin Somogyi,
who builds some of the finest steel string guitars in the world. Ervin Somogyi is
known and regarded as the Godfather of Modern Lutherie.
In a past interview with Oakland's Master Luthier, Ervin Somogyi,
he mentioned that he wished that more women were luthiers and involved in guitar making, and felt concerned that very few Black people made guitars for a living, and that there were not any Asian-Americans building handmade guitars that he was aware of.
According to some research and demographics I dug up,
among the student population at the Roberto-Venn School of Luthiery in 2014, a school that teaches students how to build and repair acoustic and electric guitars, 90.5% of the students were White, 0.0% were Black, 2.4% were Hispanic, 0.0% were Asian, and 7.1% were other.
Hopefully, as times passes more Blacks and Asian-Americans may find their way somehow into the art of lutherie and guitar building.
For a listing of some upcoming concert events happening in the SF Bay Area,
click here.
Lynda Carson may be reached at
newzland2 [at] gmail.com
>>>>>>>
We are 100% volunteer and depend on your participation to sustain our efforts!
Get Involved
If you'd like to help with maintaining or developing the website, contact us.