From the Open-Publishing Calendar
From the Open-Publishing Newswire
Indybay Feature
Curfews, martial law and the Pentagon's civil unrest response
George Floyd Protest Against Police Brutality And Killer Cops!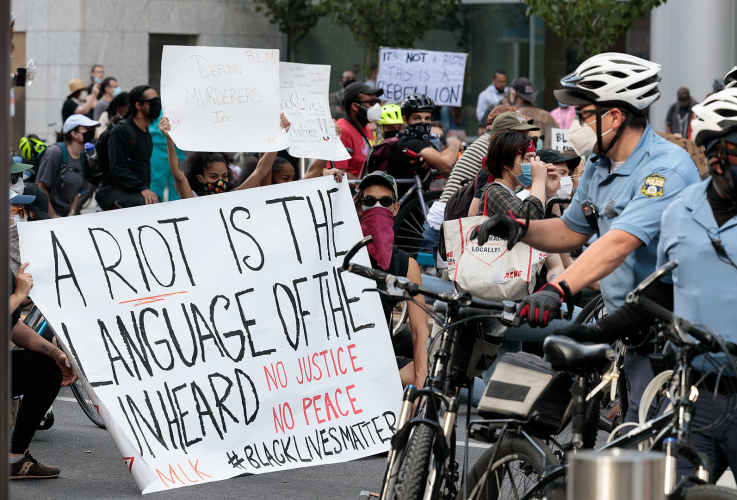 Curfews, martial law and the Pentagon's civil unrest response
By Lynda Carson - June 2, 2020
Oakland - This is what democracy and freedom looks like during the midst of the coronavirus Covid-19 pandemic and the
lock-down orders known as shelter-in-place.
According to the Oakland Police Department,
around 40 people were arrested yesterday in Oakland for curfew violations, and according to the Alameda County Sheriff's Department, around 122 people in Alameda County were arrested yesterday for various other violations as a way to suppress the anger and civil unrest unfolding on a daily basis over police brutality, and killer cops.
AC Transit is stoping its service to the public from 7:30p.m. until 5:00a.m.
from June 1, 2020 through June 5, 2020.
The East Bay Regional Park District has established a Park Curfew from 8:00p.m. until 5:00a.m. to suppress the nature lovers, joggers, and those planning a picnic.
Various
BART Stations have been closed and reopened in response to the civil unrest
unleashed by the actions of police brutality and killer cops.
The Superior Court of Alameda County
has extended an Emergency Order from June 27, 2020 through July 5, 2020.
Curfews have been ordered throughout Oakland
and the Bay Area.
In Oakland yesterday, school children from Oakland Tech High School were brutalized and arrested by the cops for exercising their lawful right to protest against the death of George Floyd, police brutality, and killer cops.
Reportedly, "Several police cars and motorcycles rode behind the march and blocked off the streets leading into the plaza.
By all accounts, the gathering was peaceful as students took turns to address the crowd.
But the situation escalated as the sun went down. On Monday afternoon Alameda County announced a curfew of 8 p.m. to 5 a.m. and hundreds of protestors remained in downtown Oakland after the official scheduled close of the march at 6 p.m. Police fired tear gas at a smaller crowd on Broadway 10 minutes before the curfew started as the group of more than 100 protestors headed down Broadway to the city's police headquarters, the San Francisco Chronicle reported.   
About 50 people were arrested between 14th Street and Telegraph shortly after the curfew took effect, and about 100 people were arrested over the course of the night in connection with the protest. It is not known whether those arrested were part of the original group of protesters."
National Guard Troops Activated In 28 States:
Meanwhile, a small contingent of active-duty soldiers have been ordered to alert status, and are on standby to join
thousands of National Guard troops
to quash the protest the lawful and peaceful protest demonstrations taking place locally, and across the nation.
Around 20,400 National Guard troops are activated in 28 states to suppress the lawful and peaceful demonstrations occurring against across the nation against police brutality, and killer cops.
Reportedly, an active-duty battalion of military police soldiers from Fort Bragg, North Carolina,
has been ordered by the Pentagon to deploy to the Washington, D.C. area to help suppress the lawful and peaceful demonstrations taking place in the nation's capitol.
Reportedly, yesterday in Washington D.C., to suppress the lawful protests and demonstrations against police brutality and killer cops,
the Justice Department unleashed their jack booted personnel from the FBI, the DEA, Bureau of Alcohol, Tobacco, Firearms, and Explosives, U.S. Marshals Service, and Bureau of Prisons. Additionally, the Homeland Security Department sent a variety of jack booted personnel from additional agencies to join the Military police and National Guard who joined the Secret Service and Interior Department's U.S. Park Police in Washington, D.C.
Additionally, according to reports with Military.com, "Defense Secretary Mark Esper and Chairman of the Joint Chiefs of Staff Army Gen. Mark Milley joined President Donald Trump on a Monday call (yesterday) with governors that was leaked to news outlets. In the call, Trump urged governors to "get much tougher" on protestors.
Trump called the protesters "anarchists" who needed to be arrested and tried. He also told the governors, "most of you are weak."
"They're going to run you over and you're going to look like jerks," Trump said.
Esper added that "we need to dominate the battlespace."
That's right. As the citizens and residents of the United States are exercising their constitutional right to lawful protest against police brutality and killer cops, Esper is claiming that "we (the military) need to dominate the battlespace." The more the Trump regime reveals it's true intent, the more this all sounds like war has been declared on the American public, and martial law is being instituted right before our very eyes.
In a different report with Military.com, reportedly "Army UH-60 Black Hawk and UH-72 Lakota helicopters flew low over crowds of protesters in Washington, D.C. on Monday night (yesterday) as demonstrations went past the ordered curfew, according to a Fox News report. On Tuesday, in a deflection from the truth, Pentagon officials referred questions about the helicopters to the D.C. National Guard."
Reportedly,
last Friday a predator drone was spotted circling over the City of Minneapolis,
where George Floyd was murdered by killer cops, as though the predator drone was on a deadly combat mission in Iraq, or Afghanistan.
Earlier today,
the impeached President Donald J. Trump called the lawful protesters lowlifes and losers
for protesting and demonstrating against police brutality and killer cops, as he
calls for the National Guard to be unleashed on the American public,
in a declaration of war against Americans.
That's right! This is what democracy and freedom looks like in America
under the brutal Trump regime.
Lynda Carson may be reached at
tenantsrule [at] yahoo.com
>>>>>>
>>>>>>
We are 100% volunteer and depend on your participation to sustain our efforts!
Get Involved
If you'd like to help with maintaining or developing the website, contact us.