From the Open-Publishing Calendar
From the Open-Publishing Newswire
Indybay Feature
Rescue Pacifica! Vote No on the replacement bylaws!
Vote No on the "new" bylaws.
Don't ditch the baby - KPFA/Pacifica - with the bathwater!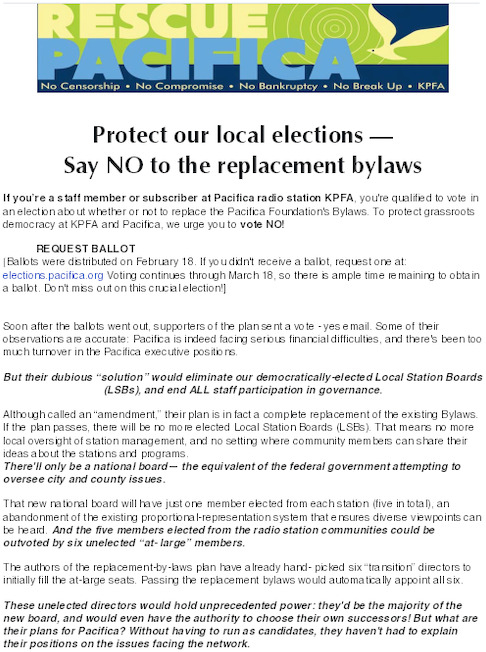 All five Local Station Boards voted overwhelmingly "NO" on the proposed new bylaws. The majority of the Pacifica National Board (PNB) voted "NO" on the proposed new bylaws.
These bylaws would eliminate the local and democratic governance of the 5 nationwide Pacifica radio stations, and replace them with an autocratic, self selecting Pacifica National Board, presently staffed by Directors chosen largely by the local boards plus 2 Directors chosen from the 240 small local stations which are Pacifica affiliates.
The claim is that the democratically elected boards are contentious, unskilled, and ineffective, and have brought Pacifica to the brink of disaster.
Note that:
This system was set up in the early 2000s to prevent an autocratic takeover of Pacifica, and has been preventing a similar takeover since - such as the one being attempted by promulgators of these "new" bylaws!
Note that -
- Democratic governance means debate and discussion, out of which sound decisions can be made;
- The parties which never wanted democracy have purposely blocked such reasoned decision making on the boards by using tactics of disruption;
- and nevertheless this Pacifica Foundation has persisted under these bylaws for around 20 years now!
Along with obstructionism at the boards, financial ruin has been a key tactic of the robber barons now pushing for these bylaws. We have seen financial malfeasance to such an extent that many of us observing these deadly shenanigans have to conclude them purposeful, rather than just stupid and inept.
Not everyone on the side of the raiders now attempting this hostile takeover is guilty of this maneuvering; it is their leadership, which has them deceived. How could such stellar leftists do such a thing? They do it with secrecy and manipulation.
Note these quick points -
PLEASE VOTE NO! BECAUSE:
1. The proposed new bylaws will eliminate the Local Station Boards at all 5 Pacifica stations;
2. The members of each Pacifica station would only be allowed to elect ONE member to the Pacifica National Board (PNB);
(and these reps will not be allowed to be either the Chair or the Treasurer);
3. The other six PNB members shall be appointed and will have the majority control of the PNB;
4. There will be NO staff representatives on the PNB; (now 25% are staff reps)
5. There will be NO Pacifica Affiliate reps on the PNB;
6. The new proposed bylaws will make it easier to sell or trade a Pacifica station and/or a Pacifica radio license;
7. Membership fees will increase to $50/yr or require volunteers to work 15 hours per year to be eligible to vote;
8. The new bylaws will open the door to corporate sponsorship and mainstream political programming;
9. The new bylaws will be easier to amend to enable the break-up of Pacifica and the selling of its assets.
WHAT HAVOC HAVE THE SUPPORTERS OF THESE BYLAWS CREATED SO FAR?
• Secretly formed a KPFA Foundation in 2013 with plans to grab the licenses of KPFA and/or KPFK once bankruptcy is filed;
• Advocated for selling WBAI and/or WPFW;
• Some of these supporters have urged Pacifica to file for bankruptcy and to shut down Pacifica stations (as was tried recently at WBAI);
• Blocked the filing of audits making Pacifica ineligible for Corporation for Public Broadcasting funding;
• Not paid KPFA's real estate taxes for 6 years making the building vulnerable to foreclosure.
[NOTE: Specialist lawyers hired by the PNB have been negotiating this last problem and the station will not be sold.]
NOT SURE HOW TO VOTE?
A No vote will preserve the option to meet current challenges with democratic input.
The network needs more, not less democracy, more informative elections and open governance, and more tools to prevent takeover attempts.
A Yes vote would end democratic governance, likely handing the station over to the raiders, and ending the only unbought unbossed radio network left in the US.
Preserve our democratically-elected governance process!
VOTE NO, by 8pm March19th!
For the text of the proposed new bylaws go to:
http://www.rescuepacifica.net
For more info
see attached flyer and
http://www.rescuepacifica.net
http://www.pacificafightback.org
http://
http://www.PacificaInExile.org
We are 100% volunteer and depend on your participation to sustain our efforts!
Get Involved
If you'd like to help with maintaining or developing the website, contact us.