From the Open-Publishing Calendar
From the Open-Publishing Newswire
Indybay Feature
Related Categories:

California | East Bay | San Francisco | U.S. | Arts + Action | Immigrant Rights | Media Activism & Independent Media | Police State & Prisons
Report-back from Bay-Area Shutdowns of Hipster Border-Pig Francisco Cantú
Report-back from an action against Francisco Cantú which took place on February 19 in San Francisco, and the cancellation of his event in Oakland the following day.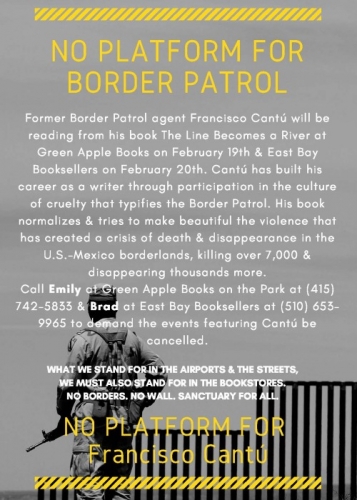 We are privileged again to share a report-back from another action against Francisco Cantú that took place on February 19 in San Francisco, and the following cancellation of his event in Oakland.
While the media continues to coddle Cantú and distort the actions that have confronted him across the country, we know that we have to tell the story ourselves, and be unrelenting in our clear messages against the border-pig apologism, liberal imperialism, and blood profit that Cantú and his supporters engage in. Solidarity!
<3
Dear Comrades:
We are writing to report back on our action at ex-Border Patrol field agent and intelligence officer Francisco Cantú's February 19th event at Green Apple Books in San Francisco. After being shut down by comrades in Austin and forced to publicly admit he is against abolishing Border Patrol by comrades in New York, Cantú decided not to read from his book or discuss it with author R.O. Kwon, as had been planned, and at the last minute, announced that he would only be signing books. A few minutes into the book signing a group of 12-15 of us walked past security guards hired by the bookstore for the event and disrupted it by reading prepared statements [attached below] and handing out flyers, as well as free copies of No Wall They Can Build: A Guide to Borders & Migration Across North America.
It took us approximately 40 minutes to read 9 prepared statements. Most of the statements focused on the well-documented abuse of migrants by the U.S. Border Patrol and on known instances of collusion between Border Patrol agents and drug cartels. Statement #3, however, highlighted the 2002 murder of Tohono O'odham teenager Bennett Patricio Jr. by Border Patrol agent Cody Rouse and the characterization of Border Patrol as a "death squad" by Patricio's Tohono O'odham family. Choosing to include only the thinly veiled account of the Border Patrol agent who killed Patricio in his memoir, Cantú misrepresents the teenager's death as an uncontested accident, erasing years of struggle on the part of Patricio's family to bring attention to the case and get justice for their son. We remain particularly troubled by this aspect of Cantú's work and wish to call special attention to Statement #3 as it shows how, for his many uses of words like "complexity" and "nuance" to describe the U.S.-Mexico border in his interviews, Cantú presents a very one-dimensional view of what happens there, a view that only ever assumes honest cops.
With a security guard standing just behind him the entire time, Cantú appeared to be "intently listening" as the statements were read. Those attending his book signing, which included at least a few alt-right fascists, also silently took it all in. While the statements were central to our action, we want to be clear that our purpose was to shut Cantú down. At issue was not and is not "who gets to speak." The issue has always been the U.S. Border Patrol and the liberal tendency to humanize fundamentally oppressive, structurally racist institutions, through figures like Cantú, rather than stand resolutely against them. Since Cantú had previously announced his intention to sign books at East Bay Booksellers in Oakland the following day, we used the reading of prepared statements to hijack his book signing at Green Apple Books and tell him in person, in no uncertain terms, to cancel his scheduled appearance in Oakland, which he did cancel.
In the wake of ICE raids on 77 Northern California businesses and warnings of impending ICE raids in the Bay Area, both Green Apple Books and East Bay Booksellers chose to stand in solidarity with a Border Patrol apologist instead of immigrants living with the fear of deportation: let us never forget that. But let us also not forget that there are currently 9 volunteers of the Tucson, Arizona-based humanitarian group No More Deaths facing federal criminal charges "for acting on the right of undocumented people to receive food, water and medical assistance needed to save their lives." One of those volunteers, Scott Warren, is facing 20 years.
We second New York comrades in their call for Cantú to call for the complete abolition of the U.S. Border Patrol and borders. We also call for Cantú to publicly condemn the Border Patrol and Trump administration's "repression and targeting" of No More Deaths volunteers. Finally, we call on comrades nationwide to resist the U.S. Border Patrol on all fronts and confront Cantú and his enablers. As comrades in Austin have already said, "This isn't just about getting him or some liberals to change their minds, but to bring the front lines of U.S. imperialism home for them. They don't get to be voyeurs."
In Solidarity,
CHINGA LA MIGRA
---
source:
https://defendourhoodz.tumblr.com/post/171419901464/report-back-from-bay-area-shutdowns-of-hipster
---
Background Info:
No Platform for Border Patrol
by Chinga la Migra
https://www.indybay.org/newsitems/2018/02/18/18806815.php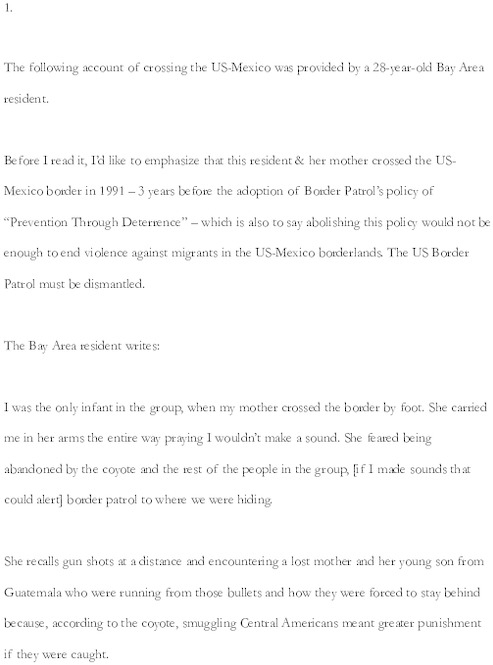 Download PDF (96.0kb)
This 19 page PDF of collected statements includes an account of crossing the US-Mexico border provided by a 28-year-old Bay Area resident.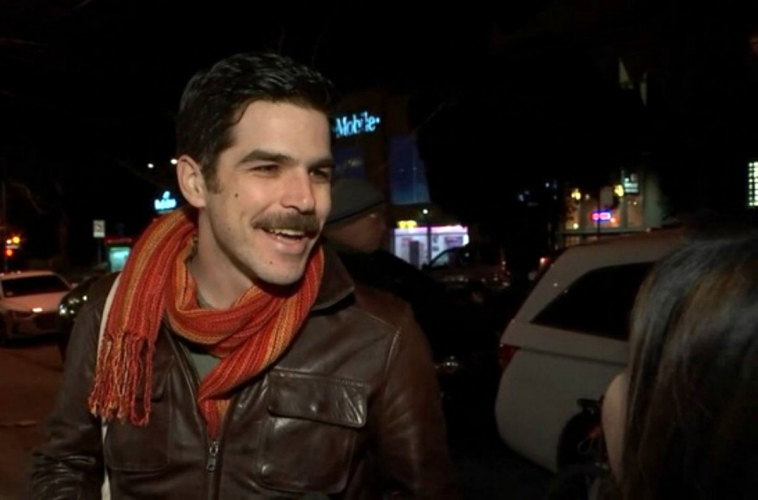 We are 100% volunteer and depend on your participation to sustain our efforts!
Get Involved
If you'd like to help with maintaining or developing the website, contact us.