From the Open-Publishing Calendar
From the Open-Publishing Newswire
Indybay Feature
No Platform for Border Patrol
Francisco Cantú will be at Green Apple Books on 9th Ave on Monday at 7:30pm and at East Bay Booksellers in Oakland on Tuesday at 7pm.
NO PLATFORM FOR BORDER PATROL!

Francisco Cantú will be discussing his book "The Line Becomes a River" at Green Apple's 1231 9th Aveune location in San Francisco on Monday, February 19 at 7:30 pm.

Cantú spent years as a Border Patrol field agent and intelligence officer, working for a racist organization that has facilitated the deaths of over 7,000 people and the disappearance of thousands more. His book further capitalizes on that cruelty and Cantú's claim that the Border Patrol does "good work" normalizes the state violence that has created a crisis of death and disappearance in the US-Mexico borderlands.

Join us at Green Apple Books this Monday to stand in solidarity with migrants: say NO to racist state propaganda and to all those who commit violence against Black, indigenous and dispossessed people.

What we stand for in the airports and the streets, we must also stand for in the bookstores.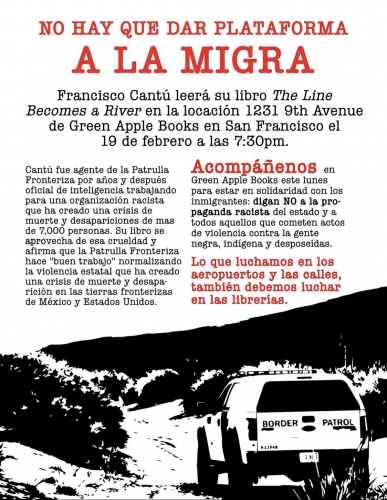 Excerpt from:
https://itsgoingdown.org/progressive-border-patrol/
A great example of the progressive, brown Border Patrol agent and the insidious ability to minimize complicity is Francisco "Paco" Cantú. A bilingual, güero (white-passing or light-skinned Latinx person) with a distinctly hipster look, Cantú was a Fulbright Fellow and received his MFA in writing from the University of Arizona where he is now an instructor. He comes off as nice and likable; he's young and conventionally attractive in many respects.
Cantú is capable of criticizing aspects of what the Border Patrol does in small ways and is quick to share stories of peeing on migrants' clothing and other similar incidents through poetry. But amidst this veneer of progressivism, he inflects a deep and enthusiastic respect for the Border Patrol and his time as one of them. He thinks of himself and his time in cowboy terms.
As a young student Cantú was an outspoken leftist and claimed that he joined the Border Patrol, in part, almost as a form of investigative journalism. In the episode of "This American Life" where Cantú read from his upcoming book, Ira Glass remarked that Cantú "sidestepped much of the usual politics and just offered descriptions of what he saw." What this means is that Cantú decontextualized the politics and divested the stories of their politically violent connotations. Through his silky language, Cantú almost eroticizes the Border Patrol and their work. He claims his work came from a desire to know the desert and to help people. As he describes his mother's disappointment at him for joining the Border Patrol, he further justifies his choice to become an agent because, at least, he can be there and speak with people in their own language, know of their home countries, and that "there will always be agents regardless of who they are." As he recounts their destruction of a group's clothing and food or his trainer's murder of a migrant, he does so with an almost playful tone. His upcoming book has a $100,000 payout attached to it. He has built his career and fame as a writer through participating in the culture of cruelty that typifies Border Patrol. His profit is others' blood. In addition to that, the gentle sheen of his writing serves to normalize and beautify things that should remain abhorrent. His candor is from a story that could and should be told with disdain and shame. Instead he paints a picture of the Border Patrol that makes it real, tangible, and almost beautiful and serves as an unpaid propagandist for state violence even with his minimized accounts of their crimes. This is lower than the Border Patrol officer who knows he is committing a crime but does not seek to glorify it.
If Cantú's crimes are disguised as neutral, another figure I've met dresses his in progressivism. This guy is a white cis-male of medium build who identifies himself as bisexual, polyamorous, and progressive. He showed up at a polyamory event, much to the disgust of some local members, but protected by the defense of others. At the time I was invested in various forms of counter-recruitment and wanted a person inside of Border Patrol, so I later spent a significant amount of time talking with him about politics and even offering him a number of avenues to quit (that he claimed to have wanted), including connecting him with a former military sniper I had seen defect. He couldn't be bothered. He said he was too used to the "lifestyle," meaning he was unwilling to part with the generous pay plan. Any attempts made in our conversations to bring up his culpability in even the gentlest of terms was always rebutted with variations of: "Many migrants are bad people," "I'm a progressive guy," or "most of my friends on the force are Latino." This is the future that liberals want; a scummy, spineless, and heteronormative bisexual averting accountability for his state violence and trying to penetrate alternative lifestyle spaces. No amount of politeness or voting for Bernie can overcome the fact of what he does with his life. If anything, softening the harsh realities of his choices is a deeper dishonesty.
Speaking of whitewashing violence, John Oliver recently served as the bootlicking arm of the Border Patrol propaganda machine in an episode which reinforced the myth that the problems of the border could largely be solved by increasing scrutiny of Border Patrol recruits, maintaining the number of agents, imposing harsher punishments for the 'bad apples', and that the organization serves in part as a humanitarian organization. Even these "progressive" agents fall in-line in an agency chocked full of extensive sexual abuse of female agents, much less the largely undocumented cases of rape and violence against female migrants. We don't talk of minor changes to the gestapo; we demand immediate abolition and work to create functional humanitarian and community defense alternatives to dealing with the mess they've created for us.
Most Border Patrol agents one meets are overtly fascist, xenophobic, racist, nationalist scum, but even the ones that are not those things are still abhorrent and present distinct threats as a result of their progressive facade. Cantú claims to already have a fear of retribution from Border Patrol for what minuscule critique he's offered thus far. Yet, there are are real whistleblowers in Customs and Border Patrol and paths for others to speak out. It's time to be bold and not pass the buck to profit from a position of power in a sociopathic regime of brutality. Abolish the gestapo. ¡Chinga la migra!
We are 100% volunteer and depend on your participation to sustain our efforts!
Get Involved
If you'd like to help with maintaining or developing the website, contact us.