From the Open-Publishing Calendar
From the Open-Publishing Newswire
Indybay Feature
View other events for the week of

11/25/2017
Labor Solidarity Rally For Striking IAM 1584 Henkel Aeorspace Workers In Pittsburgh
Date

Saturday November 25

Time

11:00 AM

-

1:00 PM

Import this event into your personal calendar.
Location Details
Henkel Aeorspace
2850 Willow Pass Rd, Pittsburg,
Event Type

Protest

Organizer/Author
IAM 1584

11/25 Labor Solidarity Rally For Striking IAM 1584 Henkel Aeorspace Workers In Baypoint

Defend Health And Safety & Stop Union Busting

On Saturday, November 25 there will be bay area labor solidarity rally for the Eighty four members of IAM 1584 have been on strike for more than a month at Henkel Aeorspace Strike in Baypoint for proper health and safety protection. A worker was pulled to his death while working a chemical mixing machine due to criminal negligence by the company. The company has also brought in national professional strike breaking company called Strom Engineering to destroy the union and the strike.

There will be a united labor community solidarity rally this coming Saturday November 25th from 11:00 AM to 1:00 PM at 2850 Willow Pass Rd, Pittsburg,

For more information go to

http://iamlocal1584.com

Email

Local1584 [at] aol.com

510-635-2064

Call To Support IAM 1584 Henkel-Bay Point Strike & Picket Line 5AM-11PM M-F

http://iamlocal1584.com

HENKEL AEROSPACE Workers on Strike!

Since October 16th, 2017, the IAM Local 1584 members at Henkel-Bay Point have been on Strike! Fighting for Respect, a solid Grievance Procedure, Fair Advancements and Workplace Safety, these Brave Fighting Machinists have been picketing the their company around the clock.

PLEASE Stop by and support these Brothers and Sisters as they fight for a fair contract!

PICKET LINES around the clock at 2850 Willow Pass Rd. Pittsburg, CA

Email us at

Local1584 [at] aol.com

Striking IAM 1584 workers allege fatally dangerous environment, racism at Henkel Aerospace

http://www.eastbaytimes.com/2017/10/31/striking-workers-allege-fatally-dangerous-environment-racism-at-henkel-aerospace/

Austin Woodyard, 34, is a production operator at Henkel Aerospace in Bay Point. Over 80 members of Machinists Local 1584 are striking over unsafe conditions that Woodyard said is mostly ignored by management and has led to a number of injuries and one death. (Aaron Davis/East Bay Times)

By AARON DAVIS |

aarondavis [at] bayareanewsgroup.com

| Bay Area News Group

PUBLISHED: October 31, 2017 at 4:38 pm | UPDATED: November 1, 2017 at 3:43 am

BAY POINT — Employees of Henkel Aerospace have been striking for 15 days over what they see as a lackadaisical attitude toward significant and sometimes fatal workplace accidents.

The strike began on Oct. 16 as more than 80 members of Machinists Local 1584 walked off the job site at Henkel Aerospace Industrial, a subsidiary of a multinational company based in Germany.

The strike was in response to a breakdown in negotiations over a contract that organizers say would improve safety procedures at the aerospace adhesive manufacturer.

"We've had grievance over grievance on training and safety issues, and within the last months, there have been incidents where workers have been injured," said Steve Older, area director for the International Association of Machinists and Aerospace Workers. "One had third degree burns over 30 percent of his body."

Eric D. Wilcox, who has been Director of Operations at Henkel Aerospace in Bay Point for eight weeks, said he could not comment on past incidents.

Henkel Aerospace's record of workplace accidents at its Bay Point facility has been well-documented. In 2013, 26-year-old David Eleidjian of Antioch was pulled into the mixing machine and crushed. His legs were amputated, but he died of his injuries. The company was cited by Cal-OSHA for six violations and fined over $200,000.

"He survived two tours of duty in Iraq to come home and die in an industrial accident," said Margaret Hanlon-Grandle, executive director of Contra Costa Central Labor Council.

The Director of the Department of Industrial Relations said at the time that the incidentwas completely preventable and that the company knew of the dangers around the mixer before Eleidjian's death.

Antioch resident Austin Woodyard, 34, was on the job for a month when Eleidjian died and remembers visceral details from the incident and cleaning up afterward.

Woodyard said that the mixer, which is where sticky glue goes into an exposed shaft spinning at 700 rotations per minute, is a dangerous machine and getting caught in it happens so frequently, employees call it "taking a ride."

"We did start an employee safety group afterward, but I quit it because nothing was happening," Woodyard said. "There's no accountability. The supervisor doesn't come by and say, 'stop what you're doing.' There's no safety person on the floor."

In 2016 and 2017, two separate inspections by Cal-OSHA found 10 violations, including a failure to remove damaged or bent safety pins provided to employees for a mixer and a shaft and having three of four emergency exits blocked. The company was fined $10,250 and is still contesting the violations.

Wilcox, however, said he plans on transforming the culture of the company.

"It's unfortunate we have a work stoppage, but we're going to work through it," he said. "My vision for the site is we're trying to build teamwork, communication and accountability and that goes across the whole organization."

Wilcox said he will prioritize safety, quality and productivity in that order.

Outside, strikers alleged that there was no one qualified or trained to do the jobs they were doing, but production was continuing nonetheless. Wilcox said that former production workers, group leads and supervisors were all "pitching in."

Geoffrey Stokes, a former machine operator at Henkel, stopped by the picket line to talk with friends. He left Henkel in June after allegedly being written up for leaving the job after he passed out from dehydration and was hospitalized.

"I left here in an ambulance twice. I had a hospital stay when I left here; I wasn't just dismissed. It was three weeks," Stokes said.

He also cited an egregious pattern of racially biased behavior from a supervisor. Other employees confirmed that a large number of employees signed a petition alerting corporate management to the supervisor's behavior, but no one ever heard what happened and the supervisor still is employed at the site.

Union representatives have begun to meet with Henkel staff and are attempting to negotiate a contract through a federal mediator, both union and management officials said.

As of Nov. 1, all striking employees, including four on disability from workplace accidents, will lose their health insurance since they are on strike and not employed full time.

HENKEL AEROSPACE Workers on Strike!

http://iamlocal1584.com

IAM 1584 Henkel Aeorspace Strike For Health and Safety In Baypoint California Continues

https://www.nbcbayarea.com/on-air/as-seen-on/Aerospace-Workers-Continue-Strike-Against-_Unsafe_-Work-Environment-at-Bay-Point-Factory_Bay-Area-457784073.html

Factory workers at Henkel Aerospace in Bay Point pledged to continue their month-long strike over unsafe working conditions, which they say led to the death of one employee and caused another to leave the job with second- and third-degree burns.

Published at 12:10 PM PST on Nov 15, 2017 | Updated at 3:26 PM PST on Nov 15, 2017

California Members Strike for Workplace Safety, Justice and Respect

http://iamlocal48.org/2017/10/24/california-members-strike-for-workplace-safety-justice-and-respect/

More than 80 IAM production workers at Henkel Aerospace Bay Point in Pittsburgh, CA and more than 40 workers at Solvay Industries in Santa Fe Springs, CA have taken to the strike lines as the two employers refuse to address worker safety and shop floor concerns.

In Pittsburgh, workers joined East San Francisco Bay Local 1584 after a military veteran temporary employee was pulled to his death while working a chemical mixing machine. They've since negotiated a first contract but it been marked by safety issues continuing to be ignored by Henkel, resulting in a list of OSHA violations that the company is challenging to this day. Within the past 6 months, several severe live steam burns have occurred, due lack of scheduled maintenance recommended by the current safety committees. One injury caused third degree burns over 30 percent of an IAM Brother's body.

"Human loss and suffering are immeasurable," said IAM Western Territory General Vice President Gary Allen. "Our Brothers and Sisters have chosen to strike for the virtuous cause of enhanced safety standards. We value their sacrifice for one another. They are defining who we are and what we stand for as a union."

The Machinists have filed numerous Unfair Labor Practices (ULP) claims and Cal-OSHA has cited and penalized the company. The current ULP's are for violating grievance timelines, violation of status quo by mandating a five 12-hour day schedule and by training nonunion employees to perform IAM work while the union was still in negotiations. Several other ULP's are to be filed later this week.

In Southern California, IAM members decided they had enough after waiting nearly 18 months for Solvay Industries to respect them and their union. After joining the IAM in early 2016 and beginning negotiations in August of that year, the workers have faced continuous disrespect and insults at the bargaining table. In December 2016 the company walked away from the bargaining table.

Since then, many requests for information and ULP charges have been filed by the IAM with the NLRB. With management's refusal to return to the bargaining table, the members voted overwhelmingly to go out on a ULP strike. The group stayed out four days and their action forced the company to return to the negotiations in April, but progress has been difficult.

"The strength of these members is impressive," said Allen. "They have fought hard to get into the IAM and are not going to let this company disrespect them. We will be standing with them until they get the justice they have earned."

The post California Members Strike for Workplace Safety, Justice and Respect appeared first on IAMAW .

Added to the calendar on Thursday Nov 23rd, 2017 2:43 PM
This interview is from the picket line of the striking IAM Henkel Workers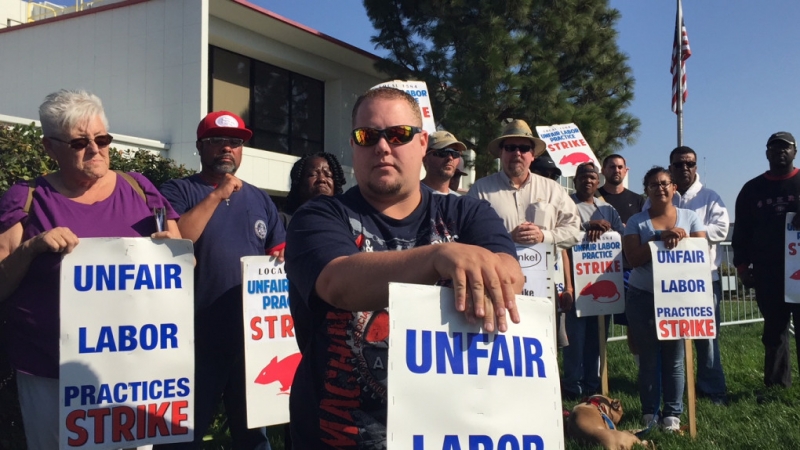 The criminal negligence of the Henkel Aerospace Bay Point led to the death of one of the workers. They are also spending hundreds of thousands of dollars to import strike breakers from Strom Engineering which sells strike breaking services throughout the US.
We are 100% volunteer and depend on your participation to sustain our efforts!
Get Involved
If you'd like to help with maintaining or developing the website, contact us.