From the Open-Publishing Calendar
From the Open-Publishing Newswire
Indybay Feature
Related Categories:

East Bay | Health, Housing & Public Services | Police State & Prisons
No Justice. Just Law. A Tale of Homelessness and Eviction.
The law, in its majestic equality, forbids rich and poor alike to sleep under bridges at HERE/THERE, beg in the streets or steal loaves of bread.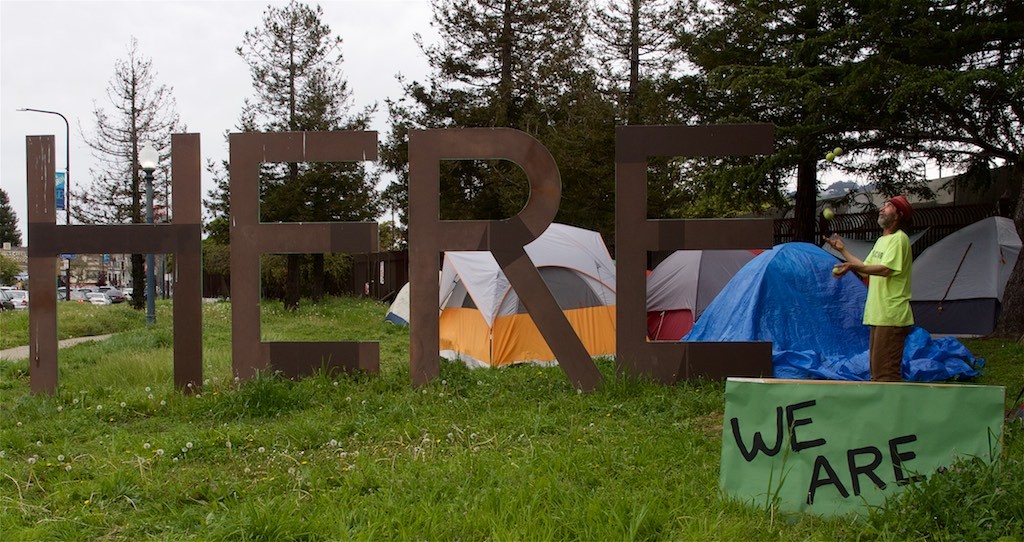 Tomorrow morning, Tuesday, October 31st, Halloween, 2017, Federal Judge Alsup will decide the fate of some 25 people, formerly homeless, currently in residence in tents at the HERE/THERE area on Adeline in South Berkeley. BART now claims to own the land and has issued the residents an eviction notice. (The eviction was stayed for a week to allow the residents' lawyers, the firm of Siegel & Yee, to make a legal argument as to why they should not be evicted).
This is a court of Law. Were this rather a court of Justice, there would be no doubt as to the outcome.
For perhaps as much as fifty years, BART has never cared about nor cared for the property - BART left its maintenance to the City of Berkeley. The HERE/THERE artwork, installed in 2005, was a City of Berkeley project which BART had nothing to do with other than perhaps giving some kind of formal consent.
For ten months, the residents of the HERE/THERE encampment have lived in peace, supported by neighbors and friends. Despite a grove of trees and a pleasant path to stroll on within, it is a place no one else would want, and a place no one else would value, because every five to ten minutes (save for the wee hours of the morning) BART trains run overhead on elevated tracks, making a racket that precludes thought or conversation.
These Berkeley residents have nowhere else to go. There is not a single square foot of Berkeley where it would be technically legal for them to exist, let alone pitch a tent for a modicum of security and protection from the elements. Oakland to the south has far more than its share of homeless people already and Albany to the north viciously kicked out its homeless population a few years ago. The shelters are full and affordable apartments non-existent.
Harming no one, using a resource no one wants, having a theoretical right to exist but no legal right to be anywhere, Justice, impartial as it may be, would clearly take off its blindfold and declare that humanity eclispses a property right so unused that the evidence suggests its owner didn't even know it existed until a few months ago.
But this is not Justice. This is Law. And we know what the law says...
"The law, in its majestic equality, forbids rich and poor alike to sleep under bridges at HERE/THERE, beg in the streets or steal loaves of bread."
-----
The hearing will take place at 9:00 AM at the Federal Courthouse at 450 Golden Gate Ave, San Francisco, about three blocks away from the Civic Center BART. Attendees need valid ID to get in to the courthouse and will be subject to additional, airport-like security, screening.
Background:
Open Letter to BART on Plans to Evict Berkeley Homeless Encampment
'First They Came For The Homeless' - Why Are We Here? A Berkeley Homelessness FAQ
Court filings
:
-
Points and Authorities
-
Amended Complaint
We are 100% volunteer and depend on your participation to sustain our efforts!
Get Involved
If you'd like to help with maintaining or developing the website, contact us.