From the Open-Publishing Calendar
From the Open-Publishing Newswire
Indybay Feature
Related Categories:

East Bay | Health, Housing & Public Services | Police State & Prisons | Racial Justice
Open Letter to BART on Plans to Evict Berkeley Homeless Encampment
The BART police are about to commit a crime. They are about to evict some 25 homeless people from homes they have resided in for the last nine months. For no reason.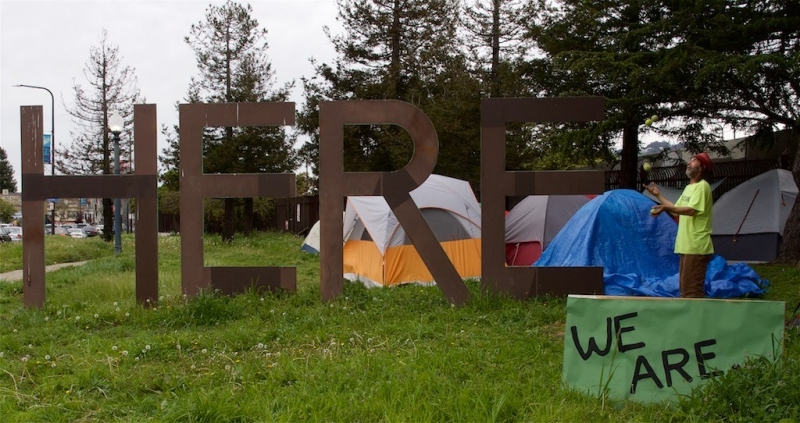 (photo by
HUMANS OF BERKELEY and the BAY AREA
)
OPEN LETTER TO BART REPRESENTATIVES
Rebecca Saltzman, Chair, BART Board, Director, District 7
Rebecca.Saltzman [at] bart.gov
@rebeccaforBART
510 464-6095
Lateefah Simon, Director, District 7, BART Board
info [at] lateefahforbart.com
,
press [at] lateefahforbart.com
@lateefahSimon
Facebook:
https://www.facebook.com/lateefah.simon
(510) 464-6095, 628-333-9553, 415-636-6581
The BART police are about to commit a crime. They are about to evict some 25 homeless people from homes they have resided in for the last nine months. For no reason.
(Pictures:
https://twitter.com/berkeleyside/status/921918212911988736
)
(video:
https://www.youtube.com/watch?v=aVykTPnBLOE&feature=youtu.be
)
This is cruel; this is inhumane; this is despicable. I implore you to stop it.
For nine months a stable, peaceful, law-abiding community of homeless people has resided at the HERE/THERE space on the west side of the BART tracks just north of the Oakland/Berkeley border, across the street from Sweet Adeline. They have had the support of the neighborhood and have recently obtained, through community support, the ability to access a porta-potty and a handwashing station. They have a short list of rules that govern behavior (e.g., noise curfew hours, no drugs). Some of them belong to the political group known as First They Came for the Homeless.
On Saturday afternoon BART police put up notices demanding that they remove themselves from HERE/THERE area within 72 hours and threatening to confiscate their possessions.
Evicting some 25 people back onto the streets for no reason is despicable. Evicting them onto the streets as the rains are about to come is inhumane and cruel. Evicting them WHEN THERE IS A STATEWIDE HEPATITIS A OUTBREAK that is centered among homeless people who lack adequate access to sanitary facilities is a crime. People could well die as a result of this proposed action.
These people have no place to go. There are no excess shelter beds in Berkeley. I know you are acutely aware of the extreme housing shortage in the Bay, and the desperate plight of homeless people as a result. I know you are leading as BART is taking what steps it can to build and support the building of affordable housing. How ironic can it be that now the BART that you oversee will be contributing to the crisis instead of keeping a community stable? How ironic is it that as BART you are about to dismantle a community that is able to help fellow homeless people, providing them with food, shelter and support, that has reunited runaways with their families, and that has seen some of its community members pull themselves together to get jobs and obtain permanent housing?
As my BART Board representative (Ms. Saltzman) and as the BART Board representative whose territory encompasses HERE/THERE (Ms. Simon) I ask that you each make a public statement against this eviction action. I ask that you each insist on a moratorium on the eviction proceedings so that the BART Board can discuss this and on the grounds of simple humanity. I ask that you enter into discussions with the City of Berkeley and the residents of HERE/THERE, so that you can learn about the encampment and understand what a model it is for a homeless community.
Thank you.
JP Massar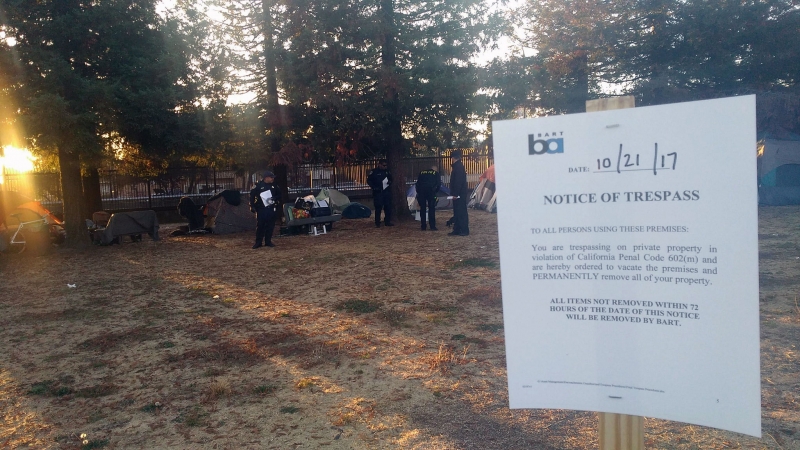 [ BART cops are handing out notices to the camp on the other side of the BART tracks. The Poor Tour is reportedly next. Photo courtesy First they came for the homeless. ]


Dear City Officials: as most of you are aware, I have been defending tenants rights in Berkeley and Oakland for the past 46 years, and have protected many hundreds from becoming homeless. I have interacted quite a bit with the homeless encampment folks at HERE/THERE and have been impressed by their integrity, responsibility and sense of community.

I am aghast at the 72 hour eviction notice served/posted at the HERE/THERE encampment late Saturday afternoon. There seemed to be absolutely no reasonable basis to make this group of homeless citizens, in effect, double homeless. It is an inhumane travesty to permit this to occur. It is even more ironic that this planned expulsion is going to take place only two weeks after the Napa/Sonoma firestorms displaced many thousands of people, and we, Berkeley and BART, are going to displace even more.

I invite you all to come to the encampment to protect the residents from further disruption of their rather tenuous lives. We are allegedly a sanctuary city; are we to be one without sanctuary? Resistance is essential. Civic morality demands protection for the most vulnerable in our community.

Jeffrey J. Carter
Attorney at law
2041 Bancroft Way, Ste. 207
Berkeley, CA 94704
We are 100% volunteer and depend on your participation to sustain our efforts!
Get Involved
If you'd like to help with maintaining or developing the website, contact us.