From the Open-Publishing Calendar
From the Open-Publishing Newswire
Indybay Feature
Confirmed: Jack Palkovic, BCR and Nathan Damigo Openly Embrace at White Nationalist Rally
Confirmed: Jack Palkovic, Berkeley College Republicans and neo-nazi Nathan Damigo openly embrace at white nationalist rally.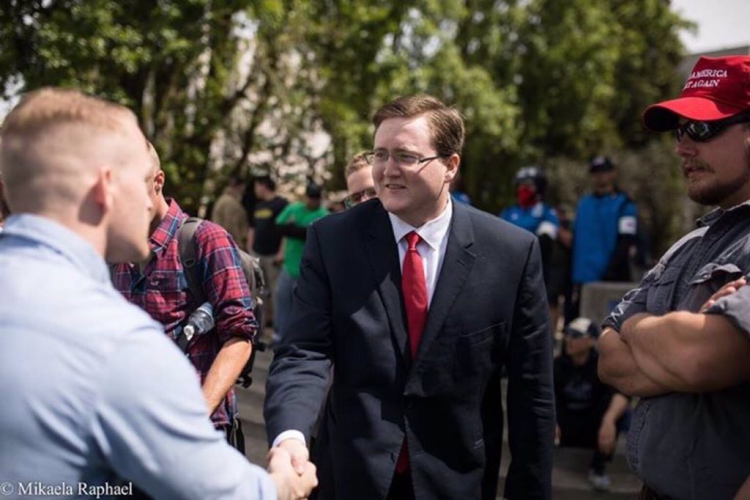 Jack Palkovic, Berkeley College Republicans and Nathan Damigo, neo-nazi openly embrace at white nationalist rally. What was this Berkeley College Republican doing with violent white supremacist Nathan Damigo at the racist alt-right rally in Berkeley on April 15?
Back in January of 2017, Northern California Anti-Racist Action warned us that members of the Berkeley College Republicans that were organizing the Milo Yiannopulos UC Berkeley event for February 1 held racist and fascist politics.
Jack Palkovic, a UC Berkeley student and member of the Berkeley College Republicans, was one of those students that we were warned about.
Since NoCARA provided this information, it's become more and more clear just how far BCR's connections to alt-right politics and organizations go. On inauguration day, January 20, neo-nazi leader
Nathan Damigo was a special guest at the Berkeley College Republicans tent on Sproul Plaza
. Damigo was seen standing next to BCR's Troy Worden, and he interviewed Naweed Tahmas (another member of BCR) for the white supremacist media outlet Red Ice. After Milo and BCR were shut down in February, anti-fascists spotted
Jack Palkovic hugging Nathan Damigo on a subway platform in Berkeley as they parted ways
. It was also public information that Palkovic was a member of a Facebook group that was organizing for both the March 4 and April 15 violent fascist invasions in Berkeley. Moreover, earlier in April we learned that stickers and flyers promoting
Nathan Damigo's alt-right white supremacist organization Identity Evropa have been appearing all over the UC Berkeley campus, especially in and around Dwinelle Hall
, which is where the Berkeley College Republicans hold their weekly meetings and where Jack Palkovic takes classes in the history department (Palkovic studies European History). One of these stickers promoting Identity Evropa even ended up on a UC Berkeley facilities vehicle parked behind Dwinelle Hall.
On April 15, fascists, neo-nazis, and alt-right white supremacists invaded Berkeley for a so-called "Patriots Day" rally where they converged under the ostensible celebration of free speech. In what quickly became a viral meme and national news,
Nathan Damigo, who was present at the fascist rally, ran up to an unsuspecting woman and punched her in the face before running away again
. This has perhaps become the most iconic image of the whole event. What hasn't been discussed much about that day is that members of the Berkeley College Republicans were also in attendance at the fascist rally, and Jack Palkovic in particular spent a considerable amount of time at Nathan Damigo's side.
Damigo and Palkovic greeted each other with hand shakes, and Palkovic followed Damigo around as they enjoyed the rally together, nazi salutes and all. Media on the scene as well as Nathan Damigo's own live Periscope video provide the evidence.
In a
Daily Californian article
about Identity Evropa propaganda appearing on the UC Berkeley campus, BCR treasurer David Craig is quoted saying that racism and fascism belong "on the ash heap of history," and that the Berkeley College Republicans condemn both of them "in all forms." How can BCR sincerely condemn fascism when at least one of their own members is a racist and fascist that spends his time with people like Nathan Damigo, who BCR itself has allowed to recruit at their table? Why are members of BCR like Naweed Tahmas doing interviews with Nathan Damigo for a white supremacist YouTube channel?
The Berkeley College Republicans plan to host Ann Coulter for a speech about immigration on April 27. While the details as to exactly where and when this talk will happen on that day have not been made public, many are preparing to protest this event. Show up on April 27 at UC Berkeley and let the Berkeley College Republicans and their friends Nathan Damigo/Identity Evropa and Ann Coulter know how you feel.
More info on BCR's links to the Alt-Right and Identity Evropa:
https://itsgoingdown.org/everybody-hates-berkeley-college-republicans/
We are 100% volunteer and depend on your participation to sustain our efforts!
Get Involved
If you'd like to help with maintaining or developing the website, contact us.