From the Open-Publishing Calendar
From the Open-Publishing Newswire
Indybay Feature
Why Are Neo-Nazi Stickers on a UC Berkeley Work Vehicle?
Why are stickers from the neo-Nazi group Identity Evropa showing up on UC Berkeley work vehicles? Is there a Alt-Right campus staff member? Or, are members of the Berkeley College Republicans (BCR), who are linked to neo-Nazi groups putting them up?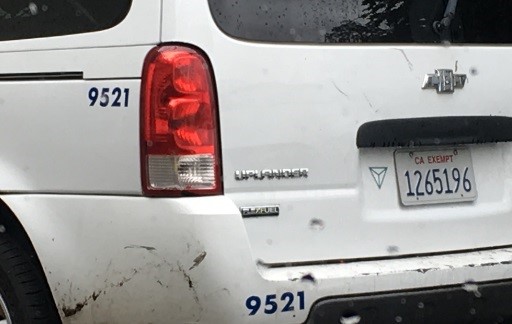 A UC Berkeley facilities truck parked behind Dwinelle Hall was spotted with an Identity Evropa sticker next to the license plate. Reports from UC Berkeley frequently mention Identity Evropa stickers in and around Dwinelle Hall, which is the same building that the Berkeley College Republicans meet every Thursday night for their regular club meetings. We think this is not a coincidence given others' sightings of Jack Palkovic with Nathan Damigo, the white supremacist founder and leader of Identity Evropa. Jack Palkovic is a UC Berkeley student and member of Berkeley College Republicans, who was recently seen on Facebook as a member of a group organizing the violent rallies of Trump supporters in Berkeley on March 4th and the upcoming event on April 15th. Moreover, Nathan Damigo was welcomed and invited to join BCR's activities on campus on inauguration day, standing next to BCR's Troy Worden and even filming a video with Naweed Tahmas for the white supremacist YouTube channel Red Ice TV.
Identity Evropa propaganda has appeared on campus and the larger city of Berkeley since March 2016, when Nathan Damigo, Richard Spencer, and their neo-nazi friends held a rally on Sproul Plaza to recruit for their alt-right movement. While other public universities, such as Indiana University, have contacted the FBI regarding Identity Evropa propaganda, UC Berkeley has been silent on the matter.
Similarly, the school paper, the Daily Californian, has also refused to report on Identity Evropa's activity on campus, despite IE's posters and stickers appearing right outside the Daily Cal's offices. This is in stark contrast to other university student reporters who have covered Identity Evropa's activity on their respective campuses as well as what actions the student government have taken to address it. Instead, the Daily Cal attempted to smear antiracists who reported on publicly accessible social media information that exposed the white nationalist and fascist politics of some of the members of the Berkeley College Republicans ahead of BCR's failed Milo event, calling it an illegal "cyber attack."
UC Berkeley can no longer remain silent on this issue, as now their own vehicles are being driven around the campus and the city with neo-nazi propaganda clearly visible on them.
Nathan Damigo, the leader of Identity Evropa, plans to attend the pro-Trump rally in Berkeley on Saturday, April 15th, along with other neo-Nazi groups. Speakers who will address the crowd are tied to Richard Spencer, and write for Alt-Right websites that promote white nationalism and fascism.
More info on BCR's links to the Alt-Right and Identity Evropa:
https://itsgoingdown.org/kids-alt-right-uc-berkeley-college-republicans/
https://itsgoingdown.org/everybody-hates-berkeley-college-republicans/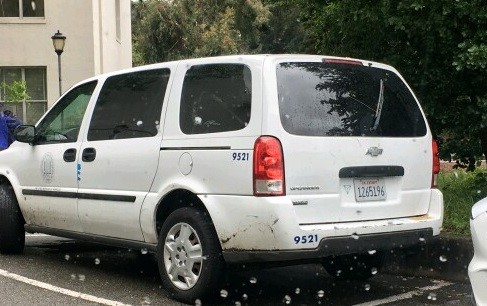 We are 100% volunteer and depend on your participation to sustain our efforts!
Get Involved
If you'd like to help with maintaining or developing the website, contact us.