From the Open-Publishing Calendar
From the Open-Publishing Newswire
Indybay Feature
Full Senate Torture Report: A Glimpse into America's Legacy of Cruel and Violent Racism
Here's the full "unclassified" Senate Select Committee on Intelligence torture report, full in the sense of the entire report, not full because it is redaction-free. There's plenty our Senate "intelligence" overlords do not want us to see or know.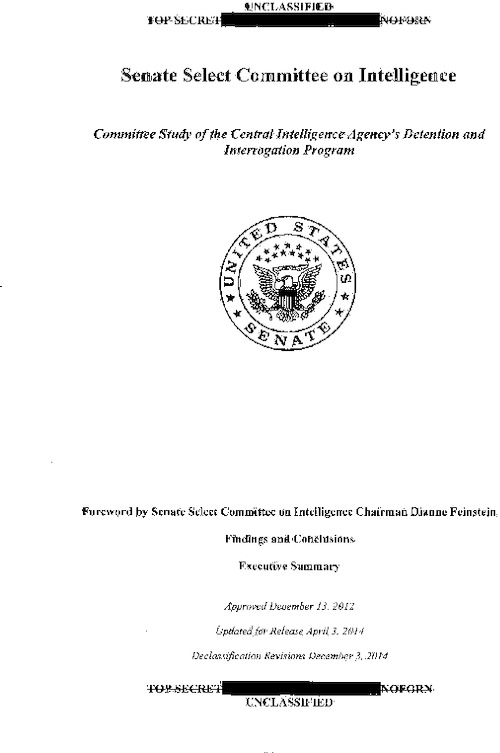 (525-page PDF, 65mb, cleaned up here for OCR searchability)
Committee Study of the Central Intelligence Agency's Detention and Interrogation Program:
American dungeons with rectal feeding, walling, waterboarding, sleep deprivation, dragging, slapping, cutting off clothes, sexual threats, threats against children and families, blasting loud music, buying off allies to host black site facilities, you name it. If some twisted, sadistic, and depraved CIA fuck could think of it, they did it, all with the encouragement and approval of Bush, Cheney, Rice, and all those other demons. It didn't even produce good intelligence, innocent people were tortured, and some were even killed. Shit, we're still holding a bunch of people in Guantanamo today, torturing them with force-feeding. Everyone who reads this Senate report can all be sure that what's made public here is likely just the tip of the iceberg.
If you are hoping for prosecutions, forget about it.
Nancy Pelosi
,
Dianne Feinstein
, and
Barack Obama
and countless other Democratic and Republican politicians have made sure that will never happen. UC Berkeley's
John Yoo
and helped justify it all -- if torturers weren't ripping internal organs out of detainees, then it's not torture, but "enhanced interrogation." Likewise, Ninth Circuit judge
Jay Bybee
justified torture and massive violence on the whim of any U.S. president. Historically, the U.S. has prosecuted torturers from other countries for things like waterboarding, but this group of violent criminals think if Americans do it, then it's all good.
Everyone who approves of torturing Muslim people, then and now, those who ordered it, carried it out, and offered legal cover should be tortured themselves, probably to death. The world would be a much better place.
https://www.indybay.org/antiwar/
https://www.indybay.org/police/
We are 100% volunteer and depend on your participation to sustain our efforts!
Get Involved
If you'd like to help with maintaining or developing the website, contact us.