From the Open-Publishing Calendar
From the Open-Publishing Newswire
Indybay Feature
Frank Alvarado, Fourth Person Killed by SPD, Spoke in Santa Cruz Against Prison Expansion
Frank Alvarado was killed by Salinas Police on July 10, and very little information has been released by authorities about the circumstances of his death. On May 14, 2014, Frank spoke about prison reform in Santa Cruz at a rally where community members voiced their opposition to the Governor's May revise budget, which called for an increase in spending for jail and prison expansion. Frank spoke strongly about the importance of budgeting state money for social programs instead of prison expansion, and he shared his personal experience of incarceration, describing his release from prison in July of 2013. [Video: Frank Alvarado speaking in Santa Cruz on May 14]
Frank spoke about having multiple counts/strikes on his record.
He shared his strong feeling of love for his son, who he said was voted police cadet of the year in 2013 at a police department in California.
"He is my champ. He is my number one little guy, and he is the smartest individual I could have ever made," he said.
He described how prison destroyed their relationship. In an interview that day, Frank said that he was very proud of his son for becoming a police officer, but that they were still estranged.
Frank was extremely remorseful about committing the acts that brought him to prison. He said he shot people, and that he did 11 years for attempted homicide and assault with a deadly weapon. After getting out of prison he said he relished the idea of helping people, however, and he described the joy it gave him.
"I walked in Santa Cruz," he said, "and I picked a flower off a plant and I gave it to somebody, and I put a smile on their face."
He spoke about having a grandparent with prostate cancer and telling the close relative not to worry because he would be there for him, and that it would be his turn to change diapers if necessary.
Frank was well known to activists with Sin Barras, a Santa Cruz prison abolition group that was one of the organizers of the May 14 rally at which Frank spoke. Members of Sin Barras have described their deep affection for him, as well as deep sadness and anger over his killing.
According to the authorities, Frank was killed at around 5am on July 10 at Fairview Avenue and Beverley Drive in Salinas. The SPD hasn't released any details beyond those, and they referred the news media and the public to the Monterey County District Attorney's Office, which will be handling the investigation.
The killing of Frank Alvarado is preceded by three other killings in 2014 by officers with the Salinas Police Department.
On March 20, Angel Ruiz was shot and killed by officers with the SPD outside of a Wing Stop restaurant. On May 9, Osman Hernandez, who was carrying a lettuce knife, was killed by the SPD outside of the Mi Pueblo Market at the corner of Alisal and Sanborn. Carlos Mejia was carrying a pair of garden shears when he was killed by SPD officers outside of a bakery at the corner of Del Monte and Sanborn on May 20.
All of the killings have taken place in East Salinas.
To read more about the May 14 prison expansion rally in Santa Cruz, see:
Increases in Prison and Jail Spending in Governor's Revised Budget Opposed in Santa Cruz
https://www.indybay.org/newsitems/2014/05/15/18755833.php
Alex Darocy
http://alexdarocy.blogspot.com/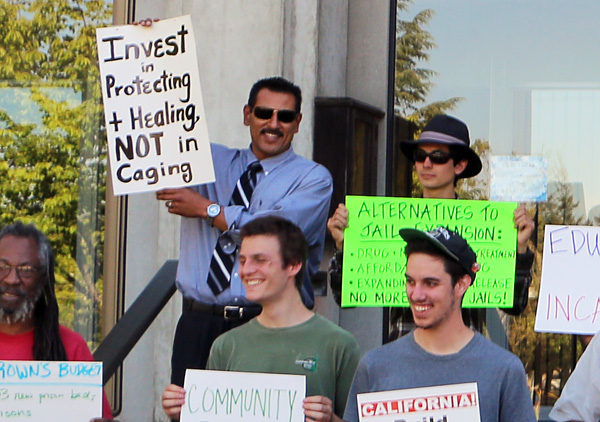 We are 100% volunteer and depend on your participation to sustain our efforts!
Get Involved
If you'd like to help with maintaining or developing the website, contact us.