From the Open-Publishing Calendar
From the Open-Publishing Newswire
Indybay Feature
Salinas Police Silent After Fourth Officer Involved Killing
A man shot by Salinas Police this morning, July 10, at around 5am, died. Frank Alvarado, 40, was killed in this morning's officer involved shooting, which occurred in East Salinas at Beverly Drive and Fairview Avenue. This is the fourth officer involved killing by the Salinas Police Department in 2014.
Chief McMillin of the Salinas Police Department isn't releasing any information about the killing and is leaving that to the Monterey County District Attorney.
The SPD press release issued on July 10 states:
"Media Availability re: Investigation of Officer Involved Shooting
"Salinas Police Officers were involved in a shooting this morning at about 5:00AM. Chief McMillin has requested that the Monterey County District Attorney investigate this shooting. Any questions regarding the shooting should be directed to District Attorney Dean Flippo at 831-755-5470.
"Chief McMillin will be available to answer questions regarding this process this morning, July 10 at 11:00AM in the City Hall Rotunda."
http://www.salinaspd.com/content/media-availability-re-investigation-officer-involved-shooting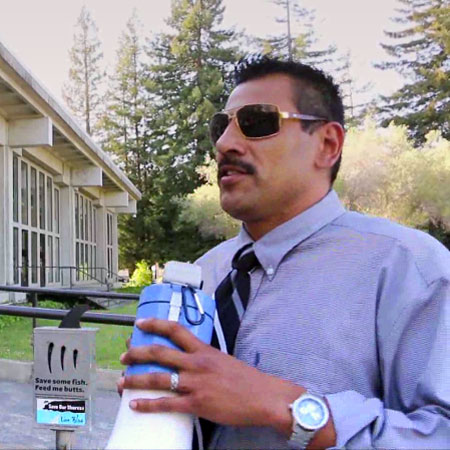 Frank Alvarado speaking in Santa Cruz on May 14, 2014. Screenshot from video by Alex Darocy.
Increases in Prison and Jail Spending in Governor's Revised Budget Opposed in Santa Cruz
by Alex Darocy
Thursday May 15th, 2014
Residents and representatives of community organizations in Santa Cruz rallied outside of the court house on May 14 to voice their strong opposition to the Governor's May revise budget, which calls for an increase in spending for jail and prison expansion. According to Californians United for A Responsible Budget (CURB), spending on corrections in the state will rise 2.9%, and total spending on prisons will top $12 billion if the budget revision is adopted. Similar rallies were also held in San Francisco, Bakersfield, Los Angeles, San Bernardino, and San Diego.
[
Video
: Courtney Hanson of Sin Barras, Tash Nguyen of Sin Barras, former inmate Frank Alvarado (at 3:55 - 4:50), Simba Kenyatta of the NAACP, and Willow of Sin Barras speak.]
[S]peaking at the rally was Frank Alvarado, a former inmate who described making it through eleven years of "hell" while incarcerated. He cautioned that building more prisons at the sacrifice of schools and parks would lead to devastating results for California.
"You will have your hell if you build those prisons," he said.
https://www.indybay.org/newsitems/2014/05/15/18755833.php
Monterey County District Attorney Flippo provided details of the killing today. Salinas Police say they received a report Alvarado was threatening his family in an attempt to "commit suicide by cop". They were also made aware over an emergency call that Alvarado was on meth and that he was threatening to "commit suicide by cop" by holding a cell phone like it was a gun. When they arrived he did that and police say two officers fired, finding the cell phone after shooting him.
From the Monterey County Weekly:
"Two officers fired, and Alvarado was transported to Natividad Medical Center, where he died."
"Flippo said he is not aware of any non-lethal attempts to stop Alvarado other than verbal command."
http://www.montereycountyweekly.com/blogs/news_blog/first-details-emerge-about-the-salinas-police-shooting-death-of/article_b0a2eb5a-094f-11e4-a14c-001a4bcf6878.html
We are 100% volunteer and depend on your participation to sustain our efforts!
Get Involved
If you'd like to help with maintaining or developing the website, contact us.