From the Open-Publishing Calendar
From the Open-Publishing Newswire
Indybay Feature
Eviction Free San Francisco Protests at the Home & Office of David McCloskey / Urban Green
On June 7th, at 1pm, activists from Eviction Free San Francisco arrived at the home of David McCloskey, CEO of Urban Green Investments. They then proceeded to his office in the Marina, and continued the protest there in the midst of the Union Street Festival. They left a sign on his door: "Would you evict your grandparents?" It seems, by his actions, that he would.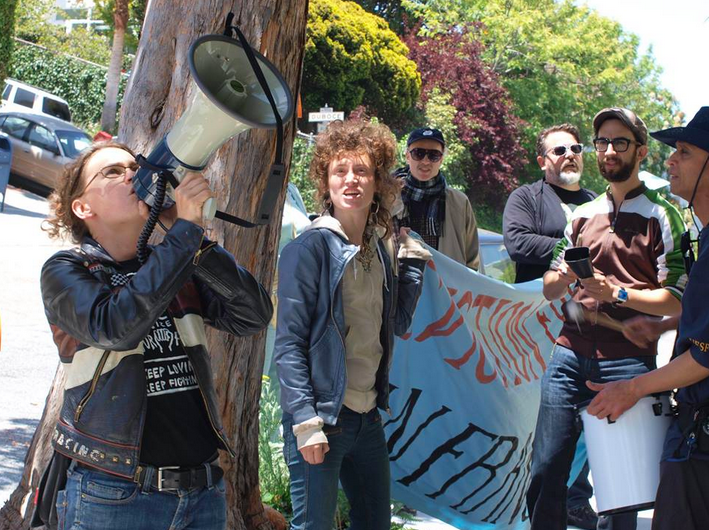 David McCloskey of Urban Green Investments is currently Ellis Act evicting a 98-year-old woman from her home at 55 Dolores Street. Mary Elizabeth Phillips has nowhere else to go. Activists descended upon his home at 109 Alpine Terrace and his office at 1746 Union Street on Saturday the 7th, demanding that he rescind the eviction immediately.
McCloskey, CEO of Urban Green Investments, owns hundreds of units in San Francisco. Urban Green is a subsidiary of Cornerstone Holdings in Colorado, run by his millionaire father Tom McCloskey. David and Tom do not need more money. He does not need to evict Mary. He does not need to evict Mervyn Wong and his disabled mother who he cares for from 49 Guerrero Street.
Don't let your neighbor evict elders and people with disabilities for profit. What kind of city pushes their elders on to the streets? We can stop this! As Mary says, "This has been my home for over 40 years and I don't want to leave. . . I am just too old." Hear her own words here:
http://youtu.be/UqdwaaUK8LI
Urban Green Investments is a San Francisco Multi-family portfolio: 385 units over fifteen buildings. They recently purchased since October 2012: 130 unit multi-family portfolio in San Francisco and 40 TIC units in San Francisco. In July 2012 UGI picked up a 12-building multifamily portfolio for $38 Million cash from Prana Investments.
Urban Green Investments is involved in roughly 40 LLCs.
Let David know that he needs to stop the evictions immediately!
1746 Union Street
San Francisco, CA 94123
info [at] urbangreeninv.com
More about David and Urban Green here:
https://antievictionmap.squarespace.com/david-mccloskey-urban-green/
This protest was situated between two other protests, directly targeting the homes and offices of evictors and developers responsible for mass displacement and growing class inequality in the city of Saint Francis. On June 6, activists stormed the offices of Maximus LLC at 345 Vidal at ParkMerced. Maximus, led by Robert Rosania in NYC and Seth Mallen at ParkMerced and Stellar, is planning bulldozing the area surrounding the 16th Street BART Plaza to create luxury housing. In the process, they have contracted Jack Davis to lead the Clean Up the Plaza Coalition, kicking homeless people out of the Plaza, and increasing police presence and racial profiling. As we protested the office of Maximus in ParkMerced, activists left the letter that we read aloud at the NY office of Robert Rosania.
More here:
http://www.indybay.org/newsitems/2014/06/08/18757077.php
.
And a film here:
http://vimeo.com/97600545
The day after protesting Urban Green, CounterForce arrived at the home of Thomas Fallows, the man behind Google Express. Fallows has Ellis Act evicted four buildings, and is now looking to profit off of Google's newest home delivery service. As we said, "Thomas Fallows is a man who has used the Ellis Act to evict the occupants of four buildings filled with dozens of people and their lives. He caught our attention by not only being a Google employee but also for being a stark example of the entitled and greedy tech-entrepreneurs inhabiting San Francisco."
More here:
http://www.indybay.org/newsitems/2014/06/08/18757088.php
.
More about Fallows here:
https://antievictionmap.squarespace.com/thomas-fallows/
And a film here:
http://vimeo.com/97676713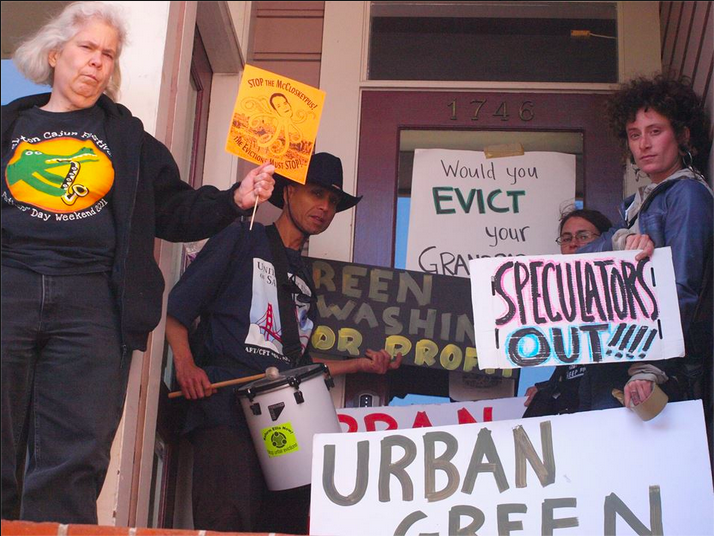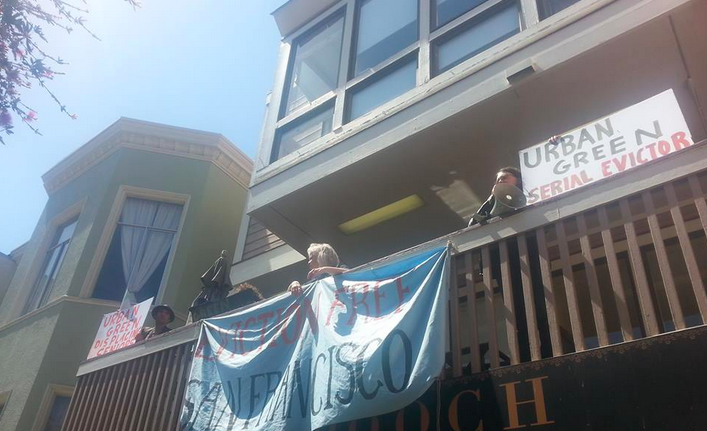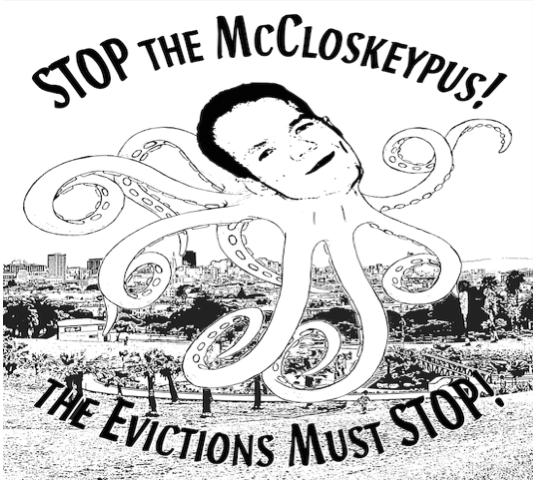 We are 100% volunteer and depend on your participation to sustain our efforts!
Get Involved
If you'd like to help with maintaining or developing the website, contact us.