From the Open-Publishing Calendar
From the Open-Publishing Newswire
Indybay Feature
These photos show where the City of Fresno is temporarily storing property taken from homeless people during the sweeps over the last two months.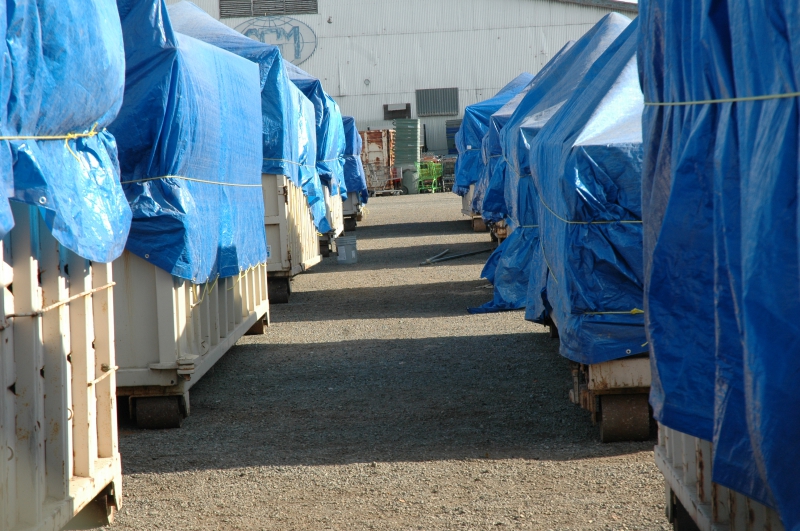 The large blue tarps flap in the wind and catch your eye as you drive down south down H street, on your way to the center of downtown Fresno. Few people know that this small city of blue topped storage containers is where the City of Fresno, complying with a Federal court order, has brought the confiscated property of homeless people, as they fled the destruction of their humble shelters. Today, the police are confiscating shopping carts filled with homeless people's property and adding those to the collection - even if the owner of the property just left their property in front of the Poverello House while they got a bite to eat.
This confiscation of homeless peoples property started about 2 months ago with the demolitions of downtown Fresno homeless encampments. It continues today as the police and city workers round up homeless people's property and lock it away behind a barbed wire fence, guarded 24 hours a day/7 days a week, with very little chance that it will be given back to its owners.
Even when homeless people are with their property, on the streets of Fresno, they are harassed by the police. In an incident that happened about a week ago, a group of homeless people were given "debris in road" citations. The "debris" was their blankets, food, and other items they need to survive.
There is little chance that homeless people who lost all of their belongings in these raids by the police and city workers will be able to re-claim their property, because there is no place in the city that is currently safe for them to keep it. Nobody can carry everything they need to survive with them all day/every day. Therefore, the "technical" compliance with the Federal court order is simply a cover for the city's ongoing policy of taking and destroying homeless peoples property, endangering their health, and decreasing their overall quality of life.
For information about what homeless advocates are doing to respond to this crisis, see:
http://www.helpfresnoshomeless.org/
We are 100% volunteer and depend on your participation to sustain our efforts!
Get Involved
If you'd like to help with maintaining or developing the website, contact us.