From the Open-Publishing Calendar
From the Open-Publishing Newswire
Indybay Feature
BA Protest To Close Gulen Charter Schools-Stop The Theft Of Public Funds By Gulen Movement
Trade unionists and activists joined together in a national protest against the Imam Fethullah Gulen's chain of schools in the US. According to Oakland researcher Sharon Higgins over $400 million a year of public funds is being directed into the Gulen cult movement in the US. The action was held at the Gulen run school in Oakland called the Bay Area Technology School.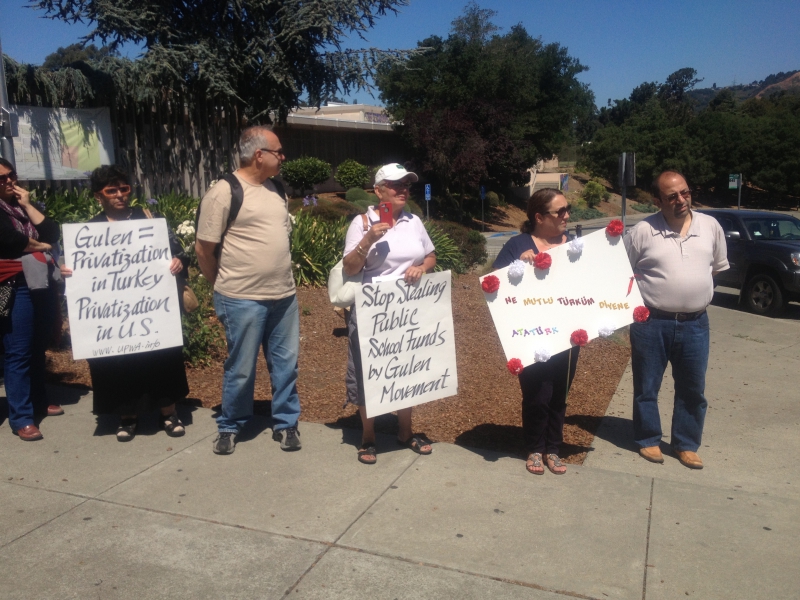 July 13 Oakland Protest of Turkish Government Connection In Oakland At Charter School Run By Turkish Government Supporter Fethullah Gulen
Bay Area Technology School at 8251 Fountaine St. Oakland California
A Press Conference With
Gulen Researcher and Oakland Resident Sharon Higgins
Lawyer and Commission On Teacher Credentialing Kathleen Carroll
Trade unionists
Members of Northern California Turkish Community
Stop The Theft Of Our Public Schools And Privatization-National Action Against Gulen Movement And Their Publicly Funded School System In US
Stop The Gulen Movement
Contact
Called By United Public Workers For Action
http://www.upwa.info
For information call (415)867-0628 or (510) 510-910-4930
In Conjunction with picket of Fethullah Gulen's Home In Pennsylvania
National Protests Against Gulen Movement in US Schools and
Gulen Movement's organizations in California.
Get Your Bloody Hands Of US Public Education
6/6/2013: "Who is Fethullah Gulen, Turkey's Powerful Cleric in Self-Exile?"
http://www.ibtimes.co.uk/articles/475507/20130606/fethullah-gulen-turkey-recep-tayyip-erdogan-protests.htm
ITA Repeat the History of Other Gulen Charter Schools?
https://www.youtube.com/watch?v=DReAWz1mSZo
Remarks by Mary Addi, A Former Gulen Charter School Teacher
The Applicants, Their Associations and Other Reasons Why the Loudoun Math and IT Academy (LMITA) Application Should be Rejected
More Scrutiny for Gulen Schools in the US
http://www.eurasianet.org/node/65507
Teaching as CIA Cover–Gülen Charter Schools, Dan Burton, and State Secrets
By: Doug Martin Saturday May 5, 2012 5:07 pm
http://my.firedoglake.com/dougmartin/2012/05/05/teaching-as-cia-cover
–gulen-charter-schools-dan-burton-and-state-secrets-2/
The Global Imam
BY SUZY HANSEN
http://www.newrepublic.com/article/world/magazine/79062/global-turkey-imam-fethullah-gulen#
More Scrutiny for Gulen Schools in the US
June 6, 2012 - 2:42pm, by Yigal Schleifer The Turko-file Gulen Movement Turkey-US Relations
http://www.eurasianet.org/node/65507
CBS 60 Minutes.US Charter Schools Tied to Imam Fethullah Gulen CBS 60 Minutes.
http://www.youtube.com/watch?v=O4OtHpUCqy0&feature=related
Audit reveals 'egregious' conduct by Gulen
charter school
http://www.ajc.com/news/north-fulton/audit-reveals-egregious-conduct-1452911.html
A Guide to the Gulen Movement's Activities in the US
CIA-US Helped Criminal Abdullah Gulen Get US Visa And Support To Help US Funded Gulen Schools
Sibel Edmonds ON GULEN SCHOOLS.
http://www.youtube.com/watch?v=dHJQwOYgM4c
Largest U.S. charter school chain tied to powerful Turkish Islamic cult imam-Recieves $150 Million In Public Funds "Backdoor Madrasa"
May 13, 2012 7:04 PM
http://www.cbsnews.com/8301-18560_162-57433131/u.s-charter-schools-tied-to-powerful-turkish-imam/?tag=currentVideoInfo;videoMetaInfo
The Gülen Movement (2/3) BBC
Like Add to Share
Uploaded by MuggedVideos2 on Jun 9, 2011
http://www.youtube.com/watch?v=8eD19xG-7rM&feature=relmfu
Sacramento Demo Mayor and Privatizer Johnson Pushing Magnolia Turkish Religious Cult Gulen Schools
http://magnoliapublicschools.org/index.php?option=com_content&view=article&id=174&catid=46
7 More Journalists Detained in Turkey
http://www.nytimes.com/2011/03/04/world/europe/04turkey.html?scp=1&sq=turkish
journalist jailed march 4, 2011&st=case
Thousands Protest Detentions of Turkish Journalists By Gulen Operatives
http://www.nytimes.com/2011/03/05/world/europe/05turkey.html?ref=world
We are 100% volunteer and depend on your participation to sustain our efforts!
Get Involved
If you'd like to help with maintaining or developing the website, contact us.