From the Open-Publishing Calendar
From the Open-Publishing Newswire
Indybay Feature
View other events for the week of

11/ 9/2012
Black Mesa benefit - Anti-colonial resistance from California to Arizona
Date

Friday November 09

Time

6:30 PM

-

10:30 PM

Import this event into your personal calendar.
Location Details
Resource Center for Nonviolence
612 Ocean Street, Santa Cruz, CA
Event Type

Fundraiser

Organizer/Author
Santa Cruz Indigenous Solidarity
Email
sheepandsagebrush [at] gmail.com
Phone
831-708-8199

Black Mesa benefit 2012:

Anti-colonial struggle from California to Arizona

SPEAKERS:

* Kat Keediniihii (Diné) *

Growing up at Big Mountain, Kat was raised with Diné traditions by her family in the midst of a struggle for cultural survival. She is currently living in Salinas with her four sons and is known as a humble, hard-working woman who is always there for the people.

* Corrina Gould (Chochenyo/Karkin Ohlone) *

Corrina Gould is a community organizer and educator in Oakland who works every day to honor her ancestors. For over a decade she has been on the front lines of Ohlone efforts to protect sacred sites.

MUSIC:

Speakers will be followed by a set of acoustic music by local artists:

Pale Robin, Gembrokers, Scott Ferreter and secret guests!

http://palerobin.bandcamp.com/ http://thegembrokers.com/

ALSO:

* Black Mesa Support Slideshow

* Desserts and food

Admission is $5-20, no one turned away.

This is a benefit for Black Mesa families resisting relocation.

BACKGROUND:

In Northeastern Arizona, traditional Diné (Navajo) elders and families at Black Mesa are continuing a decades-long resistance to coal strip-mining and forced relocation from their sacred ancestral lands.

"Our life is our religion, and our religion is the land."

Thomas Katenay, Diné

In the Monterey and SF Bay Areas, Ohlone people continue to fight for cultural survival and the protection of their sacred places and burial grounds. "Un-recognized" by the federal government, the Ohlones have no land-base and live day to day within a settler society that is largely ignorant of their continued existence.

"What I say about this development that happens all over the Bay Area, is that it's a cultural genocide. They're trying to wipe us out, in a different kind of a way."

Corrina Gould, Ohlone

Event details:

Friday, November 9th

6:30pm-10:00pm

@ the Resource Center for Nonviolence

612 Ocean Street, Santa Cruz, CA

BLACK MESA INDIGENOUS SUPPORT, SANTA CRUZ

sheepandsagebrush [at] gmail.com

831-708-8199

http://blackmesais.org/

Added to the calendar on Friday Nov 2nd, 2012 12:37 AM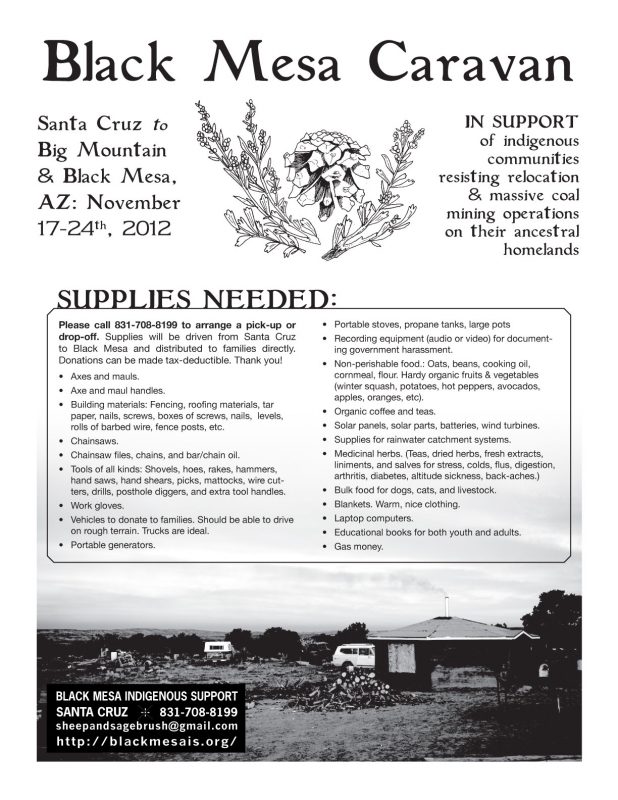 On November 17th, work crews from Santa Cruz and all across the country will converge in support of indigenous communities resisting relocation & massive coal mining operations on their ancestral homelands of Black Mesa, AZ.

* REQUESTED SUPPLIES LIST: *

Please call 831-708-8199 to arrange a pick-up or drop-off. Supplies will be driven from Santa Cruz to Black Mesa and distributed to families directly. Donations can be made tax-deductible. Thank you!

- Axes and mauls.
- Axe and maul handles.
- Building materials: Fencing, roofing materials, tar paper, nails, screws, boxes of screws, nails, levels, rolls of barbed wire, fence posts, etc.
- Chainsaws.
- Chainsaw files, chains, and bar/chain oil.
- Tools of all kinds: Shovels, hoes, rakes, hammers, hand saws, hand shears, picks, mattocks, wire cutters, drills, posthole diggers, and extra tool handles.
- Work gloves.
- Vehicles to donate to families. Should be able to drive on rough terrain. Trucks are ideal.
-Portable generators.
- Portable stoves, propane tanks, large pots
- Recording equipment (audio or video) for documenting government harassment.
- Non-perishable food.: Oats, beans, cooking oil, cornmeal, flour. Hardy organic fruits & vegetables (winter squash, potatoes, hot peppers, avocados, apples, oranges, etc).
- Organic coffee and teas.
- Solar panels, solar parts, batteries, wind turbines.
- Supplies for rainwater catchment systems.
- Medicinal herbs. (Teas, dried herbs, fresh extracts, liniments, and salves for stress, colds, flus, digestion, arthritis, diabetes, altitude sickness, back-aches.)
- Bulk food for dogs, cats, and livestock.
- Blankets. Warm, nice clothing.
- Laptop computers.
- Educational books for both youth and adults.
- Gas money.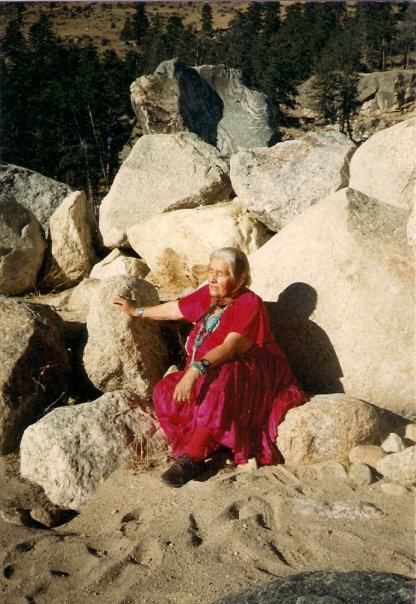 "So, as for me, from where I stand, I believe that the land was stolen. Our livestock are stolen. Even our very being is being stolen, they threaten to throw us off the land. They put fear in our hearts, and this is the way they are killing us. This land that I am sitting on, this earth here, there are many minerals underneath that could bring wealth to people. That is why they crush me with their laws to tell me that I do not belong here. For these reasons, I am resisting. I was born here. Big Mountain is my mother, and that is why I will remain. I cannot just walk away from my mother. She is the one who will decide when it is time for me to return to her, this is when I will leave."
We are 100% volunteer and depend on your participation to sustain our efforts!
Get Involved
If you'd like to help with maintaining or developing the website, contact us.