From the Open-Publishing Calendar
From the Open-Publishing Newswire
Indybay Feature
Related Categories:

East Bay | U.S. | Media Activism & Independent Media
Robert Knight and the Knight report axed by KPFA management-KPFA CL Management Seeking To
Concerned Listener CL controlled management at KPFA is seeking to shutdown the Flashpoints show. Their latest action was to axe journalist Robert Knight.
Robert Knight and the Knight report axed by KPFA management-KPFA CL Management Seeking To Shut Down Flashpoints

PLEASE DISTRIBUTE FAR AND WIDE:
Subject: Emergency: Robert Knight and the Knight report axed by KPFA management

Robert Knight terminated from Flashpoints by KPFA Management...Third major cut to the program in less than a week with no warning This is not an across the board 20% cut as management claims, but clearly a move to kill flashpoints. Our personnel budget has been slashed 50% under current management. No other show has come close to these kind of cuts and this kind of treatment.

To the KPFA board and all interested parties:
Hi,Joe, everyone, i very much appreciate what the board is doing, but by the time you win control of the board, every radical program and producer, and non-supporter of the current regime will be gone from KPFA. The bottom line is easily stated in a fact and a few questions. The fact is: Since the current regime took power, Flashpoints has been cut 75 hours, or over thirty percent of its personnel budget. To this date, has the morning show budget went up or down in the same time period? Has the KPFA news department gone up or down in the same period? How are the cuts being implemented:fairly, by senioritiy? Whats the criteria? And If Flashpoints has been cut, while other key programs were expanded in the same period, why? Is it because they are better and deserve the support and the constant praise of management, while the Flashpoints team is getting threatened, harassed, censored and cut back, by the same management? Or is because Flashpoints spoke out on the air against the police beating inside KPFA, inspired and condoned by current management? Is it because Flashpoints covers the unpopular stories like slaughters in palestine and Haiti. Is it because of our devotion to migrant rights and native american struggles, or because of our drumbeat coverage of the coup in Honduras? Are we being cut DISPROPORTIONATELY because we take on Obama and the NPR liberal mentality, and refuse to soften our message?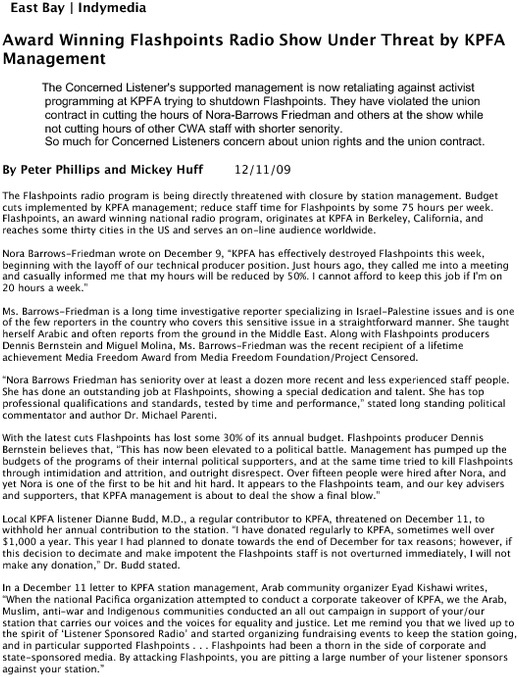 Download PDF (83.6kb)
The new LSB is hard at work struggling with the Concerned Listeners against an illegal attempt to bring down their legitimate bare majority.
So stay tuned, the results may be decided soon.
The meeting on the 9th is, so far, not legitimate; the legal meeting is called for the 12th, when 2 of the majority members will be able to attend.
However, the CL managed to post their date (12/9) immediately, after months of not providing such timely notice of former meetings.
In the meantime, write/email the station about your opposition to the defunding of 3 Flashpoints staff members (their technical producer, half of Nora Barrows Friedman's hours, & now Robert Knight).
Others are doing so, including Barbara Lubin, Peter Phillips & Mickey Huff, Richard Becker, Eyad Kishawi.
(Be strong but not abusive.)
also see:
http://www.indybay.org/newsitems/2009/12/10/18632128.php
http://www.sfbayview.com/2009/kpfa-a-wolf-in-sheep%e2%80%99s-clothing-an-interview-with-nora-barrows-friedman-of-flashpoints/
contact: Lemlem Rijio, General Manager,
gm [at] kpfa.org
, ext 203
http://www.kpfa.org/contact/
(form)
copy letters to:
dbernstein [at] igc.org
The previous information in leaflet form is attached (since it will only attach 1).
There should be later information appearing really soon, so don't print too many.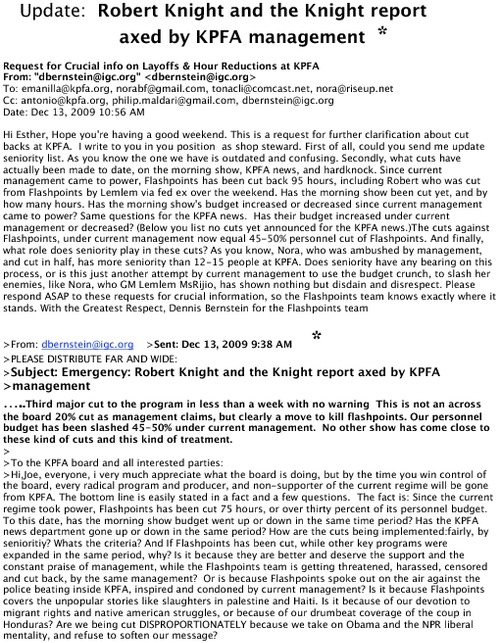 Download PDF (50.4kb)
Leaflet 2 did not attach - I'm trying again

We are 100% volunteer and depend on your participation to sustain our efforts!
Get Involved
If you'd like to help with maintaining or developing the website, contact us.